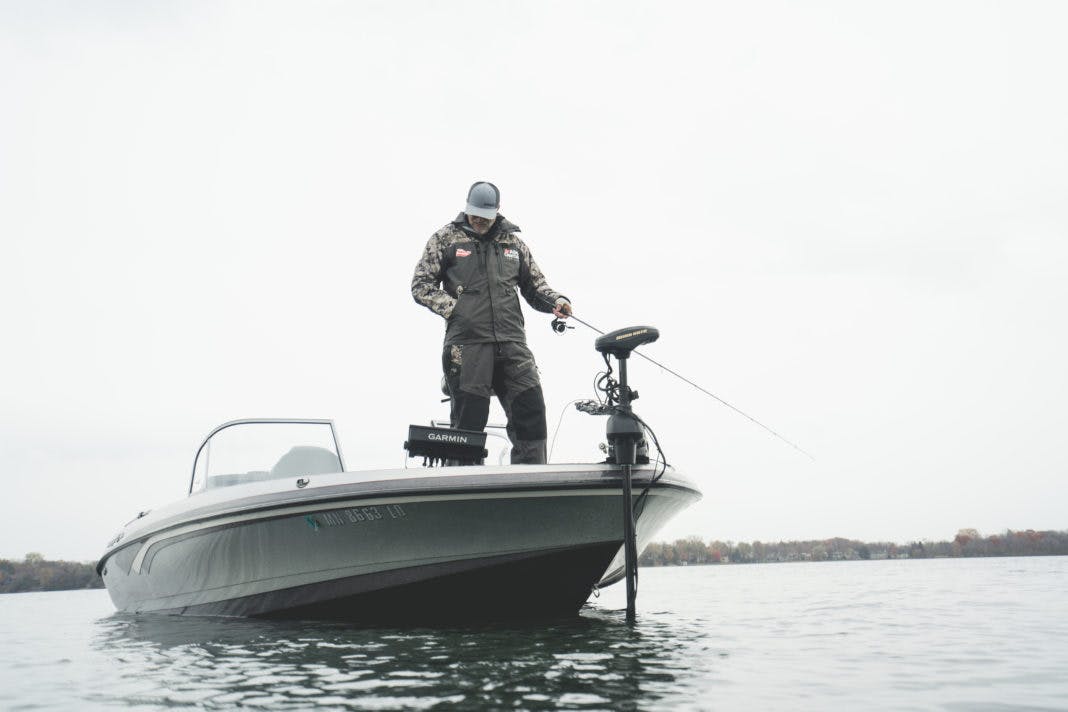 How Can I Catch Spring Walleye on Lake Mille Lacs?
After spending the cold Minnesota Winter buried under over a foot of ice, anglers dream of warmer Spring temperatures on Mille Lacs Lake. The Spring melt signals it's time to get back out in a boat and catch the state fish, the Walleye. (Editor's note: Lake Mille Lacs has long been regarded as a top-tier year-round Walleye lake, but it also offers excellent opportunities to catch trophy Smallmouth and Muskies throughout the season as well – check out our lake overview and product suggestions HERE).
There are plenty of ways to target Walleye, but in this, our first lake-specific installment of Omnia Asks, we asked the experts:
"What is the best way to catch a Spring Walleye on Mille Lacs?"
You will notice a common theme – Walleye are moving pretty darn slow as the water warms – but we were surprised by the variation in the selection of baits and techniques that our experts recommended! Read on to learn how to get ready for open water!
Todd Andrist: 
Todd has been a professional guide in Northern Minnesota since 1999. He's an expert on the Brainerd-area lakes: Gull Lake, Pelican, The Whitefish Chain, and Mille Lacs Lake. Like most kids growing up in a lake resort area, he spent his days on the water fishing and learning every inch of this massive waterbody. He has shared his passion for fishing with countless clients and strangers, and he's quick to offer a helping suggestion to anyone that asks. To learn more about Todd's guide service CLICK HERE!
"The best technique in Spring is to drag 1/8 oz. jigs with minnows or plasticalong the edge of the breaklines. Straight tail minnows or bento minnows are my plastic of choice. Also, make sure to let out a bunch of line because walleyes will be spooked by the boat!"
Chapman Guide Service:   
Tim Chapman has been fishing Lake Mille Lacs since he was 15 years old. He and his wife Tina have been operating their resort for over 2 years. Chapman's Mille Lacs Resort is a great private spot to stay, perfect for family vacations, reunions, and of course Minnesota family fishing! The resort is located on Main Street in Isle, Minnesota. To learn more about Chapman's CLICK HERE!
"Slow presentation is best in the Spring as Walleye are still warming up. Rigging with leeches or using a slip bobber with leeches is a great way to target them. Red hooks are always a go-to for fishing the rock structures found in Mille Lacs."
Steve Pennaz: 
Steve Pennaz is a friend of Omnia. He is one of the world's highest-regarded multi-species anglers and the host of the popular series Lake Commandos. He has successfully fished thousands of locations around the world in both fresh and saltwater. He is highly skilled at finding and catching fish on new waters but calls Minnesota his home. Steve was inducted into the Freshwater Fishing Hall of Fame in 2016.
"I love jigging and trolling in the Spring. Try a 1/8 or 1/4 oz. jig tipped with a fathead or a shiner, running along breaks or shallow flats. A 6 lb. braid like Berkley X9 or FireLine Ultra 8 will give you more distance on your casts. At dusk, trolling a #7 Flicker Shad is hard to beat. Tie direct to 8 lb. braid and let out enough line to allow your bait to hit the bottom during your troll (the Flicker Shad is awesome in 10 to 12 feet)."
Do you have a question you'd like us to ask our experts?  Email us at hello@omniafishing.com with the subject "Omnia Asks"