Add your favorite Lakes
Target your preferred Species & Techniques
Follow your favorite Brands
Better tackle shopping experience
We've assembled a huge selection of fishing products and presented them in a way tailored to anglers. You can shop by lake or explore products by species or technique. The entire store has been infused with smart callouts based on local fishing report data so your most relevant items are always highlighted along the way. Our staff of experienced anglers are available through live chat or email for any questions or advice. We're fast too - orders in by 1pm Central ship the same day.
How it works
We organize fishing and tackle recommendations by lake so you can shop for tackle based on the places you fish. Local anglers are invited to file fishing reports that detail what's working locally. We never ask for specific fishing spots and aren't interested in being a social network for anglers. Instead, we organize the information and draw connections between species targeting, fishing techniques and gear choices and associate them with unique attributes of thousands of lakes across North America. This allows us to present a guide to our massive product warehouse where each product recommendation is unique to your goals and location.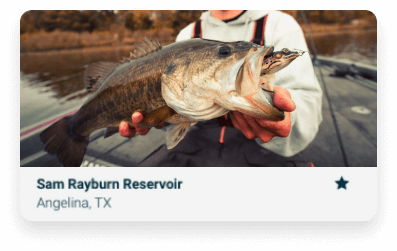 Filing fishing reports is rewarding
Omnia experts and community members who file fishing reports on specific lakes earn free tackle by helping others find effective gear. When another shopper reads a report and purchases recommended gear, the author automatically earns store credit. The app makes it easy to file reports on the go and show off the fish you catch. You're already fishing - Omnia provides a way to get rewarded for each trip.
One Omnia
Whether you access Omnia Fishing at our website on in the app, your account preferences will come along with you. That means you'll always have a guide to gear based on your favorite lakes, brands, techniques and target species and control over updates you'll receive.