Personal Shopper
Want some assistance putting together the perfect box of items? Kipp is here to help. Answer a few questions and he and the rest of our customer support crew will pick a set of items just for you. No charge and no obligation to order.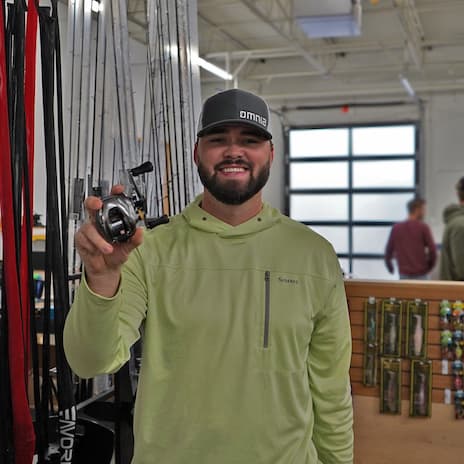 How it works
01

Tell Us What You're Looking For

Answer a few questions about what you're looking for. It's okay if you don't have all the answers - we'll walk you through it!

02

Our Experts Make A Selection

Our team will create a list of products that fits your needs and your budget. Your suggestion list will usually be emailed in less than 1 hour during the regular business day. There is no obligation to order.

03

Review & Purchase

To complete the order, follow the link in your email and check out. Orders received before 1pm Central ship the same day.
About Omnia Fishing's Personal Shoppers
Kipp Youngquist

Kipp is a fishing gear and tackle fanatic and loves teaching others about the sport. He grew up fishing the rivers and lakes of central Minnesota predominantly chasing largemouth and smallmouth bass, but enjoys the pursuit of any game fish that a waterbody has to offer.

Pete Przepiora

Originally from New York, Pete moved to Minnesota where he obsesses over the next place to catch bass and new tackle. He joined Omnia after successfully contributing to the Midwest market share growth of the well-respected Daiwa brand and currently serves as the head of product merchandising.

Jesse Welter

Jesse operates as our warehouse lead and is responsible for the team that manages rapid growth of inventory, orders, and logistics.

Ricky Harris

Ricky is a recent graduate of Bethel University in Tennessee where he was part of multiple national championship bass teams. He has been fishing tournaments for over a decade and has a wealth of knowledge in the bass fishing tournament world.

Jacob Bros

Growing up in Minnesota, Jacob is passionate about fishing for Largemouth and Smallmouth bass. Even when he is not fishing a tournament, he enjoys the intricacies of using the perfect bait for any situation.

Nick Mraz

Nick was introduced to fishing at an early age by taking an annual family trip up to Lake of the Woods. He joined Omnia early 2021 as a part of the warehouse team to help with organization, inventory and orders. Currently Nick is fishing every chance he gets chasing Largemouth and Smallmouth.
About Omnia Fishing
Omnia Fishing helps anglers find the right gear from our massive inventory of 18,000+ items. We provide personalized tackle recommendations based on the relationships between species, style, lake characteristics, season, community fishing reports, patterns, and products. We make sure you only see the products that make sense for you, on the lakes you fish, at the right time of year.
Omnia is the most personalized tackle shopping on earth!