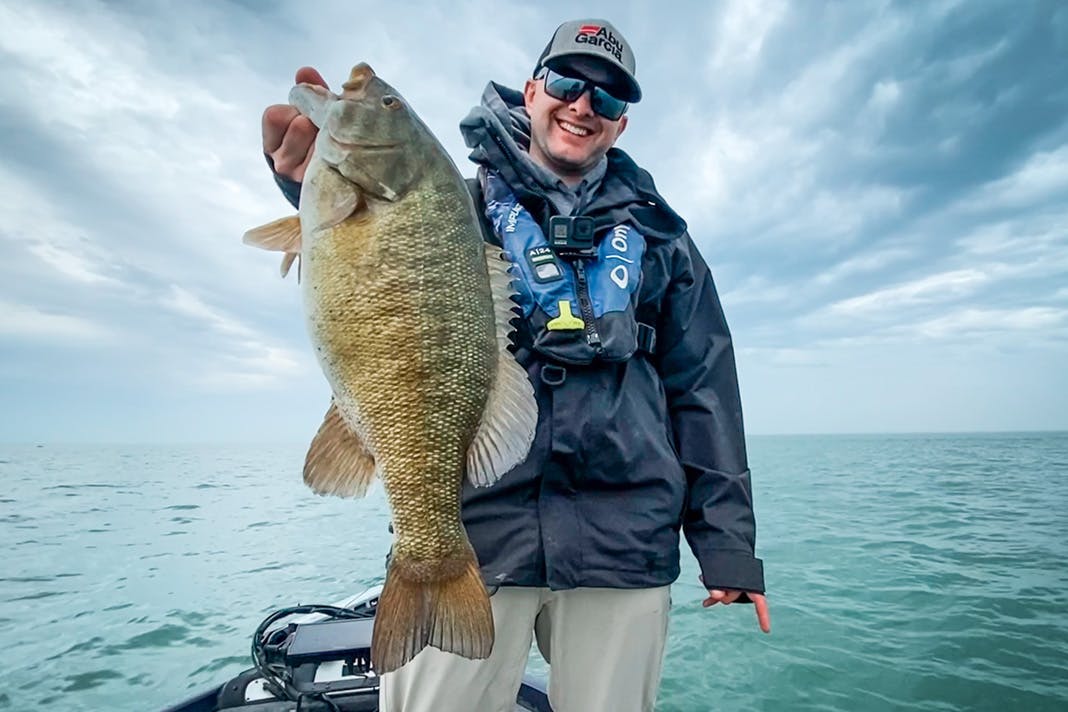 Spring Smallmouth Fishing on Lake St. Clair
Early Spring and ice-out smallmouth fishing on Lake St. Clair can be a great time of year to be on the lake.  This is an opportunity to catch numbers as well as big bass that are keyed in on the baitfish and gobies in the warming water.  Depending on fishing style and preference, you can either target fish in shallow water around cover, or deeper water around key contour changes.
Shallow Water – Less than 10 feet
Targeting shallow water smallmouth in the spring is an overlooked approach as many fishermen push deeper to the first hard breaks.  The key to finding these smallmouth in shallow water is 1.) Fishing Cover 2.) Finding Bait/Forage 3.) Find Warming Water.
1.)   Cover – St. Clair is fairly void of cover and some of the main community holes in the spring, including the Mile Roads, have key stretches of water where you can find bass.  Finding the isolated cover on these shallow flats can be key to finding smallmouth grouped up.  My favorite types of cover in early spring are early patches of grass, logs/wood, seawalls, or gravel and boulder fields.
2.)   Bait & Forage – Smallmouth are by nature, nomadic and pelagic creatures.  Finding the baitfish or forage on St. Clair in the Spring is a driving force for the smallmouth.  Locating the food source will lead to finding the bass.
3.)   Warming Water – One of the big drivers of finding early grass growth as well as finding the forage is to find the water that is warming the fastest.  Typically fishing the wind-blown areas or protected pockets will have the warmest water, as well as finding areas with an inflow of water from early season rain and snow melts.  Keying in on warming water can be the key to finding the biggest bass of the spring.
3 Recommended Shallow Water Baits
-        Frittside 7 (Blue Chartreuse or Spicy Mustard)
-        Stunna 112+1 (MF Tennessee Shad, Phenom, or Table Rock)
-        Tube (Goby Magic or Lucky Penny)
Deep Water – 10 to 15 feet
Deep water smallmouth are what are often thought about during early spring.  On Lake St. Clair, this is typically structure and contour focused as there isn't a lot of deep water cover available.  Fish will congregate on very small contour changes that are on/near the first breaks outside of their shallow water spawning areas.  For deep water locations, I'm focusing on finding inside turns (areas where the contour lines create a "U" shape before leading into a point or flat), as well as searching for steeper areas on the first break towards deeper water.  *Any contour changes that also have cover on them are PRIME locations for spring smallmouth 
1.)   Inside Turns – Inside turns often have deposits and harder bottoms.  These turns were originally created by historic glaciers as well as current flows throughout the lake.
2.)   Steeper Breaks – Steeper break areas offer easier access to shallow and deep water.  These areas also provide something "different" which can draw smallmouth and baitfish to the area.  Sometimes fishing is just about finding the small differences in contours and bottom composition, so in this case, I try not to overthink it
3 Recommended Deep Water Baits
-        Apex Vibe 68 (LV Shad, Ghost Red Tiger, or Shadow Halo)
-        Keitech Easy Shiner (Ayu or Smallmouth Magic)
-        Ned Rig Hula StickZ (The Deal or Drew's Craw)