A Baitcaster That Does It All: The Shimano Curado MGL 150XG
Intro
For anyone in the market for their first—or simply another—low-profile baitcaster, looking at the Shimano Curado family can be a bit confusing. Comprised of six reels, they all look very similar, but when you get down to specifications, each caters to specific fishing applications and presentations.
Enter the recently-launched Shimano Curado MGL 150XG, a low-profile baitcaster that offers the best attributes of the entire Shimano Curado family in one reel model. From fishing small crankbaits and finesse lures, skipping docks, froggin', crankin' ledges or weedlines, to fishing plus-sized swimbaits, this reel is designed to run the gamut.
So, if you're looking for versatility—and light weight—this is a baitcasting reel to consider. You don't necessarily need a rod locker or deck full of different reels for various applications, which is much easier on the budget, something we can all appreciate. Not to say that several Shimano Curado MGL 150XG reels, each tuned to specific techniques wouldn't be super cool…
About the Reel
First, the new Shimano Curado MGL 150XG features a brand-new ultra-low-profile frame design. Shimano engineers shed some weight through the combination of a Shimano HAGANE body, aluminum construction, and CI4+ sideplates. The HAGANE metal reel body offers the ultimate in body rigidity and impact resistance, virtually eliminating body flexing. The result transforms the angler's actions directly into cranking power with compact fishability.
At a feathery 6.5 ounces, the MGL 150XG is lighter than both the MGL 70K and MGL 200K; in fact, it's the lightest in the entire Curado family. It's also designed to be compact and easily palmable, great for long days on the water.  
One of the great things about this reel is it features Shimano's ultra-thin MGL III (MagnumLite) Spool for low inertia which translates to longer casts, easier stopping of baits, and fewer backlashes. This also means anglers can cast lighter weight lures and skipping docks and other structure is a breeze. The spool has a reduction in inertia by about 15% compared to the second-generation MGL Spool by using a narrow shape with a width of 19 mm for the outer diameter of 34 mm. The result is unparalleled casting performance.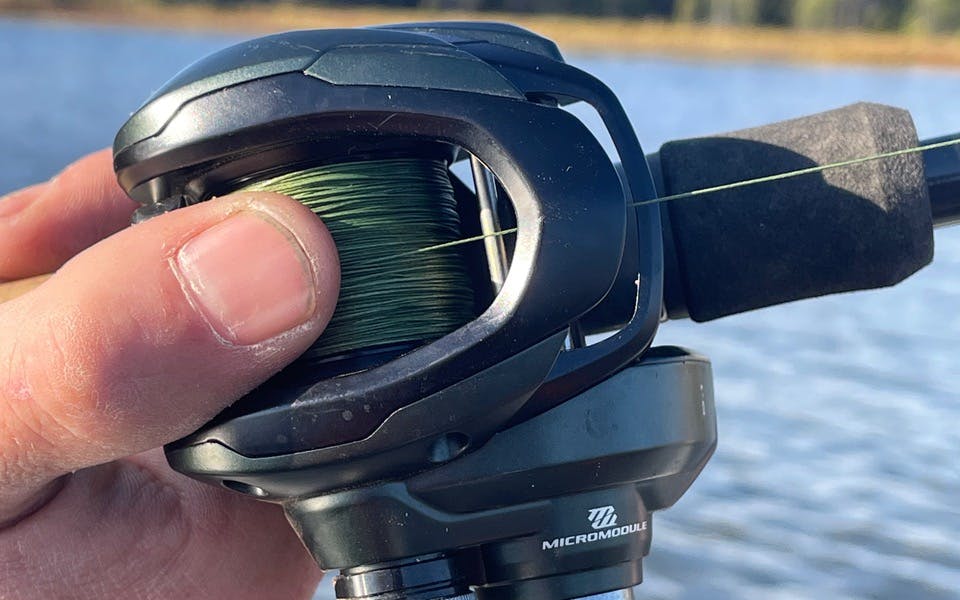 The internal and external braking system also differs from the rest of the Curado family. Simply rotate the spring-attached sideplate and you'll find six adjustable braking arms, plus an external SVS Braking System dial to fine-tune the reel specifically to whatever technique you're fishing.
The Shimano Curado MGL 150XG also features a Cross Carbon drag system with an astounding 13 pounds of drag, which is more than the Curado MGL 200K, and at a lighter weight. With regards to gearing, the Curado MGL 150XG features state-of-the-art internal micro-modular gears (MicroModule Gear II) and Shimano's X-Ship technology for buttery smooth operation.
So what does X-Ship do? In a nutshell, it increases gear durability. By supporting the pinion gear on both ends with bearings, the pinion gear maintains precise alignment with the drive gear. This means the gears will stay in the same position under the heaviest loads. The added benefit is that friction between the spool shaft and gear are eliminated. This enhances the casting performance of the reel with lighter lures and also allows for longer casts.
Adding to smooth gearing, Shimano built in something called Silent Tune—additional springs on the spool shaft that further reduce spool noise and friction for smoother and quieter casting.
The Shimano Curado MGL 150XG's spool will hold 150 yards or 20 pound braid; 135 yards of 30-pound braid; and 105 yards of 40-pound braid. For mono, expect 120 yards of 10-pound test; 110 yards of 12-pound test; and 90 yards of 14-pound test. This is just under the line capacity of of the Curado MGL 200K but more than enough for any technique. The reel is available in both right- and left-handed versions to meet the needs of all anglers.
Another thing we like about the reel is its price—at $199 MSRP—it won't break the bank, no pun intended. And, at that price, there's the possibility of investing in each of the available gear ratios – 6.2:1, 7.4:1, and 8.1:1—to cover any technique on the water.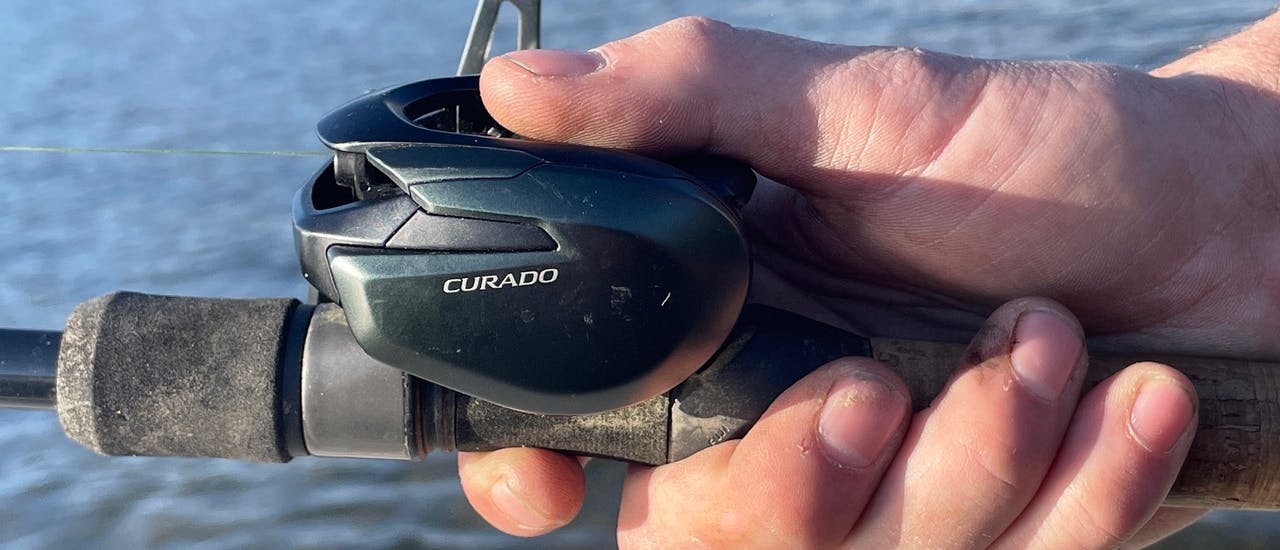 Real-World Testing
One of the first things we noticed while fishing it was you don't feel any gear rotation whatsoever, adding to the overall sensitivity that travels from bait, line, rod, and eventually to the reel. Combined with a high-quality rod (in our case, the 7'1" medium-heavy power, fast action multi-purpose St. Croix Victory Grunt) and line (Daiwa J-Braid Grand X8 in dark green 30-pound) you feel the slightest of bites and bumps, and can even tell bottom composition through the reel itself.
Our limited testing of  Shimano Curado MGL 150XG involved tying on a time- and bass-worn Z-Man Jack Hammer in 3/8-ounce with paddletail trailer to cover lots of water over weed tops, around submerged trees and brush—even pounding the bank on a 20-acre farm pond in central Iowa. We employed a 20-lb. Daiwa Samurai J-Fluoro leader in-line with the main line and bait.
The first thing we noticed was how far we could position our primitive farm-pond boat from these areas and make far-reaching, rocket-style casts to fishy water. In terms of spooking fish, being able to make long casts is definitely a plus to this reel. And this was right out-of-the-box, not dialing in the six internal brakes, only making some small adjustments to the external braking system dial like you would to any baitcaster. We caught numerous fish in the two- to five-pound class and the 13-pounds of Shimano Cross Carbon drag performed as advertised —smooth to start up and reliable until the fish were in the boat.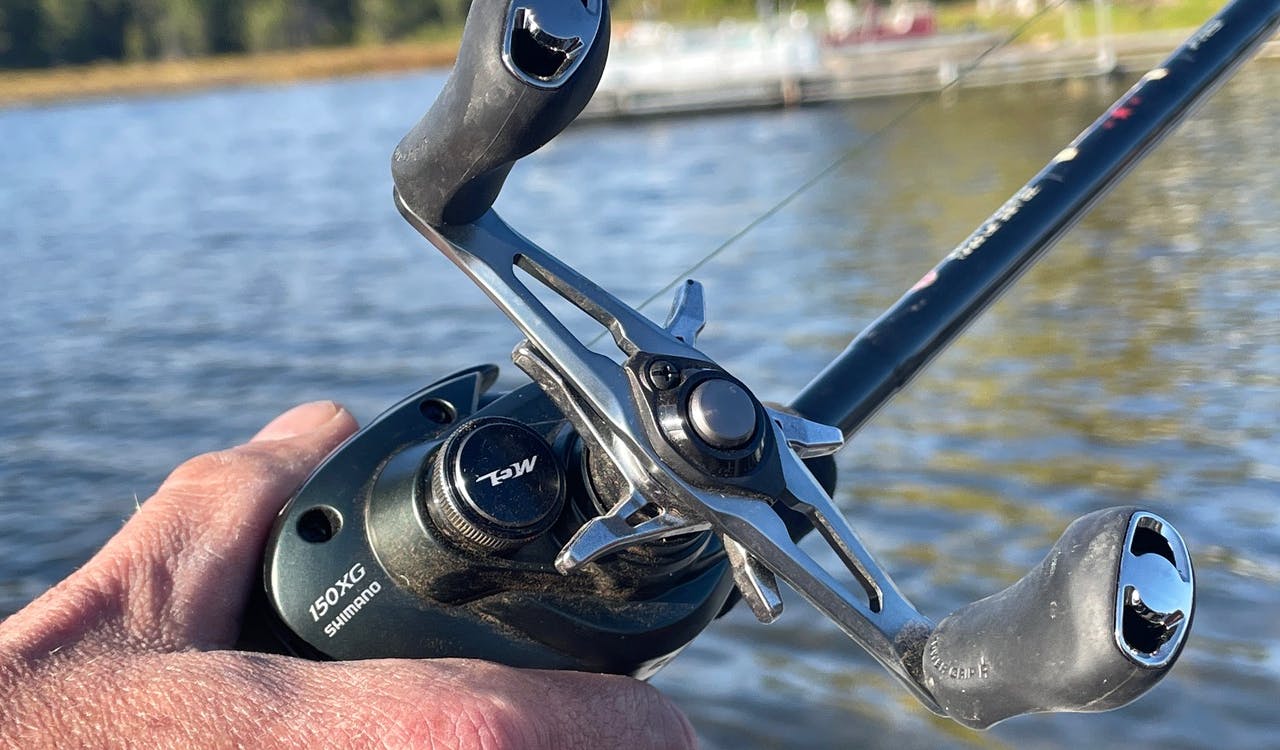 Once back at the dock we were met by one the Omnia staff's nephews, a twenty-something angler with little to no baitcasting experience. Curious about how a novice would handle the reel—and if backlashes would ensue—we had him take a few casts off the dock. Thumbing the spool only minimally, he was still able to make casts out to the weed edge without backlashing and even caught a 2-pound bass in the process! 
Our only regrets are that we didn't cover baits of all sizes in our limited time on the water. It would have been nice to test the bait with a small crank or Ned Rig, and conversely, with a big crankbait or swimbait… Our guess is, though, the reel will handle it all with small adjustments to the six internal brakes and external braking dial.
Final Thoughts
Smooth, compact, powerful, and efficient, the Shimano Curado MGL 150XG is the perfect addition to an angler's arsenal whether they are on the tournament trail, fishing weekends, or just getting started in bass fishing… Versatile, lightweight, smooth, compact, and easy to fish, the Shimano Curado MGL 150XG may just be that one baitcaster that does it all… And at $199.99 MSRP, that's saying a lot. Kudos to Shimano designers for bringing this reel to market—it really meets the needs of a lot of bass anglers in search of baitcaster versatility.