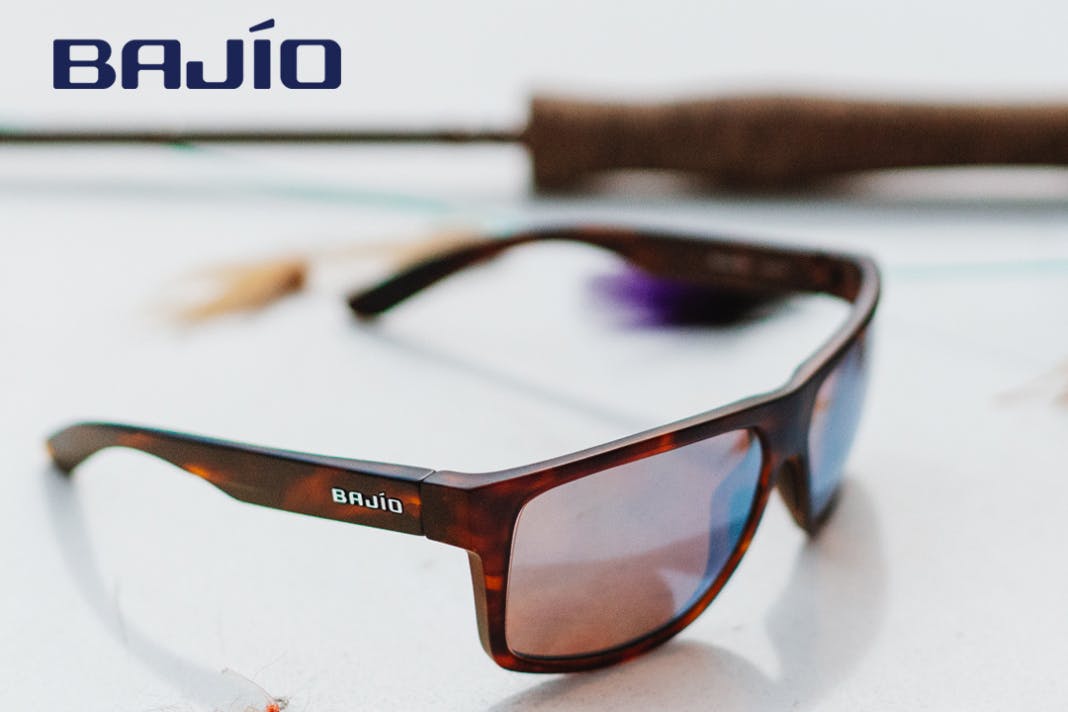 A Fishing Must-Have: BAJÍO Polarized Eyewear
A Fishing Must-Have: BAJÍO Polarized Eyewear
By Omnia Staff 
If you're reading this, chances are you've purchased a pair of expensive polarized fishing sunglasses before, only to lose them to the water or the crevices of the truck. Yes, it's happened to all of us. The result? Frequent purchases of cheap gas station sunglasses with sketchy polarization and UV-ray blocking capabilities. The thing is—$20 gas station sunglasses are junk—and each avid or serious angler needs a pair of quality polarized and UV-ray blocking glasses, even a couple of pairs for varied fishing and light conditions. Keeping them on a lanyard or in a case should become a priority, just like we keep our rods, reels, tackle, and accessories organized and easy to access. Once you find a pair of sunglasses you like, most likely you'll keep track of them like you do your smartphone, never farther than an arm's reach from the shades…
In the June 2022 issue of In-Fisherman, avid angler and physician, Dr. Hal Schram, wrote a very informative feature titled "Seeing Clearly and Safely" that describes just why polarized and UV ray-blocking eyewear should be considered an angling essential.
Polarized sunglasses became a big deal in fishing back in the 1980s with pro anglers like Roland Martin branding glasses under his name. Since, anglers have caught on to the benefits of wearing polarized sunglasses on the water, given the benefit of sight-fishing bass and other species and seeing bottom composition and structure more clearly. Fact is, there's been a technological revolution in fishing sunglass construction since these early years. Today's sunglasses not only offer polarization but block out (UV) ultra-violet and (HEV) high-energy visible "bad light." There are countless brands on the market from which to choose, and each offers unique materials, frame styles, and lens colors from which to choose. Costa Del Mar, long considered the leader in fishing sunglass manufacturing, is still creating some great product, but what we're especially excited about at Omnia are Bajío sunglasses, a relatively new company on the scene that was started by Costa's original hardcore angler marketing, design, and sales staff. Seriously, Bajío sunglasses are the best fishing eyewear we've ever worn—and we want to share their many options with you—but more on that in a little bit…
Dr. Hal Schram says quality fishing sunglasses are as essential to his fishing as a rod, reel, line, and the right lure—and emphasizes that any angler will benefit from eyewear with polarized, dark-tinted lenses. Most anglers don't know what they're missing in terms of seeing better underwater and preventing eye fatigue until they've tried a pair of high-quality eyewear specifically designed with the angler in mind.
B.A.S.S. Elite angler Patrick Walters is a big fan of Bajío sunglasses and wears them every day, despite the fishing conditions.
"I grew up offshore fishing and started bass fishing when I was in the sixth grade. That's when I fished my first tournament with a buddy and since then I've been hooked, no pun intended. I just gravitated toward the sport of bass fishing because it's competitive, the species is exciting, you're spending a lot of time on the water, and everything's constantly changing," says Walters.
"If you can't see what you're fishing for, you're basically wasting your time," adds Walters.
Walters continues: "That's where having a pair of quality sunglasses becomes so essential. I can remember fishing offshore and wearing blue sunglasses to reduce the glare of the ocean. For me, now, fishing shallow a lot, polarized sunglasses are a top-tier item in my toolbox. And you've gotta protect your eyes. I plan on fishing for the rest of my life and you can lose your sight at an early age from sun exposure. You can burn your eyes, just like your skin. That's where sunglasses are as essential as sunscreen for the skin. And quality sunglasses not only protect your eyes, but they also help you catch more fish."
Protecting Your Eyes
Dr. Hal Schram is right on the mark when he says that "lures, hooks, and sinkers can turn into bullets when a snagged bait comes free." We've all been injured or nearly injured in situations involving wood or rock snags or baits coming free from a netted fish. A must-have, seriously, is eyewear to protect your eyes from sustaining damage in situations like this.
Dr. Schram also cites bugs in the air and sand in deck carpet as potentially eye-damaging debris. Start hitting the RPMs and you can create a literal sandstorm at the steering wheel. And if you wear contact lenses, you need to be especially careful.
Obviously—besides the dangers of fishing and injuring the eyes from projectiles—bright sunlight also hurts the eyes and those with fair skin and blue or green eyes are especially photosensitive. Schram says every angler should take steps to protect his or her eyes from "bad light", the short-wavelength, high-energy visible (HEV), and ultra-violet (UV) light. UV rays can actually cause a condition called photokeratitis, a painful, temporary eye affliction. Schram explains it as a sunburn of the cornea, the clear outer coating of the eyeball. Anglers who develop this condition by not wearing sunglasses can expect the condition to last several hours to a couple of days—and from what we've heard, it's no fun.
Dr. Schram also says that long-term HEV and UV exposure can increase the risk of several eye maladies that won't heal without surgical intervention: cataracts, pinguecula, and pterygia. UV exposure can also cause nuclear sclerosis, a yellowing of the lens in your eye—and the most common form of cataracts. Pinguecula and pterygia are tissue malformations on the surface of the eye—and UV light exposure has also been linked to macular degeneration, a deterioration of the retinal, and causes progressive vision loss. Macular degeneration cannot be reversed or repaired and potentially leads to blindness. Very dark sunglasses without UV filtration can make your pupils dilate and let even more damaging UV light into the eye.
Thus, quality fishing sunglasses can protect—and maybe even save—your eyes and long-term vision. Impact-resistant lenses that filter out UV, UVB, and HEV light are essential.
All About Polarization
While preventing eye damage may seem like common sense, for most anglers, seeing better underwater is the main priority when choosing fishing sunglasses. To that end, polarization is the key to choosing the right pair of sunglasses specifically for the kind of fishing you do.
Dr. Hal Schram explains that light travels as a wave on infinite planes to the eye and those light waves in and near the horizontal plane reflect off the water and cause glare. He says a polarized lens—or a polarized layer—will only allow those waves with a particular planar orientation to enter the sunglass lenses. The trick? Polarized sunglasses are manufactured through a process that arranges large, light-blocking molecules on the lenses or polarizing layer, which allows only those light waves perpendicular to the molecules to transmit to your eye.
Dr. Schram continues to say that in fishing glasses the polarizing molecules are oriented vertically to filter out the light waves in horizontal planes, which reduces glare and eye strain, allowing better visibility of fish and structure below the water's surface. Schram says more light waves penetrate the water when the sun is overhead than early and late in the day when the sun's rays strike the water at a low angle. He says that on cloudy or overcast days, the sun's rays are diffused and come from a multitude of directions, resulting in less light penetrating the water. Thus, polarized lenses improve underwater visibility under these low-light conditions but cannot compensate for the reduced light reaching and reflecting off underwater objects.
Fishing Sunglasses – Lens Color Options
In terms of lens colors, there are almost as many colors from which to choose as there are manufacturers. Copper, orange, yellow, amber, and brown lens tints are helpful in low-light conditions because they block the blue light and make the environment appear brighter. A very cool option is Bajío's new rose-colored lens, which is especially helpful in low-light conditions—but more on that later. The aforementioned colors not only enhance depth perception and contrast, but reduce eye fatigue and improve image clarity in overcast, hazy, and foggy conditions. Removing yellow light also improves image quality.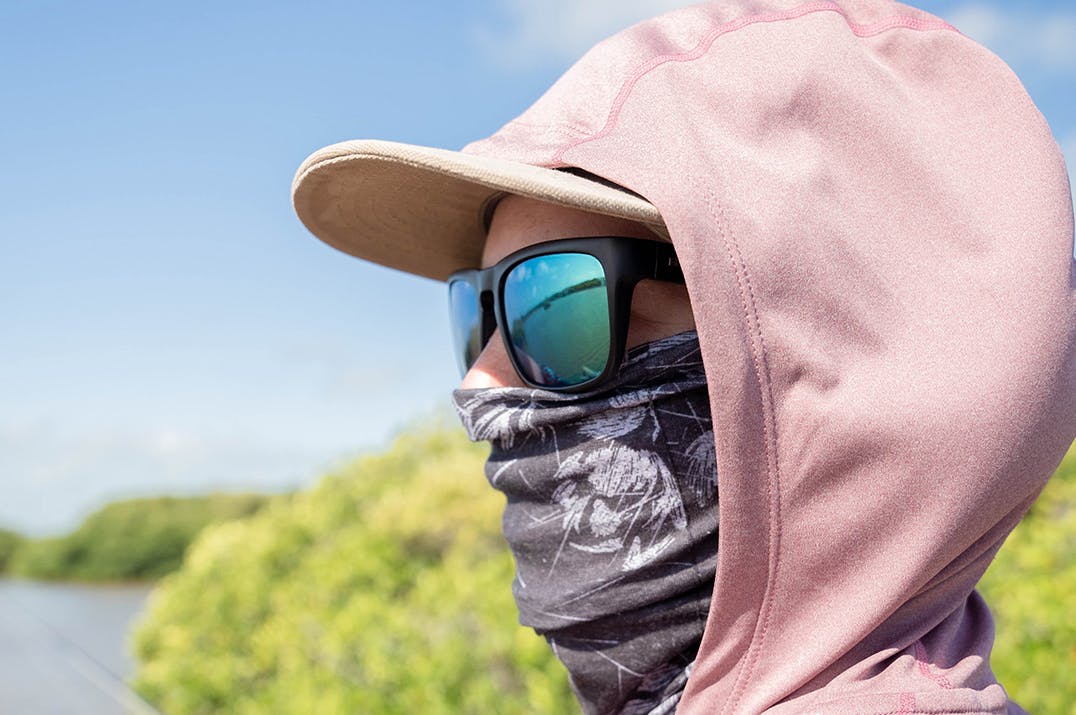 For B.A.S.S. Elite angler Patrick Walters, lens color is a big deal, and he keeps several pairs of sunglasses on the ready for different light and fishing conditions. "If I'm fishing wide, open water expanses I'm wearing blue lenses, like in Ontario in the middle of the lake or offshore. I also like blue for deep water. But the green lens is what I wear the majority of the time; that's my everyday lens. If I'm fishing shallow or even at home cutting the grass, I'm wearing green glasses or new rose-mirror glasses. If it's a little more overcast or cloudy the rose mirror is awesome for bringing out the clarity and available light. The new violet mirror is great for low-light conditions like mornings and evenings but you still want to protect your eyes from projectiles and make the most of available light. I would recommend anglers—if they can—go with a green, rose, and violet mirror pair to match every situation faced." 
"I just finished 12th in the Elite tournament on the St. Lawrence River and sunglasses were crucial to the bite. It's hard to believe that you can catch 24 pounds the first day, 24 pounds the second day, and 21 pounds the third day and slip down to 12th place. That's some crazy smallmouth fishing up there. Simply unbelievable. I caught basically everything looking at them through Bajío sunglasses, primarily the green- and violet-colored lenses. They perform just awesome for sight-fishing smallmouths. You can't fish without them. It's like the original forward-facing sonar. They'd be swimming around the boat and you'd just pick one out. There would be five three-pounders, a four, and then a five, and you'd just pick out that fish and target it. We were in nine feet and less throwing hair jigs, wacky worms, and drop shots," notes Walters.
Bajío rep and hardcore musky angler, Jeff Westgard, comments: "What's been most popular in my Midwest territory is definitely green lenses. It's a great everyday lens and I absolutely love fishing in them. If it's crazy bright you might want to go to the blue mirror, but 90% of the time, the green mirror has you covered. In terms of clouds and low-light, last year Bajío introduced a rose mirror with a gray base, which has turned into a very popular option for fly anglers for general day fishing use. It's also a great low-light lens that really took off last year through this spring. Bajío also just launched their violet mirror option. I absolutely love the violent mirror. I've been driving for three hours as I mention this—and it's clouded up—and I can see perfectly. I keep them with me all the time—in the truck, for use in the yard, and fishing. They are Bajío's brightest lens. I love the green for an average day on the water and violet for low-light conditions."
About BAJÍO
The same crew of hardcore anglers who started Costa Del Mar Sunglasses are now at the helm of Bajío. Costa was bought out and the original crew started their own venture, now offering anglers sunglasses designed by anglers, especially for anglers—just like the original Costa styles and frames.
Jeff Westgard, Bajío sales/marketing representative in the Midwest and avid musky angler, says there are two key figures at Bajío. Al Perkinson was with Costa for 17 years and was their VP of Marketing. After Costa was sold a couple of years ago to Exotica, Perkinson departed and during that time the head of sales for Bajío, Shawn Kelly, who was also with Costa for about 15 years, also departed. Point is, says Westgard, these guys are ringers—they're sharp, they know what it takes to make great sunglasses, and they're also hardcore anglers themselves.
"As far as technology with the Bajío lenses, they have a patent on their unique blue-light filtration. One comment that I hear pretty commonly when people try Bajío sunglasses for the first time is they will say something to the effect of my eyes feel very relaxed. The guy who started Musky Mayhem, Brad Hobby, who was a big Costa guy for 20-plus years and is very light sensitive has had nothing but great things to say about Bajío for musky angling. When he endorsed Costa he wore glasses with blue lenses because he's so light sensitive. With Bajío, Hobby can wear sunglasses with green lenses. It's not too bright and overwhelming."

Customer Service You Can Count On: BAJÍO
Westgard says that one key difference between buying a pair of Bajío sunglasses and another brand is the customer service you get from Bajío, should experience any issues at all with the product. All Bajío sunglasses feature a limited, lifetime warranty.
Sunglasses Construction—Glass vs. Plastic
So, you're ready to pull the trigger on a quality pair of fishing sunglasses. The dilemma then arises as far as choosing between glass and plastic/polycarbonate lenses. Glass is more scratch resistant but are heavier and offer less impact resistance than those with polycarbonate lenses. Today's plastic lenses are thin, don't weigh much, and provide great image clarity. It really comes down to trying on a bunch of different frames to find out what feels best to you. Bajío offers great options in both glass and polycarbonate—and in a wide array of frame styles and lens colors/coating for every type of fishing you can imagine—from bass fishing to fly fishing to offshore big-game hunting, Bajío has the bases covered…
"Glass outsells polycarbonate probably six or seven to one," notes Westgard. "There's a coating on the glass lens that really helps with diffusing sunscreen or oil from your face and makes cleaning them off much easier."