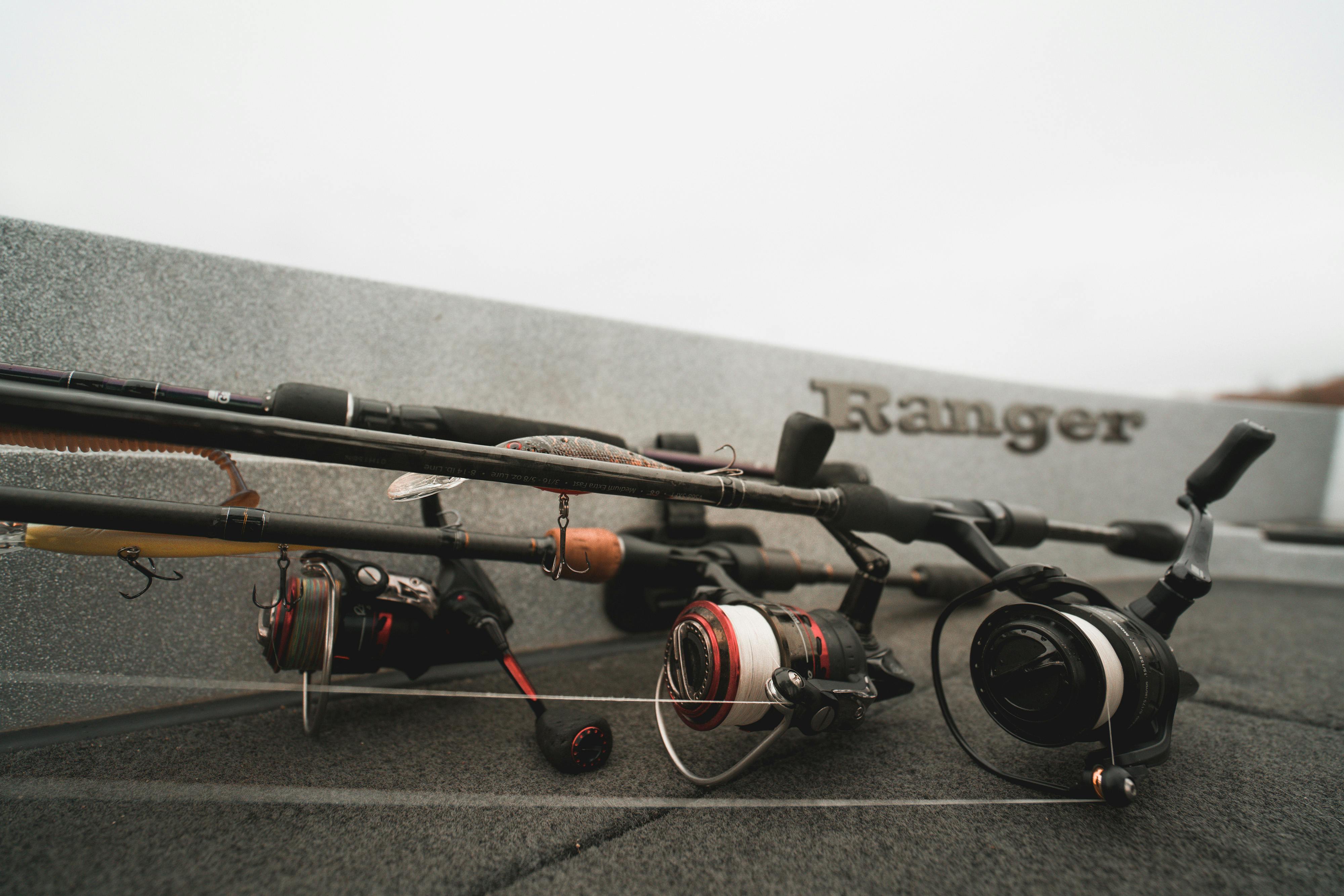 Choosing the Right Fishing Line Between Braid, Mono, and Fluoro
The right technique and water conditions are key considerations when choosing the right fishing line between braid, monofilament, fluorocarbon.
Key properties of different line types include stretch, weight, strength and durability, sensitivity and visibility.  Most line types excel in one or more features, but just like Super Tecmo Bowl (any Bo Jackson fans?), when you're good at one thing you give up something else. No line is great in every scenario and technique so it's important to know what works best at the moment and have a range of line types and weights ready. You'll also need to brush up on your line to line knots so you can make a change on the fly when you change strategy. There's a lot of nuance to consider here but with all the options and the optimal line for top bait performance, you can understand why top anglers (sometimes their opinion, not objective performance) keep a bunch of differently spooled reels on their boat deck. 
We'll use Seaguar brand line, a popular line brand among bass anglers, in this article to discuss the different examples of price points and line types.
Monofilament offers the most amount of stretch which can be valuable under certain conditions but it's slowly becoming the least commonly used type of line among bass anglers.  Our customers ask if Seaguar makes a monofilament fishing line. Segaur used to make a Senshi monofilament within the last 8 years but from what we can tell it's been discontinued. Mono is thicker by weight than its fluorocarbon counterpart Still, we can't dispute the fact that Berkley Trilene XL, a popular mono line, is still one of the highest selling lines of all time, by volume.
Fluorocarbon line is one of the most popular types of line on the market and continues to grow every year.  Fluorocarbon (or "Fluoro") line offers less stretch than monofilament, more sensitivity, less visibility, and is more abrasion resistant. Many anglers talk about line float but the real impact of Fluoro's design is that it's smaller in diameter than mono so it resists less water and falls through the water column faster for moving baits where the right strike zone is key. Finally, Fluorocarbon, especially soft and well designed versions, has less occurrences of line twists than mono. 
Braid has a lot of great uses for various techniques when optimal power and sensitivity is the goal. If you're horsing a big bass out of the lily pads, braid could be the best line type. Braid also has the least amount of memory so a braided line that has been left on a reel in the offseason won't look like a slinky on the first cast (mono will). 
You probably also hear a lot about braid to fluorocarbon leaders. This is a common combination when you need strength and improved sensitivity but could use a little stretch buffer in finesse technique scenarios. The braid to fluoro leader is also great for keeping your spool filled with 10 lb braid and switching out fluorocarbon leader weights as techniques and conditions change.  
Seaguar branded lines have been around since 1971 when they were the first company to introduce the fluorocarbon product to market. Seaguar products are manufactured in their facilities in Japan. Seagaur has a very wide range of fluorocarbon lines that come with features and price points that work for any angler looking to step up from mono. Not only do they make the final fishing line product but they make the raw resin as well which allows them to continue to innovate with full control. Seagaur is known as a premium brand and their prices do reflect this. They offer Basix and Red Label as their cheaper fluorocarbon options and Tatsu on the other end of the spectrum, the highest end and highest performing fluoro you can find.  Berkley, among others, is well known for their monofilament versions of fishing line and Rapala owns Sufix who is a market leader in 832 braid.
We'll walk through each line type in detail and focus on the techniques and conditions where each shines.  We'll also provide some examples of price points and brands that are top sellers in each category. 
As we mentioned above, monofilament ("mono") line is one of the cheapest ways to get out fishing.  Mono has been around for a long time and a popular box like Berkley's Trilene XL is less than $10. Mono has the most stretch out of the 3 common styles of line and will float or resist sinking compared to fluorocarbon.  Mono also has the highest memory of any line so it will need to be restretched each year if it spends too much time on your reel.  Memory can cause quite a few issues on the water with twists, knots on your spool, and the inability to maintain tension on your bait that results in bad hook sets. But take care of your line, replace often, and mono is a great low-cost option. Monofilament is popular among walleye anglers who grew up with Trilene XL in the boat.  
The top techniques for bass fishing with monofilament line are:
Topwater techniques in open water;
Squarebill bait fishing; and 
Shallow and mid-depth crankbaiting in the fall.
The added stretch of monofilament can add to better hook sets when a largemouth bass attacks slower moving baits like topwater, squarebills, and shallow diving crankbaits that aren't being burned across the bottom. Even though these are the "best" options for mono, fluoro offers much better performance for these techniques and others. Fluro stretches less, offering better hook sets and increased landing percentage. Fluorocarbon also has a smaller diameter to weight ratio than mono so it resists less water, sinks faster, and keeps baits moving in the strike zone more effectively.  
Fluorocarbon has less stretch than mono and will help increase the odds of hooking up with a striking bass. If you're going to put the time and money into finding fish and casting, it makes sense to invest in a line type that increases your chances of landing the fish. Fluoro also has more sensitivity than mono, increasing the likelihood that you'll feel a strike and set the hook quickly. 
The most popular techniques for fishing pure fluorocarbon include most moving bait techniques such as:
Crankbaits
Jerkbaits
Chatterbaits
Swim jigs
Grass jigs
Swimbaits 
Spinnerbaits 
Seaguar provides a wide range of price points and performance features in their fluorocarbon products. Seaguar Basix and Red Label are both entry point fluorocarbon lines.  Invizx fluoro is touted as nearly invisible in the water column under most light conditions. When fishing higher pressure lakes it's important to eliminate all chances that a bass that has seen artificial movements and lures in the past can recognize your presentation as unnatural.  Using the lightest line is one way to ensure you're doing all you can. Even entry level fluorocarbon lines outperform mono due to this weight to diameter ratio. Upgrading to higher end lines like Invizx takes your game up a notch.  
In scenarios where you are fishing amongst rocks or docks or in the presence of sharp zebra mussels a line with optimal abrasion resistance is a good idea.  Seaguar Abrazx is the best line in these scenarios.  Abrazx is a top performer in abrasion resistance to weight ratio and will stand up better than most fluorocarbons. At the very high end of the Seaguar line up, Tatsu Fluorocarbon is the most expensive but offers the thinnest fluoro option on the market and offers the highest strength to weight ratio. This is an extremely premium line but anglers are opting to spend the extra money for top performance. 
When fishing around weeds and lily pads and strength or sensitivity are your top needs, a braided line might be your best option.
Braid is great in a lot of fishing scenarios. It's potentially the easiest to see by a fish but as long as it's fished in or around vegetation or in power fishing techniques, it's a top performer. Braid has zero stretch but the highest sensitivity. It also has a very high weight to strength ratio and is virtually unbreakable without cutting.
While Seagaur is known as an innovator and leader in fluorocarbon production in their Japanese plant, they offer a top end braided line option called Smackdown Braid that has rapidly stolen market share from popular braided lines.
Braided line has almost zero memory so it can be used year after year. Consider inspecting your braided line from time to time and cut sections that have tears that can lead to a breakdown in the integrity of the line.  We also recommend using a cheap mono backing on your baitcasting reels before attaching the braided line. Braid can slip on a spool and mono will provide some bite to prevent the slipping.  
Braided line's sensitivity and strength make it a favorite among bass anglers.  In order to decrease the visibility of braid in high pressure lakes or incorporate a small amount of stretch, anglers commonly use a spool of braid with a fluorocarbon leader.
A braided line to fluorocarbon leader is a great option for a number of reasons. Anglers receive the strength, sensitivity, longevity, and lack of memory of braid but a small amount of stretch and virtual invisibility in the water, increasing the bite rate. And, since you're only using a small amount of fluorocarbon, you can upgrade to the premium models like Tatsu from Seaguar without breaking the bank.
Top techniques for fishing a braid to fluoro leader are usually finesse techniques that include techniques like dropshots, wacky rigs, and neko rigging. The braid to fluoro leader also performs well with grass jigs and swim jigs. If you have 100 feet of line out after a cast and only 10 feet of it is fluorocarbon line, you'll experience a very minimal stretch (but just enough) to increase your chances of getting the bite, feeling the bite, and landing the fish. When attaching a fluoro leader to braid we recommend the FG or Alberto knot.  Both are complicated and do require practice to avoid slipping when setting the hook. We provided some guidance on what fluoro weight to use based on conditions like pressure, water clarity, and technique above.  When switching between tactics often to find the best strategy for catching fish, it's nice to simply change out leaders as needed instead of an entire spool. 
So, maybe the best all-around line set up is a monofilament backed spool with a 10-lb braided line and a 10-foot 8-lb fluorocarbon leader.  Is this a hot take? 
Here's the 3 items you'd need for a versatile set up your next fishing rod and reel:
Backing
Spooled
Leader
200 yards of Tatsu is nearly 600 feet so you can make 45-60 leaders in 10-15 feet sections. Tatsu is expensive but top performing and at $41.99 per 200 yard spool you'll only be paying about $4 per leader.  
Give each of these options a try and find the right line or line combo for your fishing scenarios.