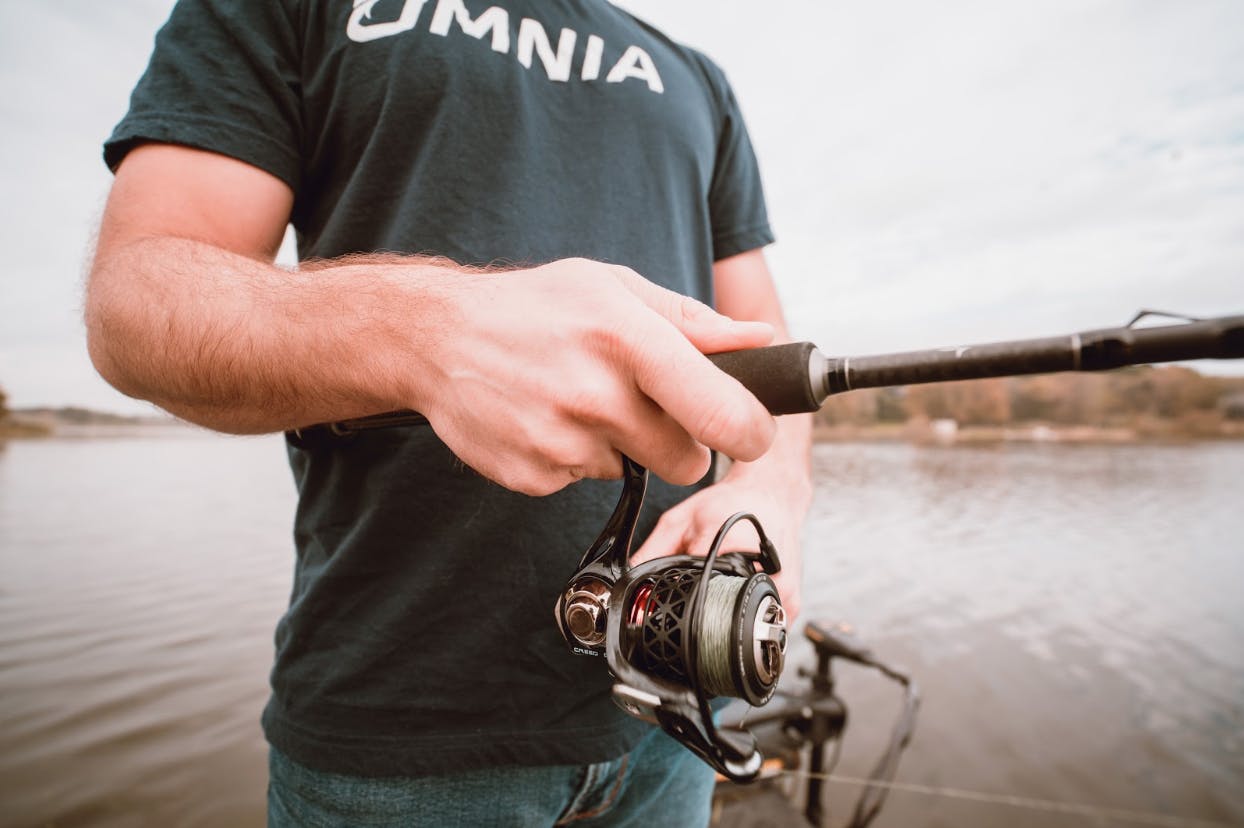 Tackle for Dropshot Fishing
Overview
The dropshot is a staple finesse fishing technique. It has become a technique that pretty much every bass fisherman needs in their arsenal. We all love to power fish, cover water, and throw reaction baits, but there is a time and place where we have to slow down and entice those finicky fish to bite. This is the situation where the dropshot really shines.
There are a ton of different tackle options available to you when it comes to the dropshot. The basics are very simple, and from there, the options are endless for fishing the dropshot. What you need: a worm, a hook, and a sinker.
How To
Rigging
When it comes to the dropshot, most anglers are turned off by the complexity of the rig. Breaking it down into much smaller pieces will make it much less daunting. First, you will need to choose your hook. After selecting the hook you want to use, you are going to tie the hook to your line with the knot that is most comfortable to you. When tying the knot, be sure to leave a large tag end (the end you would normally cut off). Once the knot is tied, you will put the tag end back through the eye of the hook from the top. Pull this tag end until the hook is perfectly horizontal. This step is very important to keep your dropshot rig facing up, this will result in getting the best hookup possible. Now that this is complete, you will need to attach the weight. 
Choosing a Worm and Hook Combination
There are an endless number of worms on the market you can use to dropshot. Before choosing the appropriate worm, you need to distinguish how you want to hook the worm. The three most common types are nose hooking, wacky rigging, and texas rigging. 
Nose Hook
Nose hooking is done by simply hooking the worm about ¼ inch into the front of the bait. Nose hooking is best used in open water with a minimal amount of vegetation. Nose hooking baits are often shorter in length, this puts the hook closer to where the bass is going to bite the worm. The advantage of having an exposed hook is that it takes less force to penetrate the mouth and will usually result in a high hook up ratio. Two baits designed to be nose hooked are the Strike King KVD Dream Shot Worm and the Berkley Powerbait Maxscent Flatworm.  
Wacky Rig
Similar to nose hooking, rigging your worm "wacky style" is best used in open water. The difference is that the worm is hooked through the middle of the bait instead of the nose. This is a relatively new style of drop shotting and is likely something that your fish have not seen before. Just like nose rigging, the hook is exposed and is often fished in open water. Although almost any straight worm will work, the most common worm to fish on a wacky rig is the Gary Yamamoto Senko. 
Texas Rig
The third way to rig a dropshot is texas rigged, or weedless. This involves threading the worm up the hook to the line tie, and then rehooking the worm to create a snag-proof drop shot rig (see the texas rig article for specific rigging details). This is best used when fishing around grass lines, or docks. When it comes to selecting a worm for this style, your options are endless. Some of the most popular options are the 6.5" Zoom Trick Worm and the 5" BioSpawn ExoStick, however almost any bait can be texas rigged on a drop shot.
Choosing a Hook
Hooks, like worms, have numerous options out there when it comes to the dropshot. There are a lot of hooks and it can get confusing. For the wacky and texas rigging, the Owner Cover Shot Hook is a great choice due to its long shank and sticky sharp hook. It features a bait keeper near the line tie that makes for a sleek profile when texas rigged. When nose hoking, the Owner Mosquito Hook is an industry standard.
Weights
In order to complete the drop shot rig, you will need a sinker. Be sure to pick a dropshot specific sinker. These specific weights feature a swivel on top that reduces line twist and a pinch styled line tie. This pinch style is designed to allow the line to slide through it. If your weight gets snagged and can't be freed, your line can be pulled through the sinker. This saves you from having to re-tie the whole rig every time you end up snagged. The three most common styles of sinker is a cylinder, ball, or teardrop style. A great blend of them all is a WOO! Tungsten Tear Drop sinker between a 1/4 oz and 1/8 oz. These weights will have you covered for all shallow water and deep water applications.
Gear
Rod and Reel
Drop shotting is often done on a spinning rod, either a 7' Med-Light or Medium is recommended. The Med-Light can be great in open water using a nose hook or wacky rig, however a slightly more powerful rod will be needed when fishing around grass and any type of cover. A Spinning reel in a 2500 or 3000 size is optimal. 
Line
Often overlooked, line is critical for finesse techniques. A popular choice is to do a braided main line with a fluorocarbon leader. Using a 10 pound braided line will cast farther than a fluorocarbon and because braid has no stretch, it will offer exceptional sensitivity to detect subtle bites. The downfall to braid is that it is easily seen, that's where the fluorocarbon leader comes into effect. Fluorocarbon is invisible underwater and with a simple connection connection knot, such as an albright knot, you can get the best features of the braid and fluorocarbon.