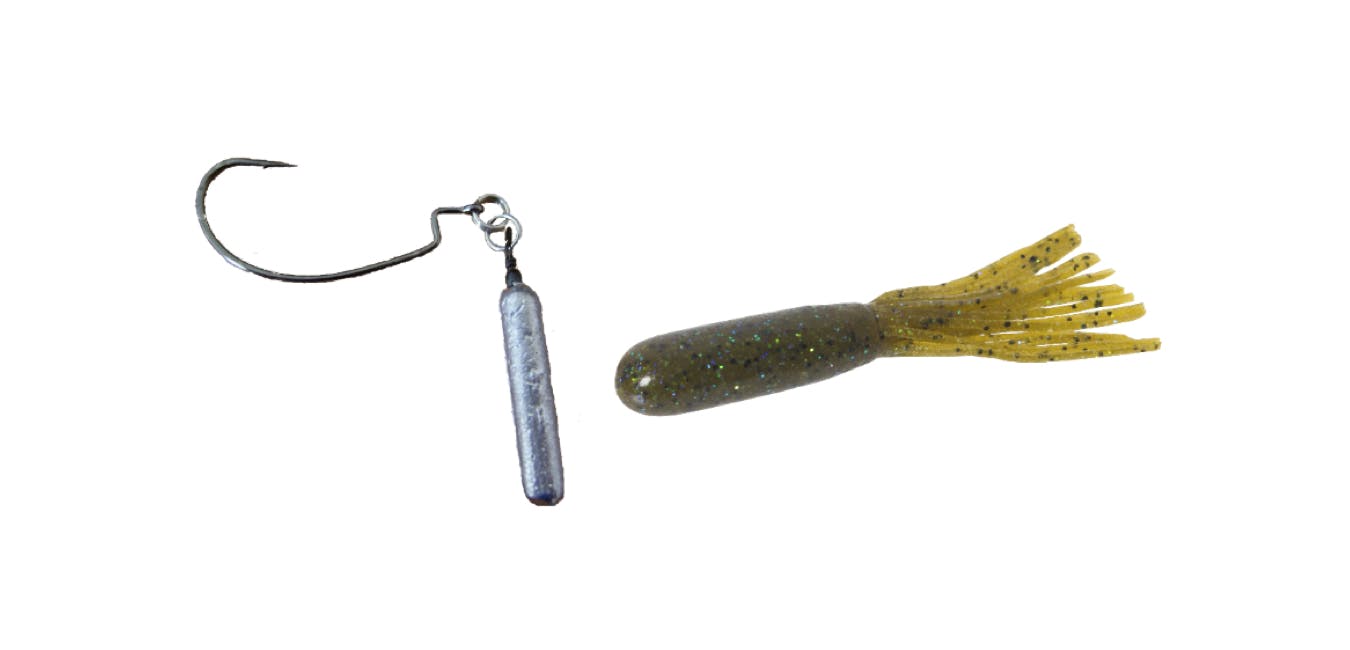 How to Fish the Jika Rig
We've had a lot of conversations lately about the Jika (pronounced "zee-ka") Rig for catching Bass, and maybe even Walleye. Does this cross between a dropshot and a Texas rig work in place of the standard dropshot? We know it will punch through heavy vegetation and has great action!
Our warehouse is stocked with supplies to build your own Jika Rig, so read on, and when you're ready, start shopping our Jika Rig essentials via the links below!
What is the Jika Rig?
The Jika Rig has been around for a long time in Japan but only made the jump to the U.S. a few years ago (you can find other articles out there on the topic like this one from Angling Buzz). 

The Jika Rig uses a split ring to connect the eyelet of a widegap hook with a dropshot weight. This additional weight creates a unique swim and dropping action that grabs the attention of both Smallmouth and Largemouth Bass. Connecting the weight without a leader offers a more compact casting profile and allows the bait to sink straight down. The split ring allows the wide gap hook to float freely and rotate from side to side as it descends.
When and How to Fish a Jika Rig
The two main cases for fishing the Jika Rig are: (1) the same situations when you would use a drop shot and (2) to pierce heavy vegetation.
When used in place of a short drop shot, the Jika can be thrown between boulders and in holes where Large and Smallmouth Bass might set up for an ambush of their prey (minnow or worm). It can also be used in spots where fish are feeding on crayfish. Like most Bass jigs, it's effective near brush piles, rocks, standing timber, stumps, and under docks.
The Jika Rig is also great for punching through heavy grass and vegetation. Its compact configuration concentrates the rig's mass, and the split ring stands the bait straight up when descending. It is a unique alternative in any part of the United States where you are fishing heavy hydrilla, lily pads, milfoil or other matted grass.
The Jika Rig can also be used in deep sediment but unlike a Texas rig, the separation of the weight and the hook keeps the bait just off the bottom instead of pulling it down into the muck with the weight.
Similar to other rig techniques like the Texas rig or Carolina rig, the number of variations is nearly endless. Smallmouth tend to be uniquely attracted to the tube bait which can be added and dropped between large boulders or across mid-lake humps. 
Add a finesse worm, craw, creature, lizard, or other soft bait in a color that matches the season or water clarity of your waterbody and the Jika Rig will deliver a big hook up. 
How to Build Your Jika Rig
As a tackle company that's creating custom shopping experiences by lake, we want to show you how to make your own.
Here's a quick video from Angling Buzz on how to make a Jika Rig with very little cost and even some gear you probably already have.
These are the products we recommend for making your own Jika Rig with little investment and an opportunity to give it a try.  The main components are:
The effectiveness of the Jika Rig in certain situations is nearly unmatched with its ability to penetrate dense vegetation and keep a bait horizontal and close the bottom in open water situations. Give this technique a try and let us know how it goes!