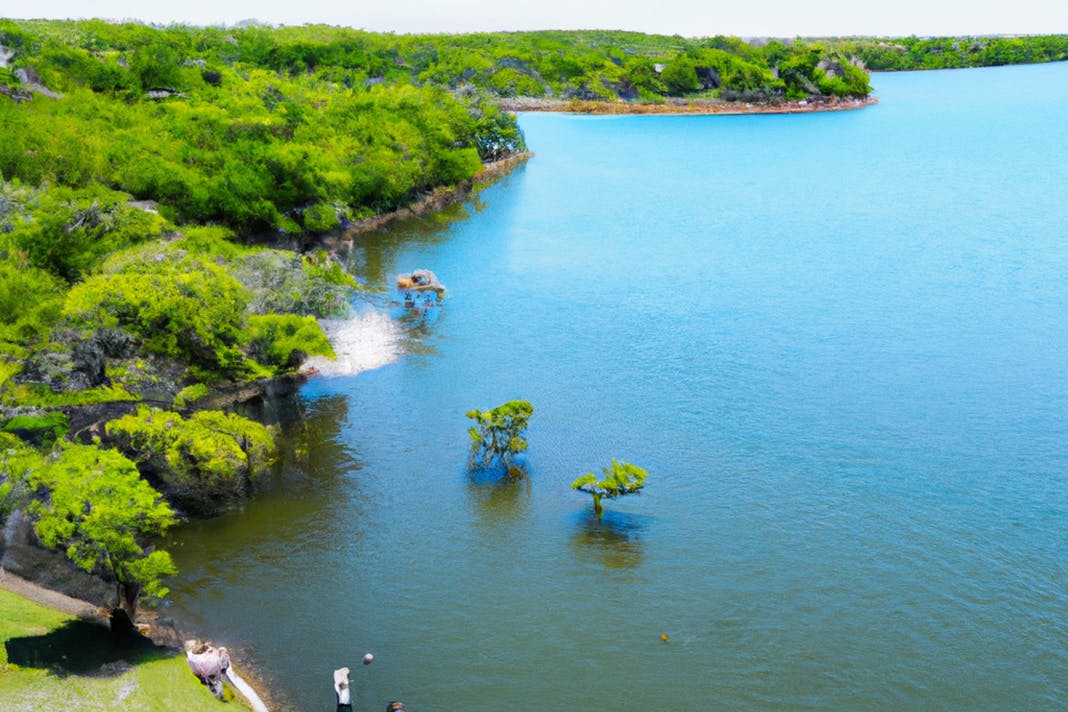 Anglers are Reporting The Top Techniques and Lures in Fishing Reports on Lake Fork in Texas for Catching Bass
Heading to Lake Fork with top rated tackle and techniques for each season will help make your time on the water a success while targeting largemouth bass across spring, summer, and fall patterns.
About 90 miles east of downtown Dallas, as the crow flies, you'll find Lake Fork, a 27,600-acre reservoir that's well known as a top sport fishery for largemouth bass, crappie, a wide range of panfish, and catfish. The max depth on Lake Fork is 60 feet while the average depth is a shallow 12-14 feet. The water levels on Lake Fork are managed by the Sabine River Authority using the Lake Fork Dam which was constructed in 1985 to create the Reservoir.  Anglers commonly pay attention to current pool height as the water levels can impact fish movement and seasonal patterns. Lake Fork is known for its massive largemouth population and lunkers.  Seriously, they're huge! Professional Bassmaster Elite Series angler Patrick Walters even joined the century club during an Elite Series Event on Lake Fork by weighing over 100 pounds during the 4-day tournament in 2021.
Lake Fork is well known as a top largemouth bass fishery in Texas and across the United States with professional and amateur bass fishing tournaments held there each year. Anglers can also find crappie, a range of panfish, white bass and catfish in Lake Fork.
Bass typically stage in a pre-spawn pattern during the month of February and will spawn in March and April, depending on where the lake warms the fastest. Under milder winter conditions and an earlier warm up, these pattern changes could come earlier than expected. After the spawn they'll enter the post-spawn pattern and move to deeper areas in the spring. Summers get hot so bass will seek shade and deeper depths near ledges.  During the fall they'll put on the feed bags and move into the creek arms and off points and humps that should be easy to locate on your depth finder.  They rarely stop changing shad, a top forage, so find the bait balls and there's a good chance that a hungry largemouth is right behind them.
The water clarity on Lake Fork has average visibility which can change on storm events.  As a result, Omnia Fishing Reports commonly report white, chartreuse, or a variant of chartreuse as top performing bait colors or "hotbaits." Shallow creek arms can become murky which results in heating faster than the rest of the lake. Spring Fishing on Lake Fork tends to focus on shallow laydowns and stumps as bass are staging before the spawn or heading to shallow beds during the full spawn period. In the summer fishing reports commonly recommend top water baits and deep diving crankbaits as fish hold in shady overhangs or in the deeper, cooler areas of the lake. Knowing how to read your depth finder is important all year but even more so in the summer. Anglers report locating largemouth bass in fall near laydowns, off points and ledges, and up in the creekarms where they're chasing shad or feasting on crawfish.
Best Lake Fork Fishing Reports and Lures for Catching Largemouth Bass in the Spring
When it comes to catching largemouth bass on Lake Fork in the spring and breaking down the lake from fishing reports on Omnia Fishing, we consider the seasonal pattern of the fish. The spring pattern includes the full spawn with both the prespawn and post spawn patterns. During the spring seasonal patterns, amateur and professional anglers have reported success finding and catching largemouth near stumps and standing timber in the pre-spawn, on points in the spawn, and back to stumps in the post-spawn.  The most commonly reported forage in the spring patterns is shad. 
Kate Field reported success catching largemouth bass using ned rigs in the pre-spawn and indicated that the Z-Man Hula Stickz in coppertreuse was the top performer.  The added chartreuse belly of the hula stickz was a helpful added flash in the low visibility.
Seth Feider, an Omnia Blue Ambassador reported success using a combination of large, softbody swimbaits, swim jigs, and jerkbait techniques in the spawn.  Patrick Walters also used jerkbaits and topwater walking baits like those by Heddon Zara Spook in bone color.  Seth's hotbait for his grass jig setup was the Outkast Tackle Pro Swim Heavy Cover Swim Jig in white rainbow with a Z-man craw trailer in blue craw.  His jerkbaits that caught largemouth were the Rapala Shawdown Rap 4 ⅜ inch in Albino Shiner and the Rapala BX MInnow in Silver.
Patrick Walters also used the Rapala Shadow Rap and the BX Brat where he reported running in the shallow main lake and on secondary clay points. Look for a very hard bottom response on your graph to locate the hard clay substrate.  This is demonstrated on your graph as multiple echos and what looks like multiple bottoms.
Best Lake Fork Fishing Reports and Lures for Catching Largemouth Bass in the Summer
Quite a few fishing reports have been filed on Omnia Fishing's Lake Fork lake page by locals in the Dallas area reporting catches in the post-spawn pattern when bass have moved off beds. There's a wide range of techniques that found success in the post-spawn that include football jigs near stumps, spinnerbaits, and large softbody swimbaits. Shad were again reported as the top forage base during the post-spawn.
Ryker Holmes reported that the Molix GT Football jig in ½ ounce and green pumpkin was his hotbait in the post-spawn when he targeted deep into the shallow grasses and around the edges of grass in creek arms.
Almost universally, anglers of all skill levels report Texas rigged worming as the top performing technique on Lake Fork in the summer pattern. The technique is employed in multiple areas of the lake but targeting spawning bluegill beds seemed to locate the best largemouth bite.  Other techniques reported include blade baits and underspins near docks.  Bass are seeking shad or transitioning to deeper areas before they head back into a scattered fall pattern while they chase shad to bulk up for winter.
Steve Clowers had success in deeper water as he reported that bass were moving to ledges.  He was able to catch largemouth using deep diving crankbaits and his hotbait was the 6th Sense Cloud 9 C20 Crankbait in Blue-Truese Shad.  He also reported a wide range of deep divers with success.
Best Lake Fork Fishing Reports and Lures for Catching Largemouth Bass in the Fall Pattern
Bass are still deep in 10-12 feet of water in the fall and can be caught on points, humps and in transition to shallower water creek arms using buzzbaits, drop shots, deep diving crankbaits (13+) and Texas rigs. This is a great time of year to catch a monster largemouth in the widest range of water columns.  Seth Feider reports catching largemouth using shallow diving crankbaits and Patrick Walters found success catching scattered bass targeting the clearest water loaded up with shad and tossing a jerkbait. 
Patrick Walters provided a great fishing report breaking down his Elite Series event week of practice using jerkbaits from Rapala.
For more details about fishing Lake Fork for largemouth and smallmouth bass you can visit the Lake Fork Omnia lake page where you can sort by season and other popular species in the lake
You can also get more ideas about popular lakes in the area and baits and techniques mentioned in similar lakes by visiting the Texas state page at Omnia Fishing.