Texas-Rigging: A Staple For B.A.S.S. Elite Pro Seth Feider
When it comes to the origins of the Texas Rig, the most accepted history is as follows: following the birth of the plastic worm (or "rubber worm" as many called it then) by Ohio-based Nick Crème in 1949, some ten years later a group of anglers on Lake Tyler, Texas, began twisting the hook and burying the hook barb in the worm plastic to prevent getting hung up on submerged timber. Then, in the 1960s, professional angler and TV fishing celebrity Bill Dance was introduced to the technique by fellow angler, Stan Marriott. Dance then introduced the world to the "Texas Rig" via broadcast media. The rest is history.
Since, the Texas Rig has won countless bass tournaments along the way and caught its share of bass for anglers coast-to-coast. Bass nuts looking for a way to fish all conditions—from grass flats to wood and brush to heavy vegetations quickly turned to the novel technique.
Fast forward to 2022 and Texas Rigging is still one of the best bass fishing techniques on the water, although many anglers have switched their focus to the latest hot techniques and trends—despite the simple approach's effectiveness.
"If an angler just wants to catch some fish, a Texas Rig with an 1/8- to ¼-ounce sinker with some form of worm on it will pretty much get you bit 12 months out of the year anywhere in the country," says B.A.S.S. Elite Pro and Omnia Advisor, Seth Feider.
"I have a Texas Rig tied on for every tournament," continues Feider. "The Texas Rig is right there as probably the most versatile bass bait on the water. I don't really think there's a time when you can't throw it. Of course, it lends itself more to fishing vegetation and wood. Anywhere there's docks or brush and laydowns or grass, the Texas Rig really excels. I use it all over the place. And it's something all levels of anglers can fish: it's basically just hook, bait, sinker, and line."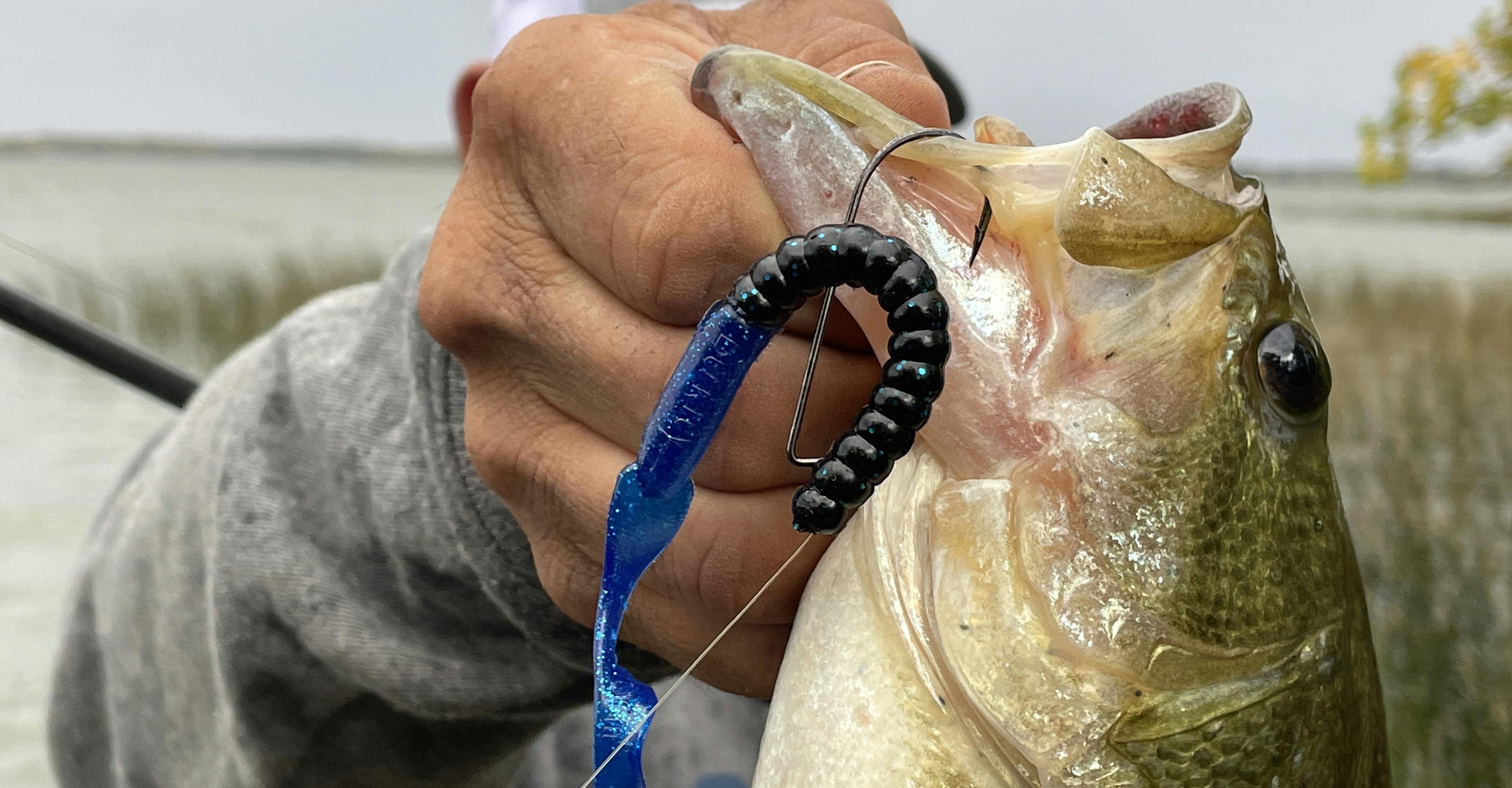 Texas-Rig Hook Choice
First things first, you will need to choose your hook—and this can be a bit confusing given so many styles and models available. After selecting the hook you want to use—which will be totally dependent on the style, size, and shape of the bait you want to hook—you are going to slide a peg (or not, depending on the weight size), weight, and tie the hook to your line with the knot that is most comfortable to you.
"I use a few different hooks—from a Round-Bend Worm Hook to an Extra-Wide-Gap (EWG) to a Straight Shank Worm Hook. I use the Round-Bend Worm Hook with big worms—like if I'm casting worms and dragging them—and with Senko-style baits. I also opt for a 4/0 round-bend VMC worm hooks for fishing deeper Texas-rigs or Carolina rigging," instructs Feider.
"When it comes to EWG Hooks, I use them for a lot of the lighter flipping I do, especially with a tube-style bait and 3/4-ounce weight or less. I use EWG hooks with all my creature baits, too. I use 3/0 and 4/0 VMC Ringed HD Wide Gap Hook with the ring at the top. I also like the VMC Flippin Hook with soft plastics keeper," continues Feider. 
"I use Straight Shank Hooks with Z-Man baits because they increase your hooking percentage by penetrating the Elaztech material better. Then, for punching, with heavy-duty 1-ounce-plus sinkers, I use Straight Shank Hooks, too. My go-to hook is a 3/0 VMC Heavy-Duty Straight Shank Hook," notes Feider.
All About Texas-Rig Weights
When it comes to Texas Rigging, weight size can be all the different between bites and blanks. But there's no exact science to it. After a while you get a feel for what the situation demands given depth and water conditions—sometimes it's cover-based and sometimes it's rate-of-fall, two factors which usually go hand-in-hand. A good place to start if you're not flipping or punching is 1/8- to ¼-ounce for most bass fishing scenarios.
Although there are countless Texas Rig weights on the market, most anglers have turned to tungsten over lead for its smaller-size-by-weight and sensitivity to telegraph bottom content directly to the rod and angler. Case-in-point, Feider uses a Woo! Tungsten Painted Flipping Weight pretty much exclusively for all his Texas-Rigging.
"Seems like the more I'm casting it in open water around grass flats I tend to fish a lighter sinker, a lot in that 1/8- to ¼-ounce tungsten range. When I'm flipping I tend to go with a heavier sinker. But weights run the gamut from 1/16-ounce to and ounce-and-a-half. You can get a two-ounce sinker but the combination of the cover being so thick you need two ounces to punch it and the heavy weight, my hooking percentages aren't very good. So I don't really go heavier than an ounce-and-a-half," advises Feider.
Peg the Sinker or Not?
The majority of the time Feider's casting a Texas Rig he doesn't have the sinker pegged, allowing the sinker to slide down to the bottom with the bait free-falling behind.
"My rule of thumb is peg the sinker when flipping docks or punching heavy cover; ditch the peg for general casting scenarios. Depends what I'm doing, but if the weight is ½-ounce or less I'll use a Woo! Tungsten Stopper peg; 3/8-ounce and over I'm using a rubber toothpick-type peg."
Texas-Rigging Line Choice
When it comes to line, with pretty much every Texas Rig Feider is throwing—3/4-ounce or less—he's fishing 30-pound Sufix 832 Braid tied to a 12- to 20-pound Sufix Advance Fluorocarbon leader. Anything ¾-ounce or above he ditches the fluorocarbon and fishes straight 40-pound Sufix 131 Braid.
Rod and Reel Set-Up
Feider's rod and reel set up for any Texas Rig ¾-ounce and less is a 7'3" Medium-heavy power Daiwa Tatula Elite Brent Ehrler rod paired with an 8.1:1 Daiwa Tatula SV baitcaster. For ¾-ounce rigs and above, he opts for a 7'6" Daiwa Tatula Elite Ish Monroe Flippin' Stick with a Daiwa Tatula Elite Pitch Flip reel in 8.1:1.
Choosing a Texas Rig Bait and Hook Combination
There are an endless number of Texas Rig baits on the market you can use. In a nutshell, they fall into six different categories: 1) Beaver-style baits; 2) Craw/Creature-style baits; 3) Tubes; 4) Worms; 5) Punch baits; and, lastly, 6) Senko/stick worms.
One of the benefits of working at Omnia is having the opportunity to try the latest and greatest soft plastics available on the market today. Having such close relationships with global bait manufacturers, we often get to try products well before they're available to the public. If it's something we really like—or have been told is something special by our extensive advisory team of anglers—we move ahead with making it available to you ASAP!
Here are just a few of our favorite Texas-Rigging bass baits in each category mentioned. Of course, when it comes to colors, you'll have to choose what you think will work best given the water clarity, cover makeup, and forage base of the waters you fish.
Beaver-style Baits
Proven as a spectacular bass producer wherever it's fished, the Missile Baits D Bomb is, in fact, the literal bomb when it comes to Texas Rigging. It's a bulky Beaver-style bait with a ribbed body that displaces a lot of water and sends off vibrations while its tails sail, sway and flap wildly. At four-inches long, a thicker head section keeps the bait locked onto your favorite flipping hook. Available in numerous colors for whatever your waters demand.
Craw/Creatures Style Baits
For years, the part craw, part tube Big Bite Baits 4" Craw Tube was a secret with countless top anglers across the country. Proving its merit on pressured waters where bass have been conditioned to many baits, the hybrid craw/tube has a bulky profile that is just compact enough to get bites when the going gets tough. We like to insert a rattle for added attraction and add to the subtle vibrations given off by the bait's molded-in rings. With subtle tentacles and claws designed to imitate a crawfish in its defensive posture, the Big Bite Baits 4" Craw Tube just seems to draw strikes from fish wary of other presentations. Available in numerous colors to match every phase of the crawfish molting process.
Tubes
As Feider notes, sometimes nothing beats Texas-rigging a tube for more bites. A double-threat on both brown- and green-bass, a tube can replicate lots of different forage, from gobies to young-of-year panfish to crawfish, all things bass love to gobble. Easily punched, flipped, or fished in open water, a tube is just plain versatile. One of our favorites? The Strike King 3.5-inch Coffee Tube, which is unique among tube-style baits due to its scent that comes from real coffee bean granules and coffee bean oil—which surprisingly creates a tremendous flavor profile for bass and camouflages any angler-introduced scents to the bait. Yes, bass apparently like coffee, too… Also salt-impregnated, these tubes simply perform—and we've tried them all. One of our favorite tricks during the post-spawn period is to Texas Rig the tube and run a medium-sized split-shot eight- to ten-inches above the bait to produce a slow and deadly rate of fall. It's an absolute bass weapon and should be in your arsenal.  
Worms
When it comes to Texas Rigging, sometimes it's hard to beat the time-tested curly-tail plastic worm—and the bigger the better. King of the big worms on the market, the Zoom Ol' Monster 10.5-inch Worm, has been the go-to big worm of tournament anglers for years. A known kicker producer, this bait has also produced its share of personal bests for anglers coast-to-coast. It's massive length, slender profile, and curled tail are great for targeting large bass—but don't be surprised at the number of bass you catch of all sizes.
Punch Baits
For punching heavy vegetation and cover, the Strike King Rage Menace Grub has proven itself time and again. Rigged Texas-style, the twin tail flutters nicely on the fall when punched through the junk, kicking strong but just subtle enough that it's not too overpowering. What more is there to say? We've found that the Strike King Rage Menace Grub just flat-out catches fish.
Senko/Stick Worms
Sometimes subtlety is key and bass prefer a "do-nothing" Senko-style/stick worm over everything else. Harkening back to the original days for the first Texas-rigged Crème Worms on Lake Tyler, Texas, in the 1950s, there's no curly-tail to turn off neutral- to negative-fish. And sometimes that's key. Even rigged weightless for fishing in super-skinny waters, a Texas-rigged Senko-style/stick worm can be something to reckon with when other presentations fail. Two of our favorites? First, the Yamamoto 6" Senko Worm and the Z-Man 5 ¾" Bang StickZ, both laminated baits for a slightly faster rate of fall than non-laminates. The Yamamoto Senko is time proven and catches fish everywhere, especially Texas-rigged with a light 1/16- to 1/8-ounce Woo Tungsten Weight. Same goes for the Z-Man Bang StickZ but the Z-Man offers the subtle flicker of small, flickering tentacles on one end, sometimes just enough to turn sniffers into biters!
Parting Words
If you're not currently Texas-Rigging, you definitely need to be. The technique will produce bass when other go-to finesse and power methods fail. It's really that simple. Now good luck on the water from the Omnia team! We look forward to your reports online!