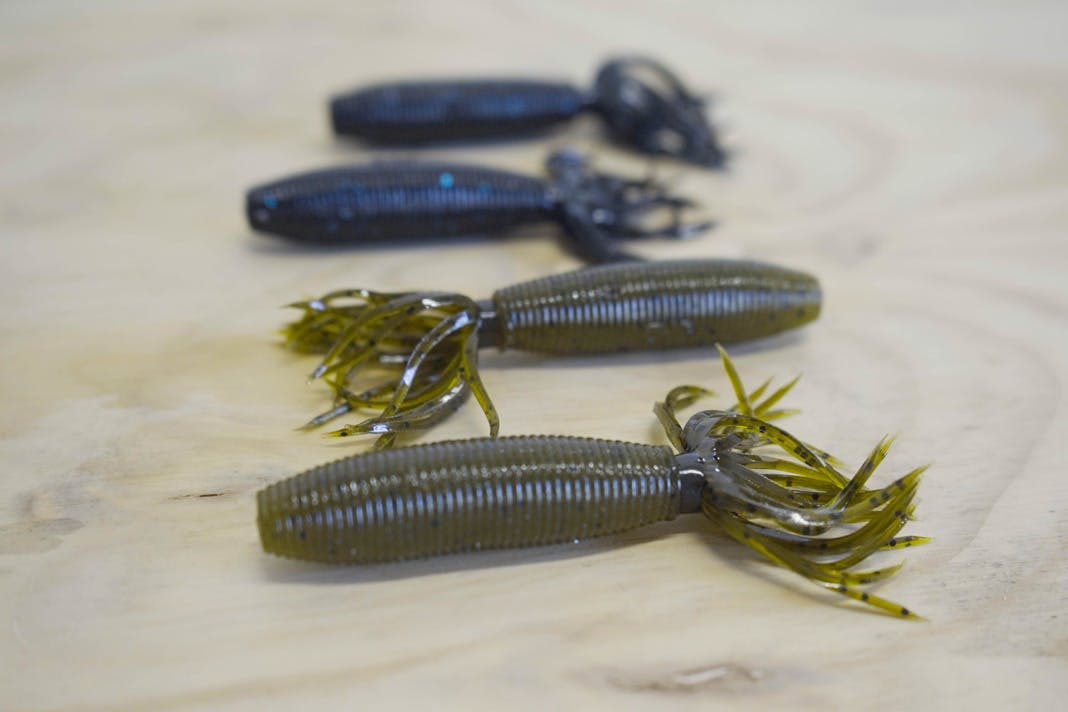 Yamamoto Fat Ika Breakdown
With just one glance at the Yamamoto Fat Ika, you might instantly think tube. Don't be mistaken  - this is not a tube, it is something entirely different, and in bass fishing different can be good. The Yamamoto Fat Ika has the profile of a tube but with a solid body like a grub style bait or a fatter Yamamoto Senko. Made with the same plastic and salt content as Gary Yamamoto's famous Senko, the Fat Aka is a little bit thicker than the 5-inch Senko, giving it a bulky and compact profile. A combo of these two things seems to get bass to hold on and not want to let go with plenty of time for a hook set.
How would you rig this interesting bait? Well, there is a lot of possibilities. What first came to mind is to Texas rig and flip it into and around shallow cover. The shape of the Fat Aka is very streamlined and comes though grass with ease, making it a great choice for flipping into milfoil and other thick vegetation. However, the Fat Ika is not just limited to a flipping bait or being fished around grass, as it can be fished in around nearly any sort of structure or cover. Just like mentioned before, the possibilities are almost endless with the Fat Ika. This bait can be Texas rigged, Carolina rigged, weightless, on a jig head, even fished backwards for a more unique presentation. When fished on a jig head, the bait doesn't drop straight down, but has a slow spiraling action all the way down to the bottom. No matter how you decide to fish the Yamamoto Fat Ika, it's important to fish it around cover and structure.
Rigging Backwards
Not every bait you look at can be turned around and fished the opposite way. Doing so with the Yamamoto Fat Ika gives the bait an entirely different profile and action. The profile of the bait changes due to the skirt like appendages being at the top of the bait, bulking up the profile. When fished backwards on a weightless hook, the Yamamoto Fat Ika has a backwards sliding action to entice bites from wary bass. The salt in Yamamoto plastics is what gives these baits weight and creates a unique falling action, not replicated by traditional soft plastics. For fishing faster or in wind and deeper water, anglers can add a nail weight into the head of the Fat Ika for a faster fall rate and more feel in deep water. Rigging the Yamamoto Fat Ika this way is especially great around docks, where the added weight allows it to skip a country mile, where placing a jig might be more of a challenge. No matter how it's rigged, the Yamamoto Fat Ika is a fish catcher that gives bass a unique look, not replicated by other soft baits on the market.