Omnia Customers Now Earn Omnia Tackle Credits When Fishing Reports Help Anglers Shop for Tackle
We're excited to announce an addition to our shop-by-lake program to include expanded incentives for content creators that post fishing reports on Omnia lake pages.  
We're in the business of helping anglers find the right gear to be successful on the water to make the sport of fishing better.  We already sort our massive tackle and gear selection based on the time of year, species, patterns, and unique characteristics of a lake like clarity, structure, depth forage.  Many times, this results in us suggesting top techniques for each species in the season and a category-by-category breakdown of products that match.  Products are refined by other characteristics like clarity to influence specific colors. Bass Utopia content add context and additional suggestions.
Fishing reports filed by Omnia customers on specific lakes take the place of product reviews and further refine the output to rank brands and products mentioned.  These feedback loops are constantly refining the recommended products on each lake page.  Omnia is the only the only company with location-based organization to support this type of content creator and shopping experience at the lake level.  Now, we're expanding our incentives to help fishing report creators earn each time the reports they generate result in a sale. 
Advanced and upcoming anglers indicate tackle that is working on their lakes, while more novice anglers use the information to make tackle selections.  Omnia ships the products out fast!  Most importantly, anglers that file fishing reports can earn free tackle credit, based on their user level, for future purchases when purchases are made based on those recommendations.   Reports never mention locations, just products and how to use them.  Content creators can add videos and pictures to their reports as well.
Silver level ambassadors (file 5 quality reports) earn $5 on a report that generated a sale and gold ambassadors earn $10 when a fishing report generates a sale.

Anyone that files a fishing report is automatically enrolled in our ambassador program.  Omnia customers can start filing multiple reports to increase their status and earn more.  
Expanded Dashboard for Credit Eligibility and Earned Credit Tracking 
We've recently expanded the Omnia dashboard where customers can manage their fishing reports, see what credits they're eligible for, and what reports have resulted in a sale.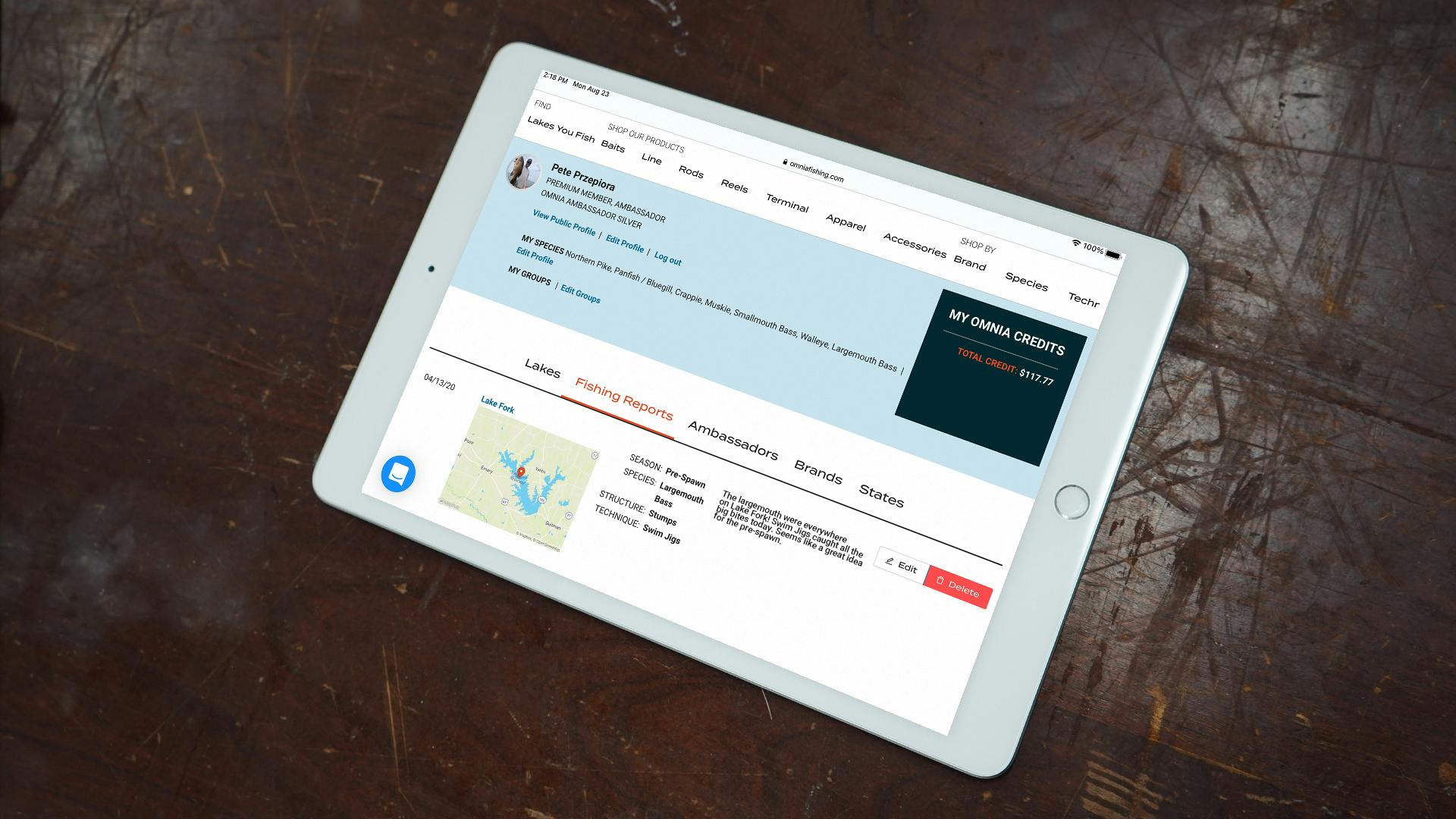 Next to each fishing report, customers are able to see the number of views each report has received, how much tackle credit the customer can receive and which reports have already resulted in a sale.  
Although it's a relatively new feature, sales from lake pages and fishing reports exploded in 2021.  Thousands of fishing reports are coming in rapidly and sales are happening.  When a fishing report results in a sale an email fires to the content creator and notifies them that a sale occurred and tackle credit is now available in their account.  Many of our ambassadors have already received multiple tackle credits.
Customers can log into their Omnia account, click Dashboard at the top and see how much tackle credit they can earn.  They can modify their reports to add images, additional products, and videos (Gold ambassadors only).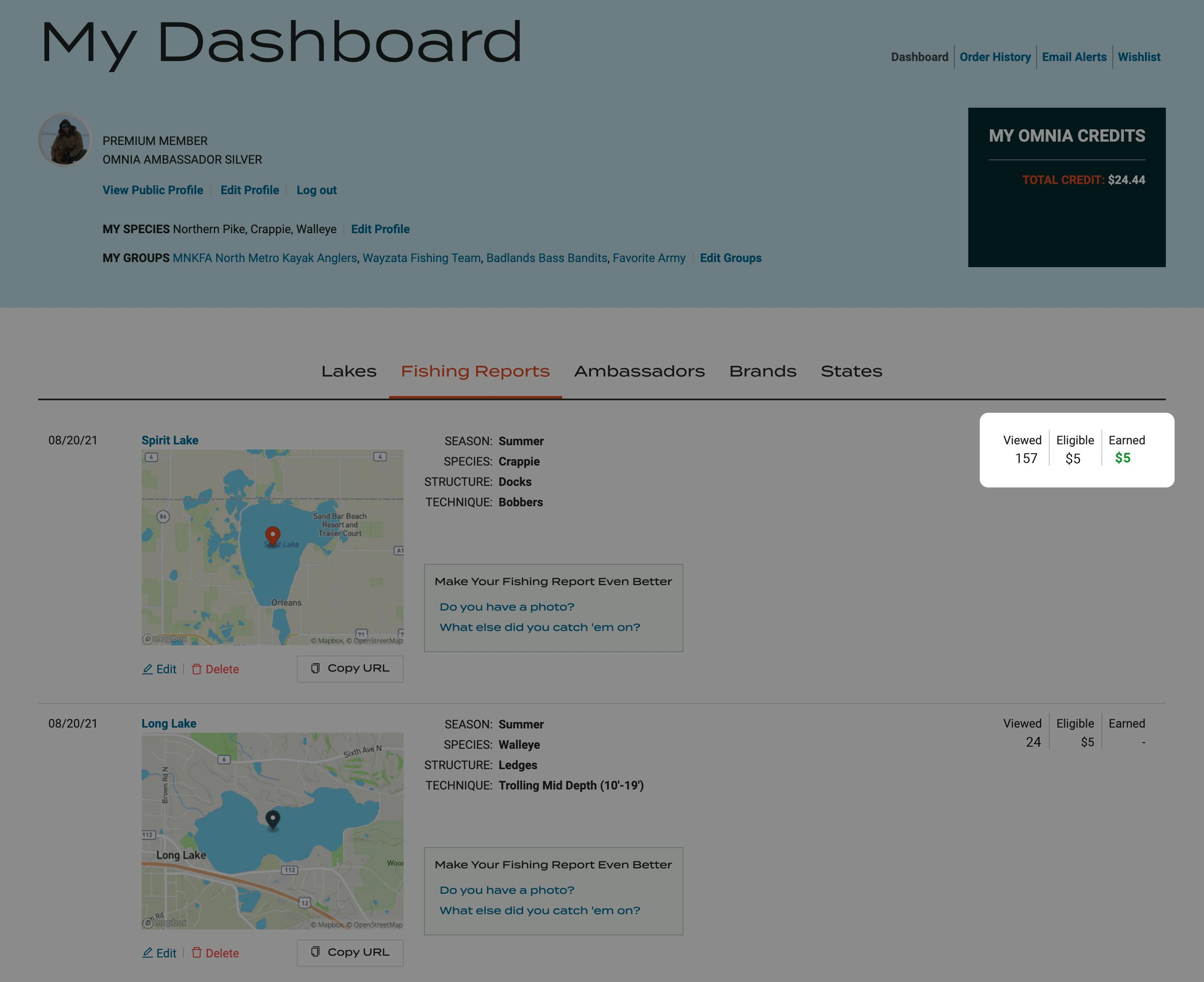 What Makes Omnia Fishing Different? 
New customers who have heard of Omnia usually ask, "What makes Omnia Fishing different from other retailers and fishing technology platforms?"  We're a tackle retailer that uses technology to make shopping for tackle smarter and easier.
We're the only platform that organizes information by lake to provide a relevant assortment and recommended products that are personalized to every angler AND holds product and ships out of our own warehouse.  Customers can also file fishing reports to help other anglers shop or represent their brands and then earn tackle credits when someone buys based on those reports. We ship directly out of our warehouse in Golden Valley, Minnesota.  We use our media company Bass Utopia to add entertainment and education to the shopping experience.  Because of all this, Omnia Fishing is the only place where anglers can discover, plan, interact, and purchase in a single location and receive best-in-class service.