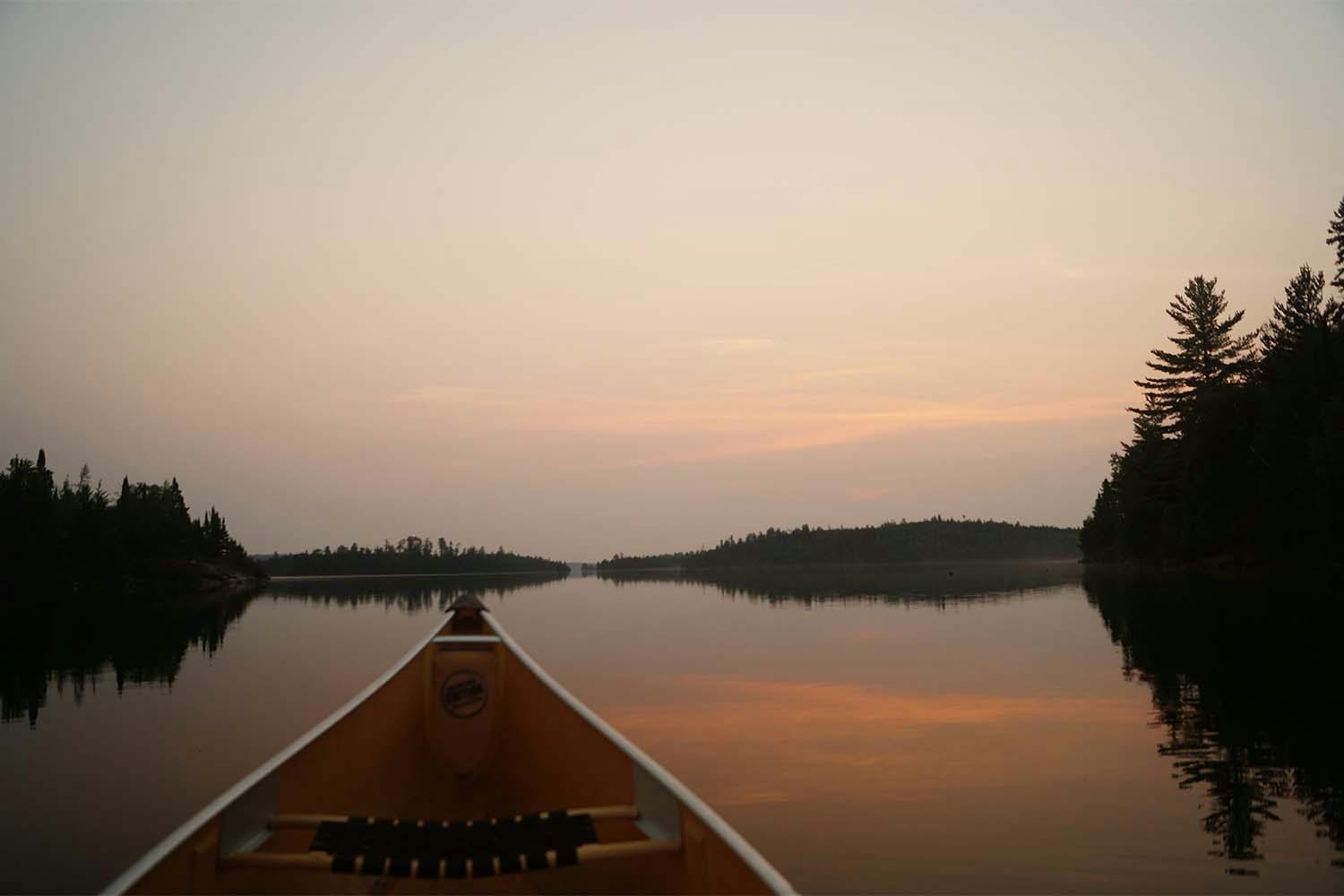 How to Plan a Fishing Trip to the Boundary Waters
Planning a Trip and Fishing the Boundary Waters
The boundary waters is a federally preserved wilderness resource of over 1 million acres and 150 miles of the border between Canada and Minnesota in the United States.  The Boundary Waters Canoe Area Wilderness Act was signed in 1978 to provide guidance on how to protect and preserve this natural beauty of lakes, streams and diverse wildlife.
There are over 1200 miles of canoe routes throughout the BWCA and over 2,000 campsites that are maintained and offer limited facilities.   Access to the wilderness area does require an entry permit.   Anglers and outdoor enthusiasts travel from around the world to experience the beauty of the BWCA.  With proximity to Minneapolis, the Boundary Waters are easy to access for Twin Cities metro residents or anyone that flies into the Minneapolis international airport.  
Although beautiful, the wilderness can be dangerous.  The entire area does not have a cell phone signal so it's extremely important to plan your trip and enter the boundary with a high level of skills in the outdoors.  Understanding the scale of the wilderness, where you're headed and what kind of physical effort will be required can be simplified using a planning tool like Paddle Planner.  In addition, Paddle Planner will allow you to communicate your plans including where you'll be and when your loved ones should expect that you'll be back in cell phone range. 
Fishing the boundary waters
The Boundary Waters Canoe area is home to several species that see a relatively small amount of fishing pressure.  This allows anglers to bring a small amount of gear and still have a successful day on the water.   The core fish species targeted and caught by anglers are smallmouth bass, walleyes, and northern pike.  Lake Trout can be found in a few key BWCA lakes and require the most unique techniques since they live in much deeper depths than other species.  All of these fish can be eaten with the right preparation.  It's common to bring a backup meal but plan to eat at least one fresh fish shore lunch during your trip.  Walleye, Minnesota's state fish, is one of the most delicious species for lunch and dinner, especially after a day of hard paddling.
As a starting point on gear, we recommend a standard spinning rod with a light spinning reel and a low-cost box of 8-pound monofilament line that offers durability and performance.  A rod that can be broken down will be best for packing.  If you're comfortable with a bait caster, we've also included a packable option from Shimano.
Here are our top picks for a rod, reel and line:
Rods
Reels
Line
Motorized boats are not allowed in the Boundary Waters Canoe Area so it's important to plan ahead and try to eliminate "dead water" where there's a low probability of finding fish.  Each location requires paddling effort so efficiency is key.  Here are a few species-specific details that you might find helpful when fishing the BWCA.
Fishing for Smallmouth in the Boundary Waters
Bass fishing in Minnesota has been growing in popularity in the last decade as lakes like Mille Lacs in Northern Minnesota become known as trophy smallmouth bass fisheries.  These bronzeback beauties are also common in both size and quantity in the boundary waters.  Their powerful strikes and fight make catching them from a small canoe an exciting experience.   
In the late spring smallmouth will move into shallow water to spawn and can be caught using casting or jigging techniques near shore or surrounding mid-lake islands.  The water temperature is still cold for the area and slow retrieves are best at this time of year.   You'll find a common theme in this article that as the waters warm in the summer months fish become more active and move to deeper depths.  Smallmouth bass don't necessarily move to much deeper depths and instead prefer to set up on structure like rocks, tree branches, and points.   
We haven't included any top water baits in our essentials list but large, aggressive bass will hit a topwater bait in the summer.  If you can fit a few of these in your BWCA tacklebox there's no better action that an aggressive fish hitting a bait on the surface.
Top baits for catching smallmouth in the BWCA
Jig and a soft bait paddle tail
Jig & Powerbait Worm
Fishing the Boundary Waters for Walleye
It's hard to mention fishing in the BWCA without a talking about catching a beautiful walleye for a photo or a meal.  Due to the stained tannin waters you'll find that many of the walleyes take on a dark copper color unlike many walleyes caught throughout the State of Minnesota and around the United States. 
Walleyes will be found in shallow waters near the banks of the boundary waters lakes and target moving waters where sand and gravel in order to spawn.  Waters are still cold so slow retrieves of a crank bait or round-head jig with a worm or grub will increase your chances of a bite.  As the water warms the walleyes will navigate to wind swept points and boulders to hide from predators like the Northern Pike and strike unsuspecting baitfish.   Walleyes commonly eat at night or "turn-on" as the sun slips behind the horizon so targeting walleyes at dusk can produce results.  Sticking with brightly colors swim baits and grubs on a jig tends to work throughout the year and also increases your chances of finding smallmouth bass at the same time. 
We recommend the same or similar baits used for smallmouth but consider jigs with more flash to fish near dusk:
If you plan to soak worms or leeches near the bottom for night walleye consider a standard hook and both regular and lighted bobbers:
The walleye is a great tasting fish, especially when you keep them between 16 and 20 inches since this is a relatively young fish.   They are easy to fillet, and their flakey white meat is hard to beat.
Fishing for Northern Pike in the Boundary Waters
Northern Pike are plentiful the boundary waters and are very aggressive.  They eat nearly anything that moves so any techniques for catching other fish are also likely to pick up a northern or 2, even if you're not targeting them.  Northern Pike will spawn as soon as the ice retreats, and like other species, can be found in shallow waters during this time.  They can be caught using shallow diving crank baits with a slow retrieve or buzz and spinner baits.  As the summer warms the lakes Pike will retreat to deeper water where deeper diving crank baits and faster retrieves will get their attention.  They can be found at pinch points between islands and shorelines or over wind swept points where they look to feed.  In addition to crank baits, Northern will strike spoons, small and large bucktails and inline spinners in the summer and fall months.  
Top recommended baits for pike
Northern are commonly discarded and not eaten due to the added step of removing a y-bone.  But they taste great and the process for removing the bone can be learned quickly by following a few simple steps.  This video will provide details about how to remove the y-bone for your next trip up to the boundary waters. 
Fishing the Boundary Waters for Lake Trout
Lake trout are found in a few of the lakes in the boundary waters that are deep enough to support them in the summer.  They are common bucket list fish for frequent travelers to the wilderness area.  Unlike other fish, lake trout spawn in the fall after the fishing season closes.  During the spring lake trout can be caught with bright colored trolling spoons or diving crank baits.  As the water warms, lake trout will move to much deeper depths where blade baits and heavier jigs are necessary to get deep quickly.  Vertical jigging with the brightly colored soft plastics will attract a bite.
Our essentials list does not include any specific baits for catching lake trout since they're not readily available in all lakes and pack weights and space are limited.  If you want to catch a lake trout, we recommend these spoons and heavier jigs for targeting summer lake trout in deeper waters.
Jigging Spoons
Most of the lake bottoms in the boundary waters are rock and boulders with relatively limited weeds so simple rigging of the soft plastics on your jigs and hooks will catch fish without the fear of getting snagged.  You will need to try to avoid a hang up on bounders and logs or branches while you work your bait along the bottom of the lake.
Optional Fishing Tackle and Gear:
Before moving locations, because you haven't had a strike, switch up your plastic color and style or jig color to see if the fish are present but would prefer a different presentation.  Since soft plastics are relatively cheap and tend to work very well it's worth considering a wider selection of Soft Plastics like the Berkeley Power Worm with chartreuse tipped ail and other soft plastic types in a number of color selections.  If you plan to catch and release some fish you highly recommend a set of pliers for easy hook removal.  Keep these handy in case you really get into a hot bite!    We also recommend a unique tackle box for your BWCA tackle.  Eliminate any extra bulk and stick with a flat Lure Lock box to keep your gear organized.  
You can always reach us at hello@omniafishing.com