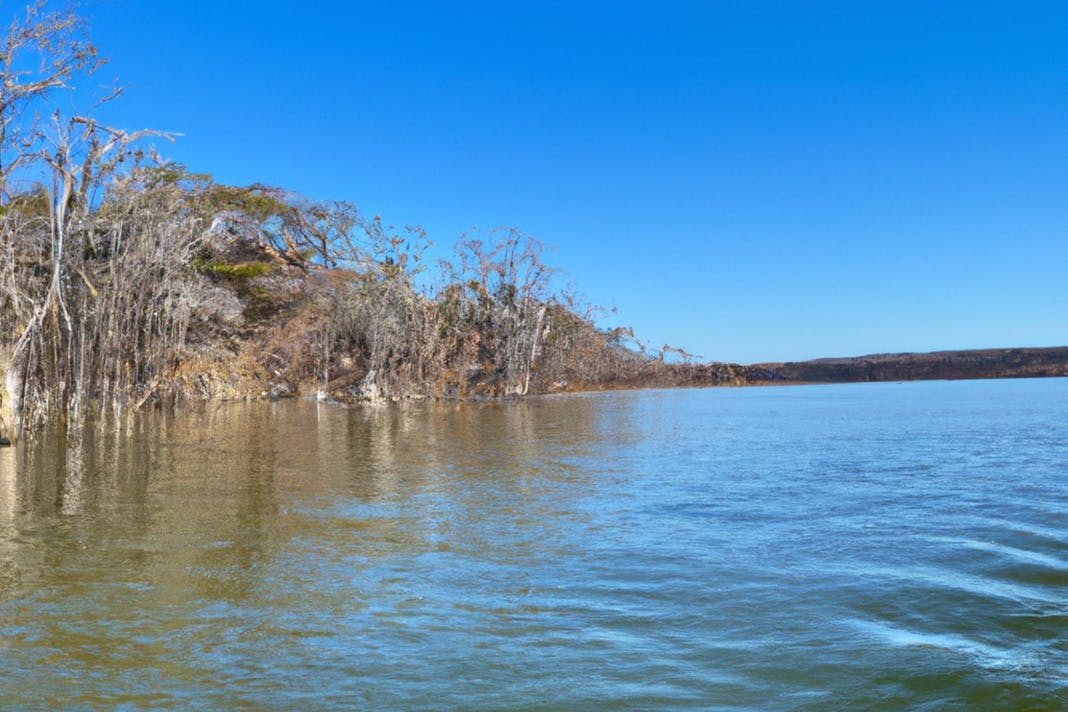 Effective Winter Bass Fishing Techniques and Lures on Lake Fork - Reports from Local Professional Anglers
Heading to Lake Fork when targeting largemouth bass in the winter season with top rated tackle and techniques from ambassadors in Omina Fishing Reports will increase your odds of success.
About 90 miles east of downtown Dallas is Lake Fork, a 27,600-acre reservoir that's well known as a top sport fishery for largemouth bass. The water levels on Lake Fork are managed by the Sabine River Authority using the 1985 constructed Lake Fork Dam but the max depth on Lake Fork is 60 feet while the average depth is a shallow 12-14 feet, depending on the time of year and pool level. When targeting bass in the winter it's important to consider the water level, water temperature, real-time water clarity, and the behavior of Texas largemouth when water temps are in the 50s.
Lake Fork is well known as a top largemouth bass fishery in Texas and there's no place on earth like a quality Texas fishery in the winter months.  Anglers report massive largemouth bass in the winter with fat bellies and a big appetite.  Leave your long-arm techniques at home and actually catch a bass that looks huge no matter how you hold it!
The water clarity on Lake Fork has average visibility which Omnia rates as a 3 out of 10, where 0 is crystal clear.  Similar to fall, largemouth bass in the winter continue to chase shad and are somewhat scattered. They can be found deep in 18-28 feet of water or in 2-4 feet of water chasing food during the winter season.
Best Lake Fork Fishing Reports and Lures for Catching Largemouth Bass in the Winter
James Caldemeyer, an Omnia Blue Ambassador, reports three different trips in the winter on Lake Fork with temps ranging from 52-58 degrees.  Largemouth usually were relating to shad in a wide range of depths.
In 52 degree water James reported that jerkbaits were his top performing bait.  He targeted stumps where shad forage was present and slowly twitched his Berkley Stunna 112 and 112+ in Hankie Pankie color. He watched the bait perform on his Livescope unit.
Season

Winter

Species

Largemouth Bass

Technique

Hard Jerkbaits

Structure

Stumps

Forage

Shad
As the water cools and winter sets in don't forget to break out the jerk baits. On days that the bite gets tougher you can break out one of these and save the day. I love the Berkley Stunna 112...
Read More
James recommended this gear for

Lake Fork, TX
When the water reached 54 degrees James reported that football jigs were working well when fishing for largemouth in the winter.  James stuck with the Santone Lures Pro Series Football jig in PB&J and Black Blue Purple but reported that the PB&J was the hottest bait.  His trailers of choice are the Berkley Powerbait Chigger Craw in Blue Blue and the Pit Boss in Green Pumpkin.  Bass were really deep in 18-28 feet of water so he'd locate them on his graph before pitching the football jig. 
Season

Winter

Species

Largemouth Bass

Technique

Football Jigs

Structure

Baitfish

Forage

Shad
The deep bite has really turned on over the past couple of weeks. I am catching a lot of fish out deep using a multitude of different techniques. Locating big schools of fish can be challenging out in the depths....
Read More
James recommended this gear for

Lake Fork, TX
At 58 degree water it was all about the lipless crankbaits.  James Caldemeyer targeted points in 2-8 feet of water during this outing and caught them need shad balls.  His hot bait was the Berkley Warpig 3 inch in Sexier Shad.
Season

Winter

Species

Largemouth Bass

Technique

Lipless Crankbaits

Structure

Points

Forage

Shad
The shallow bite has been good from main lake points to the backs of the major creeks. I am finding most of the fish in 2-8 feet of water. Lipless crank baits like a Berkley Warpig and Square Bull square...
Read More
James recommended this gear for

Lake Fork, TX
Across a 6 degree variation in water temps from 52 to 58 degrees, the same angler found bass in a wide range of locations in the water column. The common theme seemed to be locating shad. James changed his techniques based on depths and found a lot of success with great largemouth bass to prove his strategy is working on this Texas Fishery.  In a couple days he caught more giant bass than many of us hope to in a full season.
For more details about fishing Lake Fork for largemouth in the Winter you can check out the Lake Fork Lake Page
You can also get more ideas about popular lakes in the area and baits and techniques mentioned in similar lakes by visiting the Texas state page at Omnia Fishing.