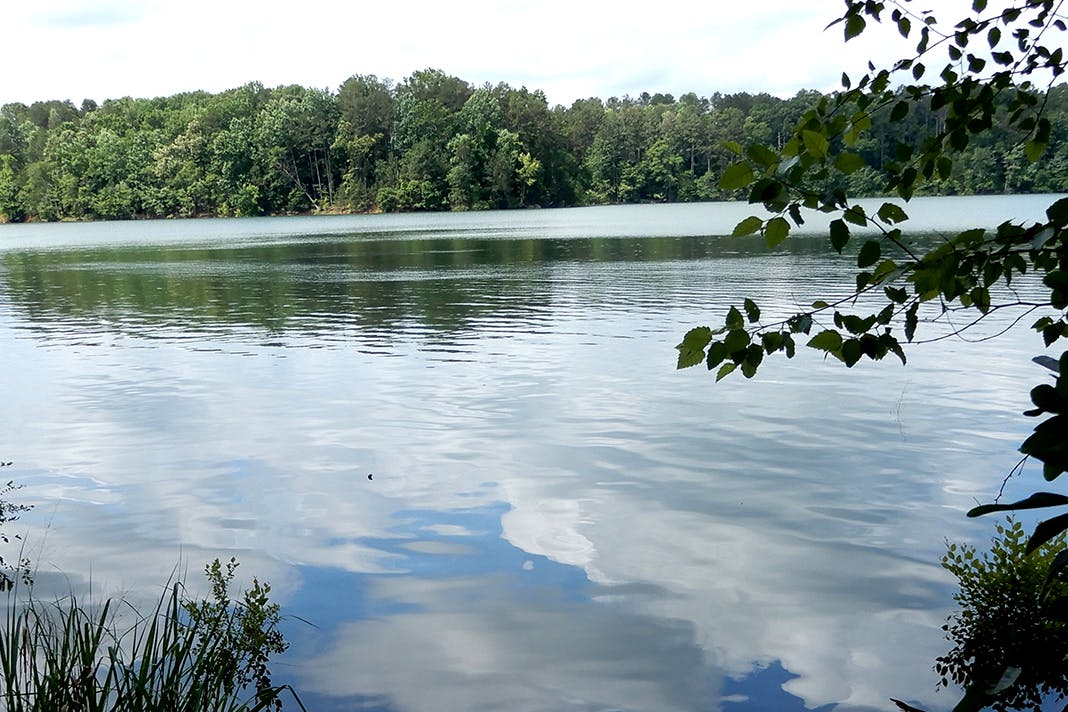 Top Fishing Reports For Catching Bass on Lake Hartwell in the Spring
The best baits, fishing gear and techniques have been revealed to make fishing on Lake Hartwell more successful when largemouth bass are in their spring patterns.
Lake Hartwell is the 56,000-acre lake that is admired across the United States for its bass and other sport fishing production and proximity to large populations. The giant, sweeping reservoir was created by the Hartwell Dam with the convergence of the Savannah, Tugaloo, and Seneca Rivers from the north. Hartwell sits on the border of Georgia to the south and South Carolina to the north. The lake is deep for the area with a max depth of 185 feet and an average depth of 45 feet.  Water clarity changes throughout the season and during storm events but generally the lake has moderate visibility and Omnia Fishing rates the clarity at a 6 out of 10, with a 0 being crystal clear water.
Considered a blueback herring lake, bass populations are heavily influenced by the movements of this important forage base. Recently, in 2022 Lake Hartwell served as the backdrop for the Bassmaster Classic, the biggest event in professional bass fishing.
Lake Hartwell has a variety of species present that include largemouth bass, spotted bass, smallmouth bass, walleye, panfish and even trout.  When it comes to catching the coveted largemouth bass, top anglers have reported the techniques and tackle hot baits that they have used for successful bass catches on the water throughout the spring patterns(prespawn, spawn and post-spawn).
During the spring period, anglers report a variety of structures targeted including points, ledges, laydowns, and private docks. As the water warms from the winter temperatures bass can be found in a pre-spawn pattern staging near docks or in approximately 7-10 feet of water on boulders and near ledges. Once the water reaches spawning temperatures bass can be found on beds near points and shore or adjacent to laydowns.  Once the bass have completed their spawn cycles (post spawn) but summer hasn't quite hit its full stride, bass can be found near docks or on ledges ready to feed, commonly on the abundant blueback herring.
Best Fishing Reports and Baits for Catching Largemouth Bass in the Spring
When breaking down the spring bite on Lake Hartwell we include the full staging and completion of the spawn. So, for these fishing reports, spawn includes both the prespawn and post spawn and we've segmented fishing reports for each part of the cycle. Anglers on Lake Harwell have recently reported the top fishing techniques to include Texas rigs (worming), swim jigs, softbody swimbaits, bladed jigs, and neko rigs in the prespawn, the widest range of successful techniques out of any part of the spring. Other anglers, including Bassmaster Elite Series pro Patrick Walters, report hard topwater walking, wacky rigs, shaky heads, bladed jigs, and soft body swim bait techniques when you find spawning bass. For post-spawn success, anglers report a mix of wacky rig and shallow diving crankbaits techniques along with worming with a Texas rig.
Will Niebrugge, an Omnia gold ambassador, reports that during the prespawn he was successful fishing largemouth on laydowns using a combination of spinnerbaits and pitching a flipping a Texas rigged creature bait. Will throws a Nichols Lures Pulsator Kicker spinnerbait or a Texas rigged zoom baby brush hog in red bug and an Owner Jungle 3/0 flipping hook with Seaguar fluorocarbon line. His suggested bullet weight is a Picasso Lures tungsten flipping weight in 5/16 oz in gunmetal. He recommends looking for shallow, dirty water and any wood that you can find on your graph. If the Texas rig doesn't produce, try the spinner bait in the same area before moving on.
Pedro Gomes Amaral used a combination of softbody swimbaits like the Keitech Fat Swing Impact in bluegill flash on a Damiki Rig Jig Head in ⅜ oz 1/0 white. He suggests taking advantage of the abundance of blueback herring in the lake and memic them. On cold days use the Damiki jig to slowly drag it across the bottom and switch to a finesse jig and a Z-man craw if that doesn't produce.  Find the baitfish in the pre-spawn and find the largemouth bass!
Justin Logan had success with the wacky rig in the prespawn and keeps it simple with a Senko in Green Pumpkin and Watermelon and a VMC weedless neko hook. When fishing got tough or in areas where the bass were beginning to spawn (look for shallow or cloudy creek arms that warm faster) he found success with a double Colorado blade spinner bait.
Taylor Mazur found bass on boulders in 7-10 feet of water and caught them with a combination of medium diving crankbaits (Rapala DT10 in dark brown crawdad) drop shots, and Keitech swimbaits fed onto a Megabass Okashira Screwhead ⅛ oz jig.
In April, after the bass transitioned to their beds to spawn, Patrick Walters reports that he landed a few bucket mouths using a topwater walking technique with a Rapala Skitter V in Pure Chrome and a weightless fluke stick. The blueback herring should also be spawning so the fluke matches the forage base. He recommends covering as much water as possible during this time because bass will be in all levels of the spawn period.
Ben Hutchins isn't afraid to toss a wacky rig for most of the day on spawning bass. He targets shallow water and docks. His stick bait of choice is the Berkley Powerbait The General in Green Pumpkin.  Ben uses a 15 lb Sufix 832 braid and a Sunline FC Sniper 8 lb leader.
Katherine Field fished Hartwell when some bass were still spawning but the majority had finished and moved into a post-spawn pattern. She caught a combination of largemouth and spots during the trip and found the largemouth bass in the Lake Hartwell muddy creek arms while spotted bass were caught using swimbaits and ned rigs on points. She also incorporated the Megabass Jamaica Boa Buzzbait into the action with some success. She provides a wide range of techniques and products in her post-spawn report.
Justin Logan targeted stumps in the post spawn and landed a few using a 5 inch Yamamoto Senko in Green Pumpkin Magic in a wacky rig technique. Similar to Patrick Walters, he also recommended a Zoom Super Fluke in white to catch bass that have been chasing the blueback herring in back pockets of the creek arms.
For more details about fishing Lake Hartwell for largemouth bass and other species like crappie you can visit the Lake Hartwell Omnia lake page where you can sort by season and other popular species in the Lake:
You can also get more ideas about popular lakes in the area and baits and techniques mentioned in similar lakes by visiting the South Carolina or Georgia state pages at Omnia Fishing,