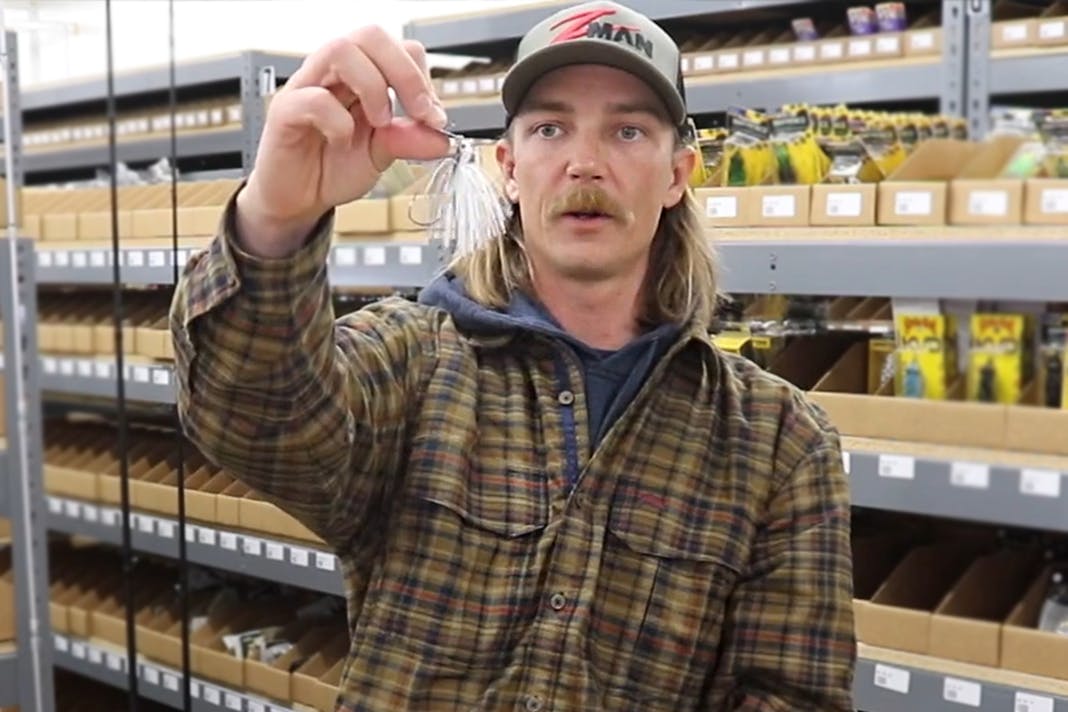 Chatterbaits with Seth Feider
Get ready with Bassmaster Elite Seth Feider to go chatterbait fishing! Below he'll guide you through selecting the proper jig, selecting the right trailer to match the jig, how to rig it, and finally what setup he uses for fishing a chatterbait. Seth has years of experience to bring to the table that will help you get the right combination for your next fishing outing.
Here, Seth shares tips on selecting the right chatterbait. He discusses weight, size, color, and price as key factors to consider when choosing a chatterbait. Feider personally recommends the Jackhammer from Z-Man as the best option, he uses one all the time. He also mentions the Project Z version with a weed guard for fishing in heavy cover, the original ChatterBait as a budget-friendly option, and the Stealth Blade for clear water. In terms of colors, he prefers clear water shad, green pumpkin, and black and blue. Lastly, he suggests using half-ounce chatterbaits as they are the most erratic and effective for a majority of situations.
Next up is choosing the right chatterbait trailer. With many options available, including craws, swimbaits, and fluke styles, Seth's personal preference is straight-tail trailers like the RaZor ShadZ or the StreakZ, as they provide better action and maintain the chatterbait's erratic movement. He believes that trailers with appendages or paddle tails can reduce the bait's erratic hunting action and might be more suitable for off-color or cold water conditions when increased stability is necessary. Most of the time, he pairs a Jackhammer with a RaZor ShadZ trailer for optimal performance.
Pairing your chatterbait and trailer means rigging them together. Here he demonstrates how to rig a half-ounce Z-Man Jackhammer to optimize its erratic action. He begins by trimming the skirt, cutting it even with the end of the blade, (watch the video for how he does it) which gives it more action. Next, he attaches his preferred trailer, which is a straight-tail trailer like a Z-Man RaZor ShadZ or a fluke-style bait. He emphasizes the importance of getting everything straight and emphasizes that each chatterbait is unique and runs differently. Feider recommends making short casts next to the boat, reeling the bait in, and observing its movement. If it's not erratic enough, strands of the skirt can be further trimmed to achieve the desired erratic action, especially during warmer weather months when such action typically triggers more bites.
Now that you have the right bait, you need the right setup to go with your rod, reel, and line. According to Seth, the key component is the composite, 7'4" heavy glass rod, which he believes allows for a more controlled catch and better reaction to different types of bites. He also recommends using fluorocarbon line with a Daiwa Tatula SV 7.3:1 reel. The line pound test varies based on depth, with 17-pound fluorocarbon being the most versatile. Using a heavier line for shallow depths and lighter line for deeper water helps control the bait's position. Feider emphasizes that reeling into the bite, rather than setting the hook hard, increases the chances of landing the fish. This setup has proven successful for Feider in a variety of fishing scenarios and should land you some big bites too!