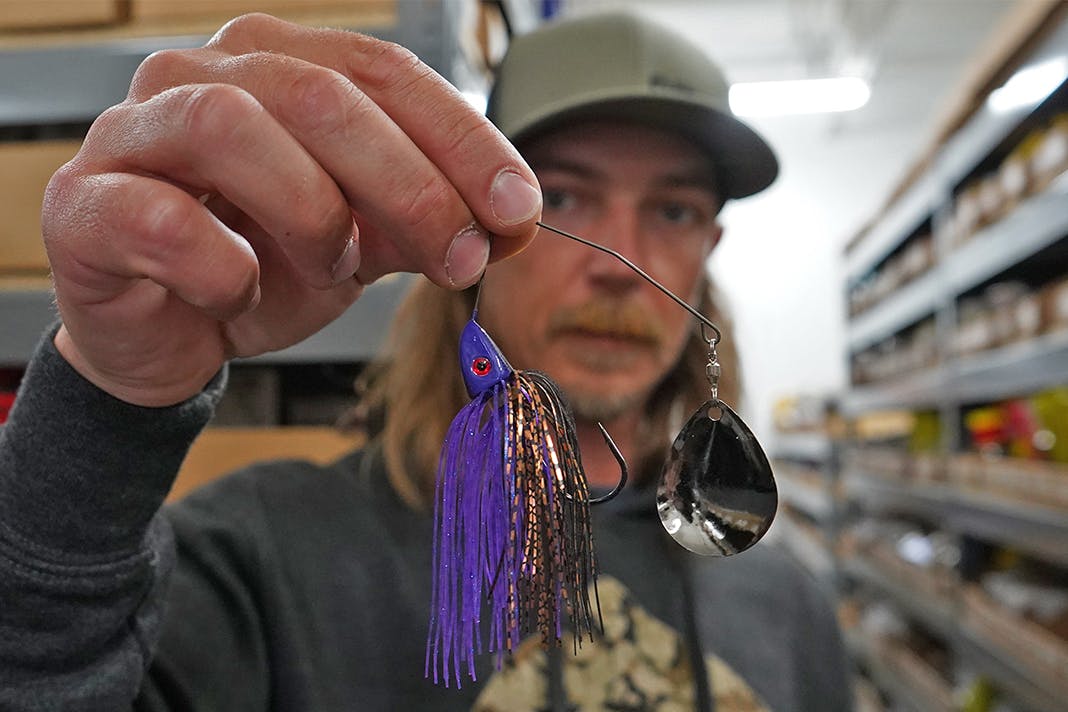 Spinnerbaits with Seth Feider
Dive into Seth Feider's boat as he reveals his secrets for selecting the perfect spinnerbait to maximize success on the water. Feider shares his expert knowledge from years of experience, to guide you through the essential factors of spinnerbait selection – weight, blade configuration, and color – so you can make the right choice in any fishing situation. Whether you're a seasoned angler or just dipping your toes into the sport, Feider's insights will undoubtedly enhance your ability to catch more fish and elevate your angling game. Get ready to explore the fascinating art of spinnerbait selection with this detailed-guide from Bassmaster Elite, Seth Feider.
Here Seth discusses selecting the right spinnerbait by considering three factors: weight, blade configuration, and color. He recommends using shad or minnow colors for clear to moderately stained water, and a black spinnerbait for extremely muddy water. Feider prefers a half-ounce spinnerbait from Bassman for versatility, although a three-eighths or three-quarter ounce may be suitable in certain scenarios. Blade configurations include double willow, tandem Colorado willow, and wide willow, each offering different thump and flash characteristics, but Feider suggests keeping the selection simple, focusing on running depth, and matching the spinnerbait's characteristics to the fishing conditions.
So you have your spinnerbait picked, now you need a trailer. Historically spinnerbaits weren't always fished with a trailer, but now it's commonplace. Seth recommends using two styles: the classic split-tail and the paddle-tail swimbait like the Z-Man MinnowZ. The split-tail is used when fishing deep, as it provides less lift and allows the bait to stay closer to the bottom or cover. The paddle-tail swimbait is ideal for fishing around structures, where it creates a more natural and enticing presentation. These two trailers have proven to be most successful for Feider across various fishing scenarios.
Now it's time to pair the spinnerbait and trailer. In this video, professional angler Seth Feider demonstrates how to set up a spinnerbait, emphasizing the importance of a compact and streamlined presentation. He starts by trimming the skirt to about half an inch below the hook. Feider typically opts for a paddle-tail swimbait as the trailer, ensuring it's rigged straight on the spinnerbait to avoid any issues in its movement. That small adjustment to spinnerbaits create a more effective and natural performance in the water, increasing the number of fish interested in the bait.
The gear you fish your spinnerbait on can be just as important as the presentation itself. Seth Feider shares his go-to setup for spinnerbait fishing. He uses a Daiwa Tatula Elite 7'2" Randy Howell rod with medium heavy moderate action, a Tatula SV 7.3:1 reel, and 17-20 pound fluorocarbon line. He emphasizes the importance of a moderate action rod and a middle-of-the-road gear ratio for effective spinnerbait fishing by allowing fish to load up on the bait before pulling it away. Have fun out on the water!