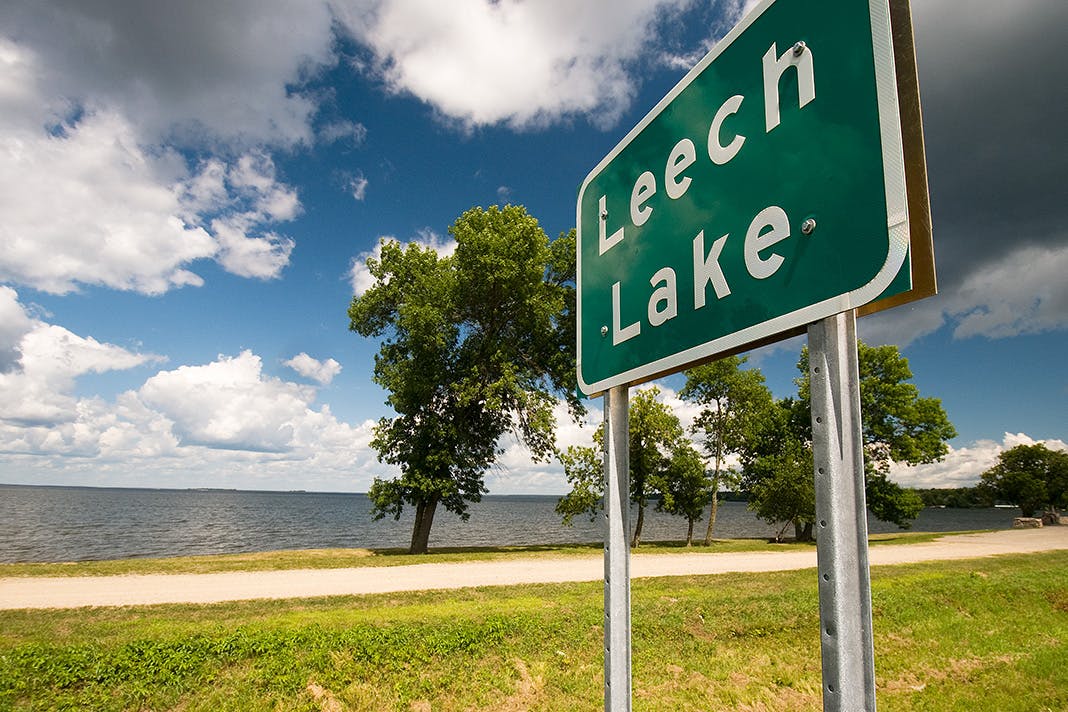 Anglers are Reporting The Top Techniques and Lures in Fishing Reports on Leech Lake for Catching Bass
Using the best tackle and techniques on Leech Lake will help make your time on the water a success while targeting largemouth and smallmouth bass
Leech Lake is a massive waterbody in north central Minnesota and boasts more than 103,000 acres of water.  With crystal clear water (even clearer now because of a confirmed zebra mussels infestation), healthy and diverse fish populations, and a sandy bottom, it is regarded as a top fishing lake in the State. Anglers from the Twin Cities commonly make the over 3 hour trek north to catch big fish. Sand and muck make up a large portion of the lake in the shallow bays found on the north and east side of the lake while some pockets of vegetation can be found in sheltered bays. There is a small amount of submerged plants in the lake and fish movements are largely based on these bottom types. Walleye, largemouth, and smallmouth bass will relate to bottom hardness types like rock, gravel, sand, and softer muck throughout the year, so using a sonar unit to identify differences in bottom types is important for eliminating dead water. Fishing the right structure is only part of the battle; knowing what technique and lures to use is also important.
Leech lake is regarded as a top fishery for Walleye, Largemouth Bass, Crappie, Sunfish, Channel Catfish, and Smallmouth.  Muskies and perch are also targeted by anglers. Top anglers have reported what techniques and tackle hot baits have been creating success on the water throughout the spring (prespawn, spawn and postspawn), summer, fall and winter patterns for catching a mix of largemouth and smallmouth bass, both of which are found in the Leech. 
Find the structure and find the fish. There aren't many differentiating structures on Leech Lake so knowing where to find different hardness transitions, reeds and rice, boulders and submerged vegetation are key. Knowing which structure to fish in different seasonal patterns and why is the next big step. General visibility and water clarity is extremely high on Leech Lake.  With a sandy bottom it rarely churns to the point of very low visibility. As a result, we recommend using very natural color patterns and small blades for any bait you use.
Best Leech Lake Fishing Reports and Lures for Catching Largemouth and Smallmouth Bass in the Spring
When it comes to catching largemouth and smallmouth bass on Leech Lake and breaking down the lake from fishing reports on Omnia Fishing, we consider the seasonal pattern of the fish. The spring pattern includes the full spawn with both the prespawn and post spawn. Anglers on Leech have recently reported that it's all about swim jigs and grass jigs for largemouth and more finesse jigs and dropshot techniques for smallmouth success in the spring. Largemouth bass almost exclusively hang out in reeds and whatever submerged vegetation you can find while the smallmouth bass are normally positioned on boulders and rock piles. 
Jason Kushlan reported that in the middle of June, when largemouth bass were spawning, he was able to hook into largemouth bass using a swim jig technique on submerged vegetation.  His swim jig of choice was the 6th Sense Devine Swim Jig in a ⅜ ounce weight and baby bream color.  That was his hot bait when coupled with the Keitech Swing Impact 3.8 inch bluegill flash color.  He tied these with fluorocarbon in 14 pound weight and using a Daiwa baitcaster reel and a medium heavy rod with a fast action.
Anglers Joe Titus, Benjamin Nelson, Matt Kennedy and Ben Nelson also reported swim jig and grass jig technique success when targeting largemouth bass on Leech Lake. They universally recommended finding reeds on the north end of Leech but had different opinions on the best jig and trailer to get the job done. Top swim and grass jigs include the Dirty Jigs Swim Jig in ½ ounce and bluegill color, The Terminator Heavy Duty Swim jig in ½ ounce pumpkin orange, and the Outkast Tackle RTX Flipping Jig in ¾ ounce black blue.  Common jig trailers include Missile Baits D Bomb Bruiser, Strike King Rage Swimmer in green pumpkin, and the Xzone Lures 4 inch Swammer in Ayu.
Benjamin Nelson focused on a white presentation in the prespawn.
Matt Kennedy goes old school with the Terminator jigs.
Ben Demo is a big fan of the Outkast Tackle RTX flipping jigs.
Focusing on the prespawn and postspawn for smallmouth bass, Brad Leuthner, Brandon Downs, and Adam Bartusek focused on finesse techniques that include dropshots and finesse jigs.  Leuthner used an Outkast Tackle Perfect ned head, Suffix 832 braid and Daiwa spinning gear.  Brad also found success on smallies using a Texas rigged worming technique in the post spawn.  All of the Omnia ambassadors targeted boulders in about 10 feet of water.
Adam Bartusek used a dropshot technique on spawning smallmouth and targeted boulders.  He used a Berkley Flat Worm Powerbait Maxscent in green pumpkin with a swagger tungsten drop shot weight. His line of choice was Sunline.
Brad Leuthner also caught smallies using an Outkast Tackle Money Jig in Chartreuse with a Keitech Fat Swing Impact lure in green pumpkin.  A little flash on the jig and a natural soft plastic.
Jason Kushlan was also targeting smallies in June and found them submerged on beds near isolated boulders. These isolated boulders should be something to look for on your depth finder electronics. Jason had success with a ned rig when lake temperatures were at 65 degrees.  He tied on an Outkast Tackle ned head with a Z-man Finesse TRD in a natural craw color.
Best Leech Lake Fishing Reports and Lures for Catching Largemouth and Smallmouth Bass in the Summer
Anglers on Leech, including Rick Carlsen, Benjamin Nelson, Conner Savard, and Jack Griffith have recently reported that it's still about swim jigs and grass jigs for largemouth.  But, the warmer lake temperatures make topwater frogging a great way to catch bass as well in the summer season. Smallmouth bass remain near rock piles and finesse techniques like ned rigging have been shown to put bass in the boat. Largemouth bass remain in the reeds and hit topwater baits near matted and emergent vegetation. The smallmouth bass are a bit deeper but are still positioned on boulders and rocky areas. 
Rick Carlsen reported that he was successful at catching smallies while using a ned rig on very hard substrate like rock piles. Smallmouth bass were in the area targeting minnows as a forage base.  Drop shots also worked in these areas but he found the Z-Man TRD TicklerZ soft plastic in green pumpkin to be the hot bait.
Largemouth bass remained tucked into the reeds and areas of submerged vegetation and could be caught with a variety of swim and grass jig techniques. The biggest difference in strategies for catching largemouth bass in the summer versus the spring is the additional technique of topwater frogging added to the arsenal. Texas Rigging (worming) was also reported more often in the summer compared to the spring.
Jack Griffith kicked off the fishing report filing with demonstrated success using a swim jig.  He caught a great largemouth bass using a ½ ounce Dirty Jig swim jig with a Z-Man Hella CrawZ in green pumpkin tied on with 40 pound Sufix braid and a medium heavy St Croix Bass X rod.  The heavy rod and braid allowed him to really horse a largemouth bass into the boat when he had a strike.
Beckett Nystrom reported that he was flipping a Texas rigged Berkley PowerBait Pit Boss in a 4 inch green pumpkin color into small pockets between reeds and working it for a strike. He also recommends a St Croix Bass X Heavy rod and a Daiwa Tatula SV baitcaster
Cliff Buck's Texas Rigged technique was employed on ledged that dropped from 3 to 12 feet in the warmer water and preferred the 7 inch Berkley Powerbait Power Worm in green pumpkin.  His biggest fish came when his bati came to a rest in the deepest area of the ledge. Cliff used a 40 pound Sufix braid with a 14 pound flourocarbon leader.
Connor Savard was frogging and punching the wild rice patches on the northern section of Leech Lake and caught a few bucket mouths using the Terminator Walking Frog in a 2 ½ inch bluegill color.
Benjamin Nelson used the same strategy but used a Spro Bronzeye Frog and a Teckel Sprinker Frog.
Best Leech Lake Fishing Reports and Lures for Catching Largemouth and Smallmouth Bass in the fall
Frog techniques continue to work for largemouth bass in the fall while deep diving crankbaits, flipping jigs, and structure jigs were brought back into the plan of attack. Dropshots continue to be a top performing technique for smallmouth bass that continue to stage on 10-15 foot boulders.
When fall water temperatures hover in the high 50s and low 60s, largemouth bass are caught most often on the topwater frog in the reeds on the north end of Leech Lake.  Rich Lindgren reported that the bite was tough but frogs produced catches in the wild rice better than flipping throughout the day.  His frog of choice was the Terminator Walking Frog in black camo color.
The Bemidji State Fishing Team ambassadors reported similar results with frogs but preferred the Spro Bronzeye 65 in Midnight Walker color. 
Rich Lindgren also reported on Leech Lake fishing that structure jigs were catching a lot of largemouth bass in the reeds when temperatures of the lake were consistently in the upper 50s.  He recommended waiting until temps reached the lower 50s and even upper 40s before they really start putting on the fall feedbags for a long winter under the ice. Rich was all in on using the Strike King Rage Punch bug in green pumpkin for his structure jig trailers.
As a final technique to try, Tyler Robinson reported success with deep diving crankbaits on week to rock transitions in 12-16 feet of water. Tyler mixes it up with a number of baits that include the Rapala DT 14 in Citrus Shad and the Strike King 6XD in Black Back Chartreuse (3 inch).  But, his top reported hot bait for fall largemouth is the 2 ¾ inch Rapala DT 14 in Caribbean Shad.
For more details about fishing Leech Lake for largemouth and smallmouth bass you can visit the Leech Lake Omnia lake page where you can sort by season and other popular species in the Lake.
You can also get more ideas about popular lakes in the area and baits and techniques mentioned in similar lakes by visiting the MInnesota state page at Omnia Fishing.