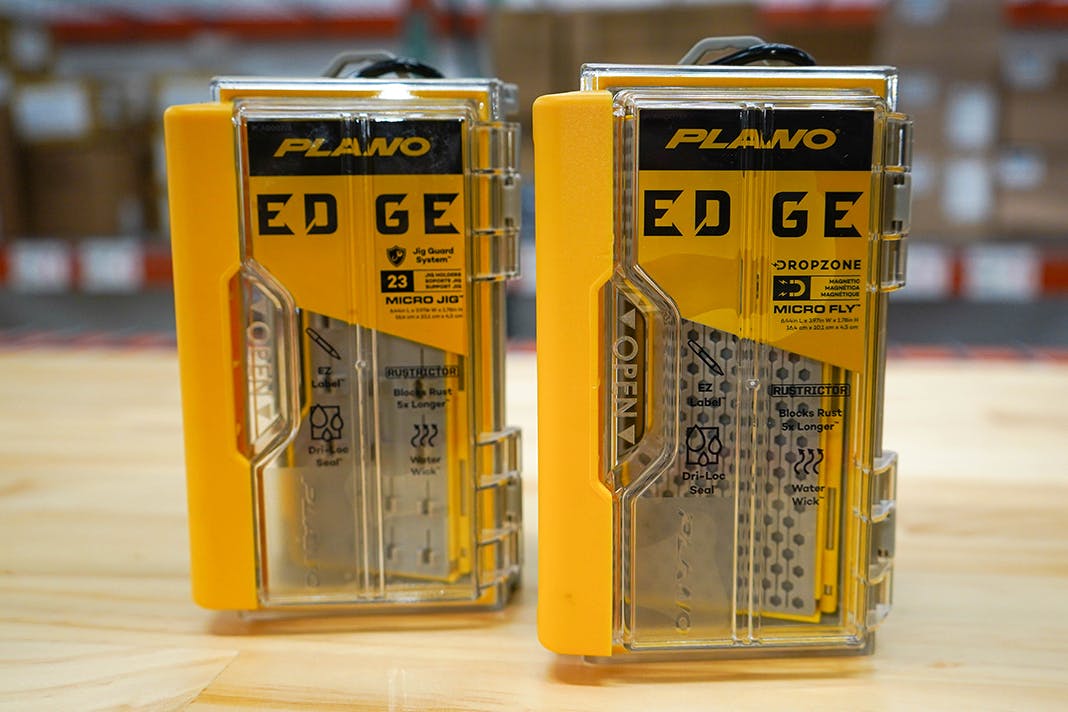 The Best Ice Fishing Jig Tackle Box Ever Invented
If you do a quick search of how people are storing their ice jigs throughout the winter, you will find a wide variety of DIY designs that people have come up with throughout the years. From cutting foam inserts to adding felt strips, anglers are adding anything to help keep their micro jigs organized. The reason for a lot of the customization is because there wasn't a great solution for a well thought out and compact tackle box specific to ice fishing… until now. 
Plano has had massive success with their EDGE series of tackle boxes and brought the same thoughtfulness into the Micro Jig and Micro Fly boxes!
What makes these the best ice fishing tackle boxes?
Compact Design
For most ice anglers, space is limited. Every piece of equipment is well thought out because most likely it will be walked out to the fishing spot. There is also no need to have a giant tackle box for ice jigs because you can fit so many into a tight space. 
Not only are these boxes small in size, but they double the usable space by integrating a third layer design to give you more storing options.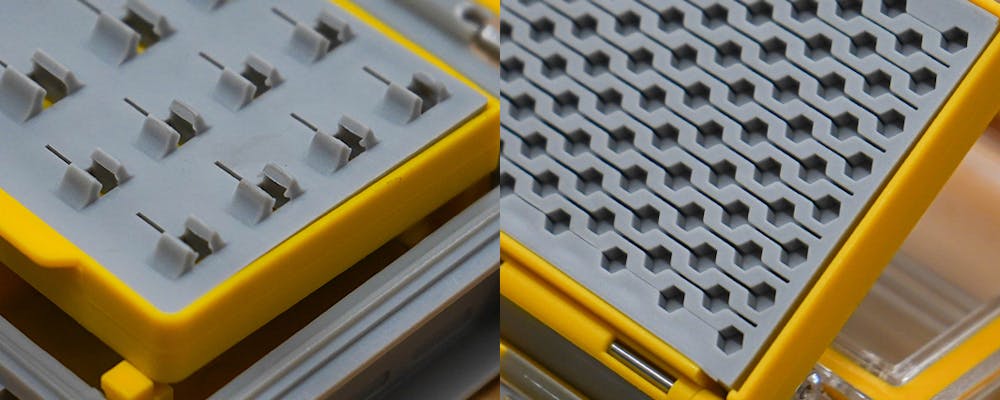 Layout
Traditional open compartments don't work for small ice fishing tackle and these boxes eliminate all of that wasted space. By far the best way to store micro ice jigs is one by one where you can easily pick out the color you are after and don't have to worry about the finish getting chipped. 
The patterned rubber internal layer is perfect for locking in the micro hooks to hold the jigs in place. There is also a specially designed Jig Guard System that will hold the jigs in place during transportation. 
And of course there can't be a tackle box without space for any miscellaneous items and these boxes do a perfect job of sizing them appropriately. One box comes equipped with magnets in the trays to hold down the smallest of jigs while the other has a clear polycarbonate lid that would be great for locking in slightly larger items.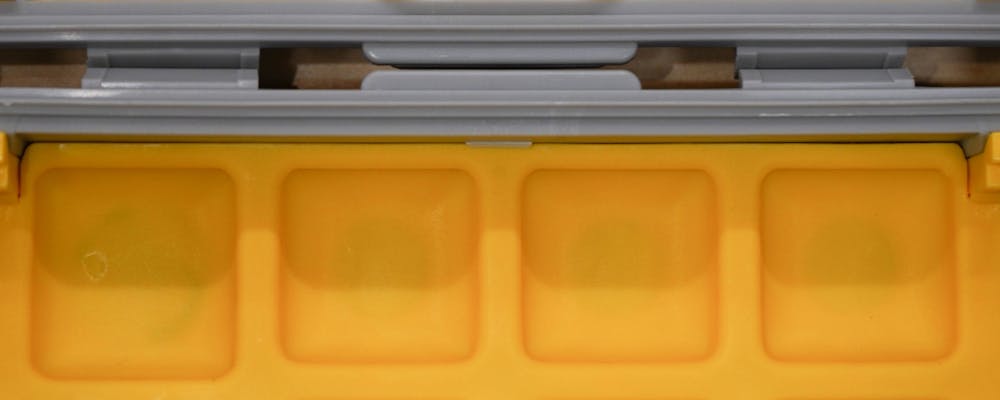 Protection
There are two main concerns when it comes to protecting your ice tackle investment. The first being rust, which is the quickest way to ruin your entire box of jigs. It's difficult to keep ice and slush from entering your gear but the EDGE Micro Jig and Micro Fly boxes come equipped with a Dri-Loc O-ring seal to help keep unwanted moisture out.
In the event that ice and slush do make their way into your box, the addition of Rustrictor directly into the plastic and having a spot for a reusable water wicking pack will suck up any remaining moisture.
Physical damage to your tackle can also be a problem if not stored properly. When jigs are loosely placed into compartments they bounce around during transport and can get damaged or even have their hooks dulled from the repeated banging against each other. Having slots to keep an individual jig is the best way to protect them, especially with how pricey tungsten ice jigs can get.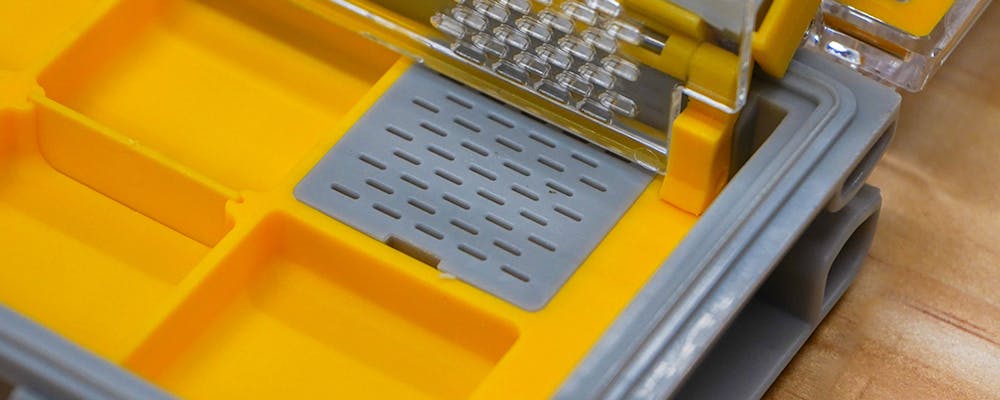 Which box should you get?
Plano came out with two boxes, one specifically designed for ice fishing and the other with a fly fishing angler in mind. Both versions have an application in ice.
Micro Jig Box
This box should be your go to if you carry a lot of tungsten ice jigs in the 3-5mm size. The individual Jig Guard System and covered compartments will give you plenty of space.
Micro Fly Box
This box would be great for an angler that likes to use a lot of the micro fly jigs that are hand tied with feathers or hair. The double sided center compartment allows you to hold a bunch of them securely. 
No matter which box you choose, these are hands down the best ice fishing jig boxes on the market today!
Check out all the other great tackle storage solutions from Plano.