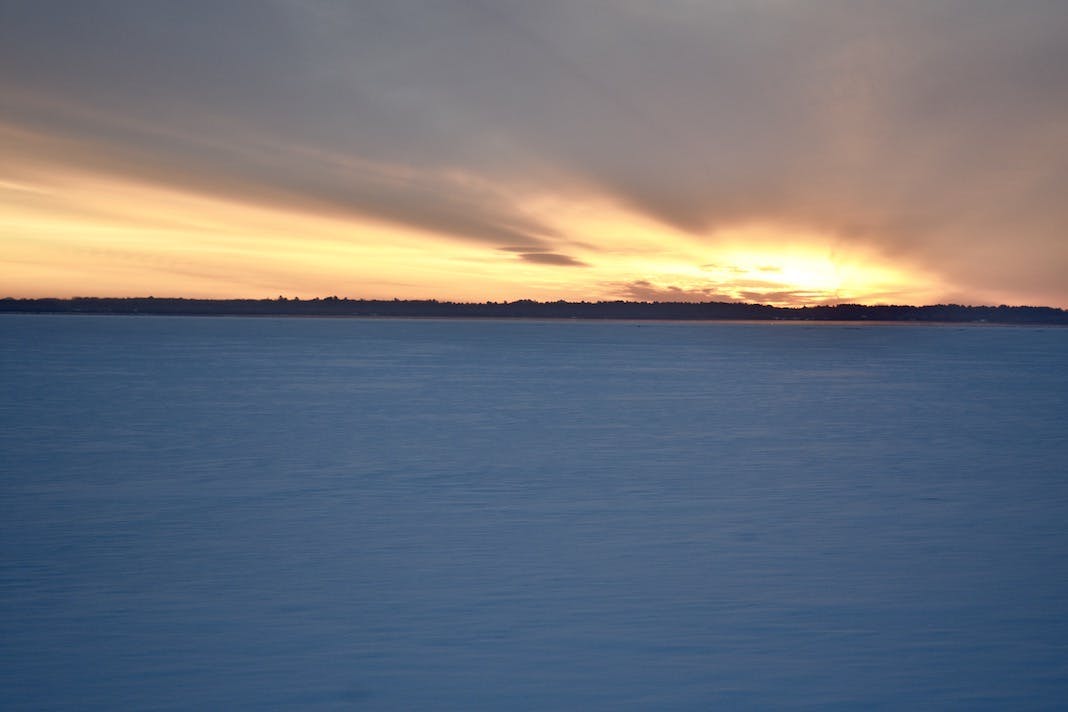 Best Ice Fishing Lakes In the Upper Midwest
Ice season is fast approaching and the upper midwest has an unbelievable selection of destinations to choose from. The 5 bodies of water listed below are some of the best locations you should head to if you are looking for an amazing ice fishing bite. 
Devils Lake
Without question, Devils Lake is North Dakota's most popular ice fishing destination. Devils Lake is known for excellent populations of Perch, Walleye, and Northern Pike. As with many North Dakota lakes, the perch can be of giant size, sometimes pushing 15 inches or larger. Although difficult to find, these perch can be great table fare and can be caught using small rattling spoons. By slightly upsizing your bait to a medium/large spoon, you open the door to catch the most sought after fish in Devils lake, walleyes. Anglers travel from all over knowing they can catch numerous walleyes in just a days time. Most guides will specialize on getting their clients on some of the best walleye fishing in the country. Northern Pike are often a forgotten species in Devils Lake. Anglers find that these fish are aggressive and will bite nearly anything you put in front of them. One of the most effective ways to put a bait in front of a pike is to have an array of tip ups with large minnows.
Recommended Baits
More lake specific fishing information can be found on the Devils Lake page. 
Red Lake
When you think ice fishing in Minnesota, Red Lake is top of mind. Due to its shallow water basin and northern Minnesota location, the ice season "officially" kicks off when safe ice is covering this body of water. Early ice is the perfect time to catch a bunch of walleye. Jigging spoons are a great way to cover water when trying to locate schools of fish. This lake is known to have a phenomenal eater bite with many walleyes in the 15 to 17 inch category. You also have a good chance of hooking into a few good ones as well. To locate fish, focus on subtle contour changes. There are no dramatic changes in depth so finding small transition areas are the ticket to catching numbers. 
Recommended Baits
More specific fishing info can be found on the Upper Red Lake Page. 
Lake of the Woods
LOTW of Minnesota is a premier destination fishing trip that every ice fisher person must try! From walleye to pike to crappie or jumbo perch, you will not be disappointed with the quality of fish. Focus on rock reefs with pieces of structure associated with them. Popular depths to target are anywhere from 25 to 32 feet. Do not hit the ice without gold colored lures as that is a staple on Lake of the Woods. Firetiger and red are also productive colors for Minnesota's most northern lake. Red hooks are commonly used when deadsticking with live bait. 
Recommended Baits
More specific fishing info can be found on the Lake of the Woods Page.
Lake Winnebago
Lake Winnebago is a great body of water for catching numbers of perch, crappie, white fish, walleye and even sturgeon. Early and late ice are great times to stay near the river channels on the westside looking for any remaining vegetation. As the dead of winter is in full swing, venture out into the main lake region where large schools of fish will congregate. Keep moving if you are not catching fish. Large schools will often roam the main lake basin throughout the day.
Recommended Baits
More specific fishing information can be found on the Lake Winnebago Page.
Mille lacs
It's hard to beat Mille Lacs for open water smallmouth and walleye fishing. The same goes for hard water. With tons of access points around the lake, finding a place to fish is easy from any direction you are traveling from. If you are looking for a trophy size walleye, Mille Lacs should be on your list. One of the great features of Mille Lacs is the diversity of structure. From Mud and sand flats to rocky reefs, there are plenty of options when targeting fish through the ice. If you key in on the points of flats or transition areas there is a great chance you will connect with fish throughout the day.
Recommended Baits
More specific fishing info can be found on the Mille Lacs Lake Page.