Blade Bait Pros Share How to Catch Bass and Walleyes in Cold Water
It's that time of year again. We've officially transitioned from late summer into fall and the temperatures keep dropping with each day—and with it, water temp, too. That means changes in fish behavior, fish location, and their overall mood, whether you chase bass or walleyes.
One thing is certain, there are times in the fall and early-winter when fish go on an absolute chew, gobbling up forage knowing months of cold and near dormancy is on the way so they better pack on the calories.  
Besides finesse approaches, one of the best ways to catch largemouth, spotted, and smallmouth bass during this transition period, through the winter, and into spring, is with the time-proven blade bait.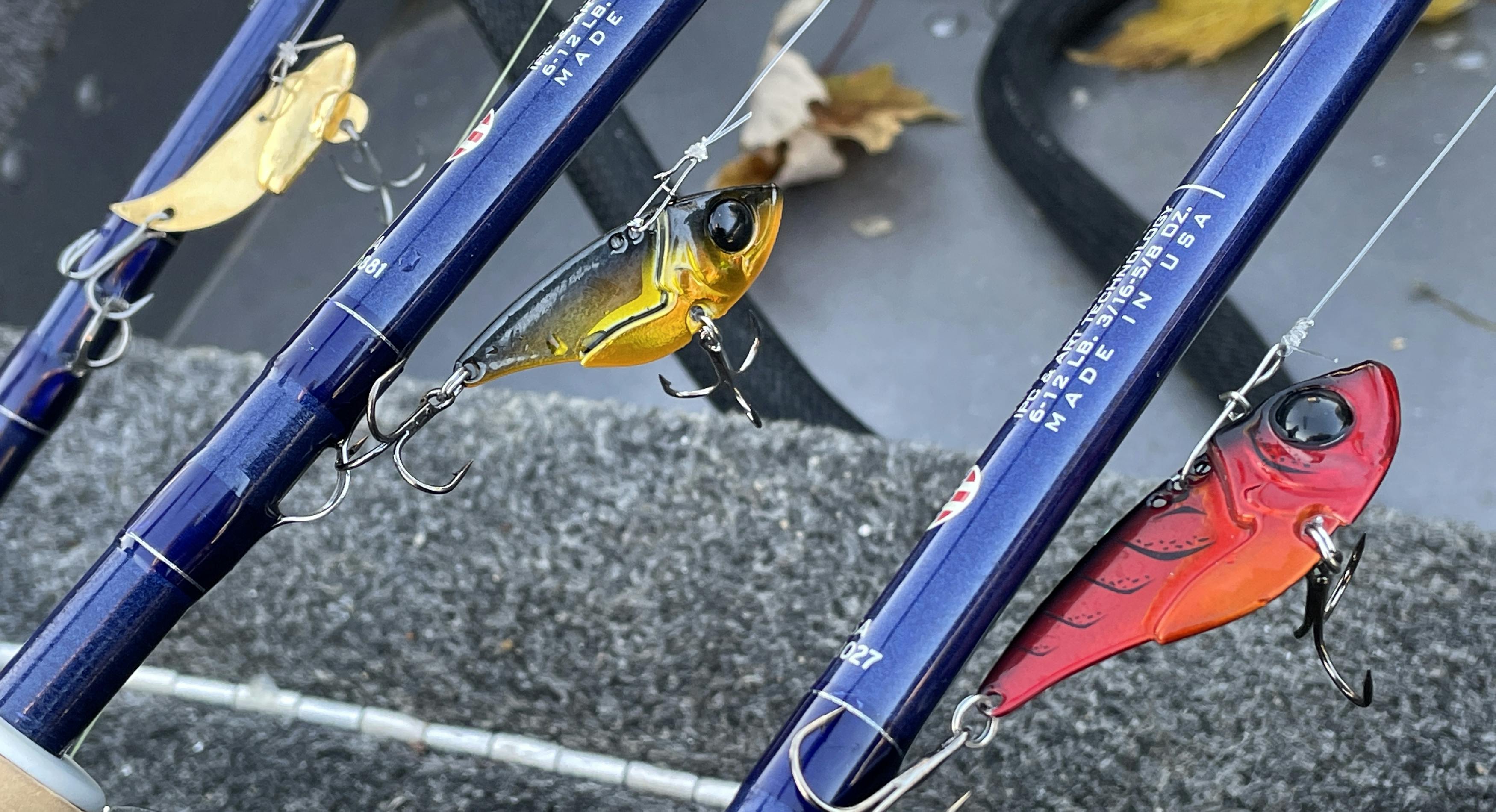 The Heddon Sonar is legendary, as is the Reef Runner Cicada, and Silver Buddy Original Buddy Blade Bait. But there are also a lot of newer baits available to both bass and walleye anglers like the Megabass Dyna Response Blade Bait and Damiki Vault Bladebait that are drawing a lot of attention.
No matter which blades you fish—and we suggest you carry a number of different sizes, weights, and colors— you need to be specific about what you're fishing with blades.
If you're just trying to cover water with them there are better bait options. Fish a blade bait too fast and you're just not going to get bit. And, even if you're fishing it aggressively on long pulls, you still need to make sure it's getting back to the bottom on each sweep of the rod. Day in, day out, blade baits are intended to be a methodical presentation for targeting specific structure and depths.
Bass on Blades
We picked the brain of Toronto, Ontario-based Megabass pro, tournament angler, and guide, Nick Cousvis, who spends a great deal of time plying the Great Lakes and other cold waters for outsized bass. A master of the jerkbait and hair jigs, Cousvis is also well-known for his success fishing blades.
"There are two primary times I use a blade bait for big smallies," says Cousvis. "Once the water temperature starts getting into the low 50s right up until ice, and then again early again in the spring until the water temperature gets to about 52-54. It doesn't mean you won't catch bass on blades during other times of the year, but there are a lot more options. When the water is really cold and bass are really tight to the bottom and not really moving far, blades are a really good triggering bait for catching fish when they aren't going to chase baits down."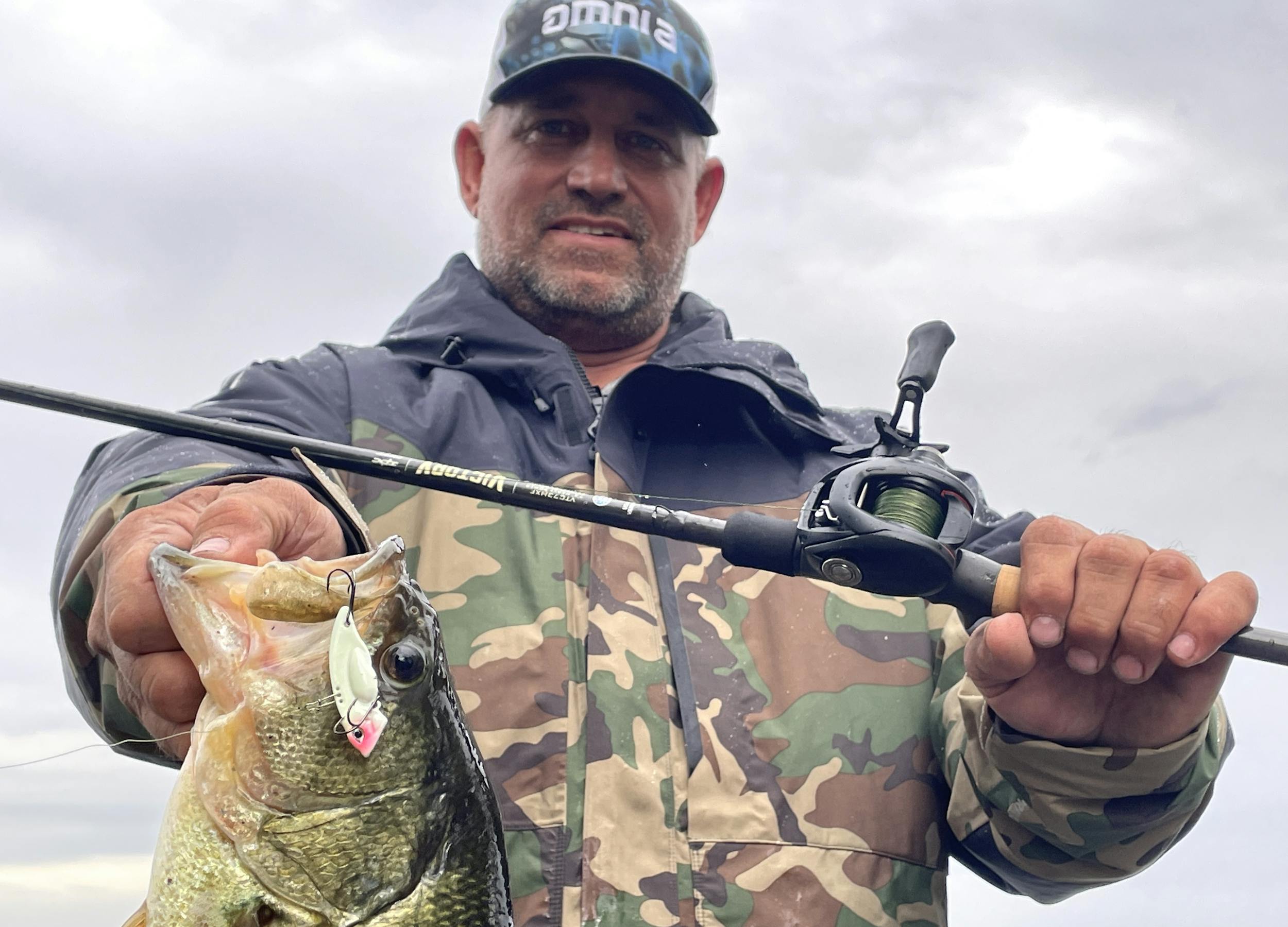 Cousvis continues: "I'm typically casting blade baits for smallies. I will drop down and fish them vertically when I see fish under the boat on my electronics but typically I'm making long casts toward structure whether I'm fishing around boulders, ledges, or wherever I locate fish."
Blade Bait Cadence: Smallmouth Bass
Cousvis says there are two basic ways to fish a blade bait. The first is giving the blade a long pull from 9 o'clock to 12 o'clock and then a pause – or, making short pulls around the 1 o'clock position and letting it sink to the bottom. 
"You're constantly trying to figure out if you're triggering fish with a longer pull or shorter, real subtle pull off the bottom. It changes with every day. And it depends on the fish and the spot—there's no one way that will work all day long. Some fish will react to it when it's being pulled faster and other fish want subtle movements; and if you move it too fast they won't touch it," instructs Cousvis.  
Blade Bait Depths
In terms of depths, Cousvis is fishing 25- to 45 feet in the fall as smallies back off of shallow flats looking for deeper haunts. "You can go deeper but I really stay away from pulling bass out of deeper water due to barotrauma."
Some of the fish-holding areas could be flat or they could be sharp drop-offs or ledges. "Bottom line," says Cousvis. "These bass are looking for roaming baitfish that you might not necessarily see on your electronics. We're talking bottom-hugging minnows, including gobies. In the fall, bass are eating more of the pelagic stuff like ciscoes and herring, too."
Recommended Blade Bait Gear
Cousvis throws blades on both spinning and baitcasting gear, depending on the situation. He admits there are times he can make longer casts with spinning gear and in ultra-clear or windy situations that's critical.
In terms of rods, Cousvis is very particular about what he uses. "A lot of anglers believe that since these baits come with sharp treble hooks you need a really soft rod, when, in fact, you've gotta have something in between. You want that belly bend in the rod but you need some power, too. When I pull the rod I want the bait to react quickly. With a softer rod you also lose a little bit of feel and you can end up missing lots of fish. I need the rod to react quickly."
The reality of fishing blade baits—like jerkbaits—is you never know quite when the bite is going to happen. It might happen when you're pulling up or it might happen when that bait is falling to the bottom.
Hence, if the rod is too soft, the bass might already have spit the bait in that extra bit of time it takes to get the hooks into flesh.
On the baitcaster side, Cousvis recommends a rod like the Megabass Extreme Mission, Levante or Orochi XX.
"In particular, I like the Megabass Orochi XX EMTF 7'5" baitcasting rod with a Daiwa Tatula SV in 7.3:1 gear ratio with 20-pound Daiwa Grand X8 J-Braid to a 10-pound Daiwa Samurai fluorocarbon leader. It's like a crankbait rod. It has some body to it and it's not too soft. It's soft enough that it has that extra-fast tip but the belly has enough power there is some pull and resistance," says Cousvis.
When it comes to spinning sticks for blade baits, Cousvis opts for a 7'4" Megabass Orochi XX rod paired with a Daiwa Certate LT 2500 reel spooled with 16-pound Daiwa Grand X8 J-to 8- or 10-pound Daiwa Samurai fluorocarbon.
Line Choice For Blades
"I am almost always fishing braid to fluorocarbon. Braid is generally thinner diameter, gets the bait down to the bottom faster, and you have better feel when you're making long casts. Fish can be really finicky when you're too close to them. I always start with braid. 99% of the time I'm throwing 10-20 pound Daiwa X8 Grand Braid with an 8- to 12-pound fluorocarbon leader depending on how rocky the bottom is," advises Cousvis.
"You could go as high as 20- or 30-pound braid but diameter is really key. I like the thinner diameter; you get better contact with the bait especially if there's current like on the Great Lakes. And I always tie direct from the braid to fluoro with an FG knot, no swivel."
Favorite Blade Baits for Bass
"Megabass had a blade bait that I think was called 'Blade X' that caught me a lot of fish. Now, I'm using the Megabass Vibration X Dyna Response and also Silver Buddies for the lion's share of my cold-water blade bait fishing," notes Cousvis.
Cousvis does have a couple bait hacks he says have helped him catch more fish on the Dyna Response. First, he cuts back the tinsel tail, which he says slows down the fall in deeper water. Second, he'll replace the hooks with size #6 or #8 trebles.
"I will fish other blade baits in a 1 or 1 ¼ ounce size in deeper waters, too. With the heavier blades I just pop them off the bottom four to six inches. Sometimes if you pull too much, bass will swim away," advises Cousvis.
More Pro Advice
"When it comes to fishing blade baits, you've gotta play around with it," says Cousvis. "Forward-facing sonar has helped us because we see how fish are reacting in real-time, so I can make on-the-fly changes now. If one fish moves away from my cadence, it's not really a big deal, but if three or four fish do, then I know I have to change up my cadence. I'll slow it down or let it sit longer on the bottom. Like any bottom-bouncing bait, you're always trying to figure out how fast to move it, how long to let it sit, and how high to move it off the bottom – but once you figure out with blade baits, trust me, it's magical!
Cold-Water Walleyes on Blade Baits
When it comes to cold-water walleyes, Wisconsin-based Max Wilson has proven tough to beat on professional walleye circuits. An NWT walleye pro and guide, Wilson won the 2018 Cabela's NWT Championship on Lake of the Woods and has numerous other top finishes under his belt. But more than that, his day job is putting clients on walleyes every day, so his on-the-water knowledge is practically gospel.
Walleyes' feeding instinct and behavior relies on three things: sight, smell, and sound. If a walleye can't see the bait, you want to make sure they can feel it. That's where blade baits come in.
While you can catch walleyes on blade baits year 'round, Wilson says it's when the water temperatures dip into the lower 50s or you get a huge drop in the water temperature that triggers their feeding tendencies.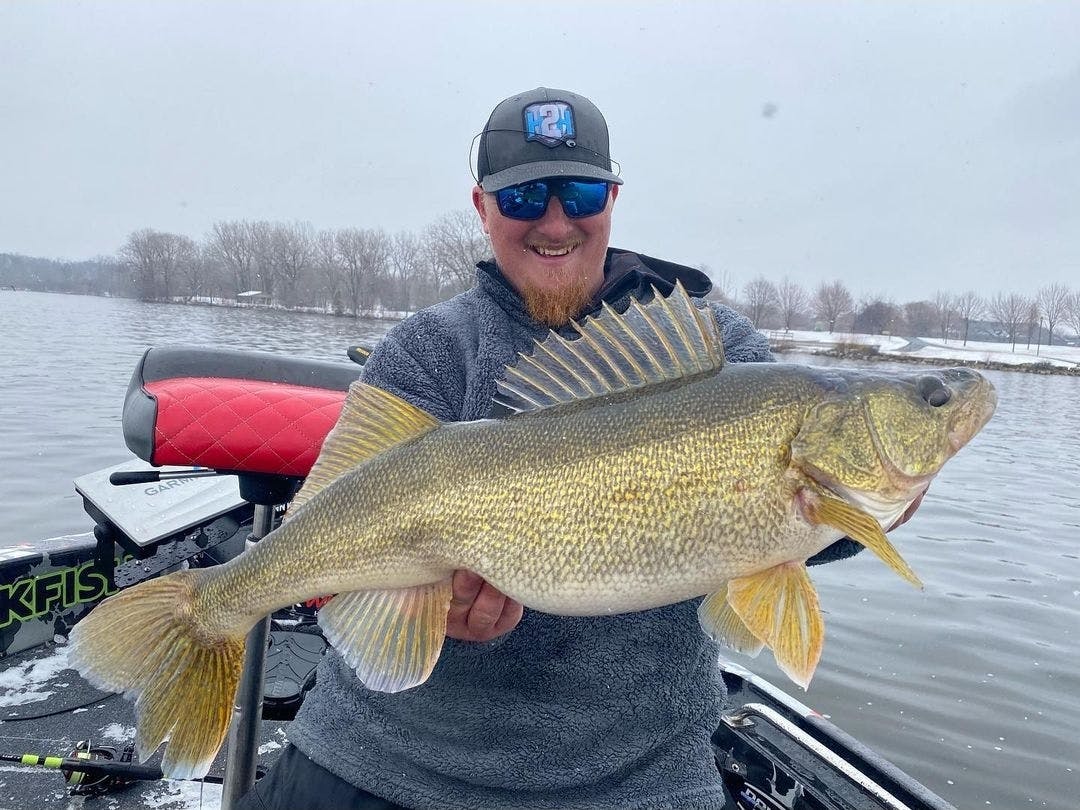 "Say the water temp drops from 75 to 60, those fish are going to be a little out-of-sorts so you're going to have to trigger bites. That's when I go to a blade bait. It doesn't have to be super cold water to fish blade baits but the general rule of thumb is the colder the better. If the water temp is 50 or below, that's when I get really excited, especially in the fall," says Wilson.
Simply, when the water temps start to drop significantly walleyes put on the feedbag to prepare for winter.
"A blade bait is one of two things for me: first, it's a reaction-style bait in cold-water, so that's where it comes into play for me fall, winter, and spring. Secondly, it's one of my go-to baits on river systems where water visibility is often limited," says Wilson.
In both situations there are a lot of times when a slow-moving bait just doesn't get bites. That's when Wilson picks up a blade bait.
"In the fall river walleyes literally gorge themselves so that's primarily where I'm fishing them right now," says Wilson. "But I use them on the Great Lakes, too, especially on deeper rocks. Live bait doesn't work that well in these situations but blade baits will draw a reaction strike."
Blade Bait Versatility: Depth
One of the great things about blade baits is they work everywhere from 1-foot of water to 50 feet of water—and everywhere in between. You just have to size your blade weight accordingly.
"A lot of times, fall and spring walleyes will be up in 1-3 feet of water and that's where the vibrations work really well. And when the fish are in 30-50 feet in river scour holes in the dead of winter, I'll throw a heavy blade bait down in there and the vibration will trigger bites even though the fish are pretty lethargic. You aggravate them so much they want to kill it to stop the vibration," says Wilson.
Blade Bait Cadence: Walleyes
Wilson confesses that for the longest time blade baits were the Achilles heel of his professional walleye tournament program.
"I could not figure it out. Blades were my kryptonite. On the Fox River, the Mississippi, really everywhere, guys were kicking my butt on blades, and I couldn't catch a fish off of them," admits Wilson.
"What had happened was I was overthinking it. I was trying to do too much with it. Once I dumbed things down and went back to the basics and just went fishing with them, it clicked. Vibrate, let it hit bottom, vibrate, let it hit bottom. It's a simple technique that's become one of my favorite waters to catch fish because at the end of the day it's a reaction bait that will catch fish 9 times out of 10 when other baits don't."
Wilson fishes an aggressive cadence in the fall—a long pull with a snap—which he calls a hybrid cadence between two other popular bait jigging methods. "With Jigging Raps or Shiver Minnows guys are snapping really hard and fast, and with Rippin' Raps it's more of a slow pull. I kind of do a hybrid of those two cadences."
But the biggest things to remember, Wilson advises, is the rod and bait movement should all occur in movement of the wrist. "I start downward with the wrist and move upward slightly. It's not a snap with slack line, it's a quick aggressive pull with a snap."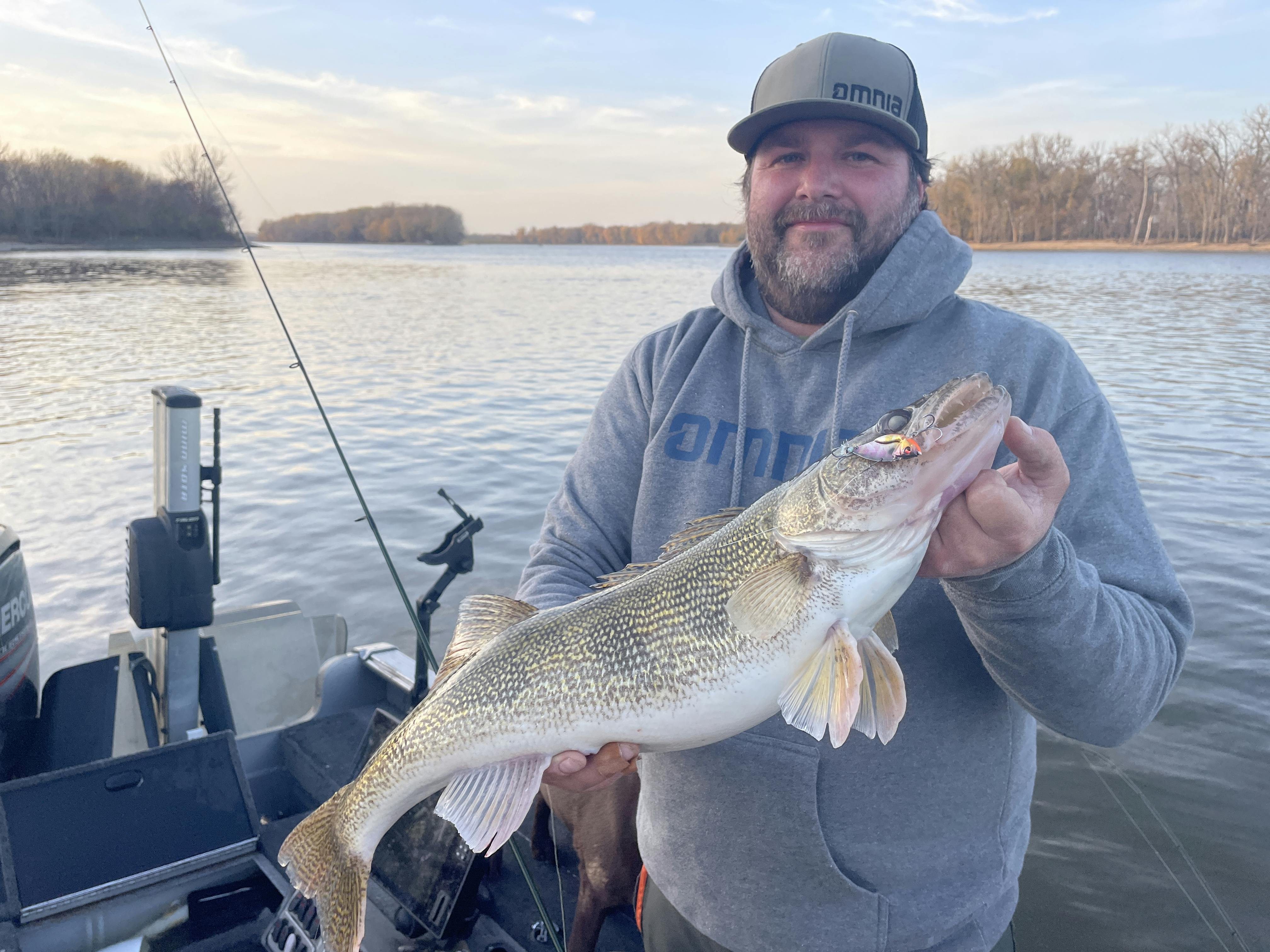 Blade Bait Choice: Walleyes
Wilson fishes just about every blade available on the market, applying each to match the forage size of the waters he's fishing, as well as the weather conditions.
"I fish just about everything—from Sonar-style baits to Silver Buddy Original Buddy Blade Bait style baits to the newer stuff on the market like the Damiki Vault Bladebait," shares Wilson.
Wilson says that you can easily get hung up on colors to the point of custom paint jobs like crankbaits, but for him, he's into "shades of colors."
"I want bright, loud colors for walleyes to visually locate. In the Mississippi River, I throw a lot of orange, yellow, firetiger, green, chartreuse and the more natural colors, the blues and purples, can be really good as well. It depends on water clarity and weather. On a bright sunny day I'll fish chrome green or chrome purple and on cloudy days I go to matte colors which cast a better silhouette in the water," shares Wilson.
Rod, Reel, and Line Set-up
"I'm pretty picky on the rods I use for blades. I fish a 6'10" medium-light power, extra-fast action spinning rod, That's my go-to casting rod for blades, Ripping Raps, and crankbaits. I like a rod that you can feel the vibration from over the entire rod. A lot of times with a bladebait you don't feel the fish bite so my cadence is my hookset. If you have too stiff of a rod you'll pull hooks out of fish. You want something with enough absorption that the fish absorbs the initial hookset and head shakes," says Wilson.
Wilson continues: "You've got a 1-ounce chunk of lead in their mouth and they're thrashing so there's the potential to lose a lot of fish. As far as reels, I fish a 2000 size reel that has good line pick-up. I like more line pick-up per rotation. A lot of times I'm making short pitches and might not make the right cast and need to reel in quick and re-pitch. Since I fish walleyes a lot more in rivers, I'm constantly on current seams or wingdams and making short pitches."
In terms of main line, Wilson fishes 12- to 15-pound Sufix 832 Braid tied directly to a 1-foot section 15- to 17-pound fluoro leader to keep the bait from fouling on itself. In clear waters he runs 18- to 24-inches of fluoro.
"Some river rat guys will tie direct to the bait from braid because they can get their baits out of snags easier but I've noticed if you don't have a heavy fluoro leader it really messes with the action of the bladebait. It will tangle up in the main line."
He says the heavier the fluoro leader the more springiness the bait has. Lighter line absorbs the shock.
"Heavy fluoro leaders allow me to fish it in some pretty gnarly areas and pop baits in and out of snags easily. Swivels are subjective. In a snaggy area and I'm fishing by myself, I will use a swivel. That way if I snap off, it's just the bait and I don't have to tie on a whole new leader. If I'm with clients or on clear water, I use a line-to-line knot," instructs Wilson.
Spring Vs. Fall Jigging Cadences
While we're in Fall and soon, the open-water river walleye bite, Wilson notes that come Spring he changes up his blade bait cadence.
"In spring you're working blades the opposite of fall. It becomes a small lift off bottom, not a snap-pull hybrid with the wrist. Instead of going from 9 to 12 o'clock, I'm moving my wrist from 9 to 10 o'clock for small vibrations punctuated with frequent bottom drops," says Wilson.
In early Spring walleyes are just emerging from their winter coma and very slow-moving. Wilson says the mistake a lot of anglers make is using the same cadence they would in Fall. Instead, it's a small pull, enough to feel the vibration, and then letting the bait hit the bottom.
"I don't snag a lot of fish in the spring," comments Wilson. "A lot guys do because they're working the bait too fast. Once I slowed the cadence down, blade baits definitely became my deadliest spring walleye bait."
Final Words: Omnia Tests Walleye Blades
Some of the Omnia Staff was fortunate to spend a weekend on Pool 4 of the Mississippi River from October 21-23. With water temps at 52 degrees, the conditions were perfect for fishing blade baits.
In two days, four of us boated nearly 100 walleyes fishing blade baits, including three large fish, a 25-inch, a 26.5-inch, and a gizzard shad-filled 28.5-incher that almost hit the 10-pound mark. All large fish were successfully released after a couple photos.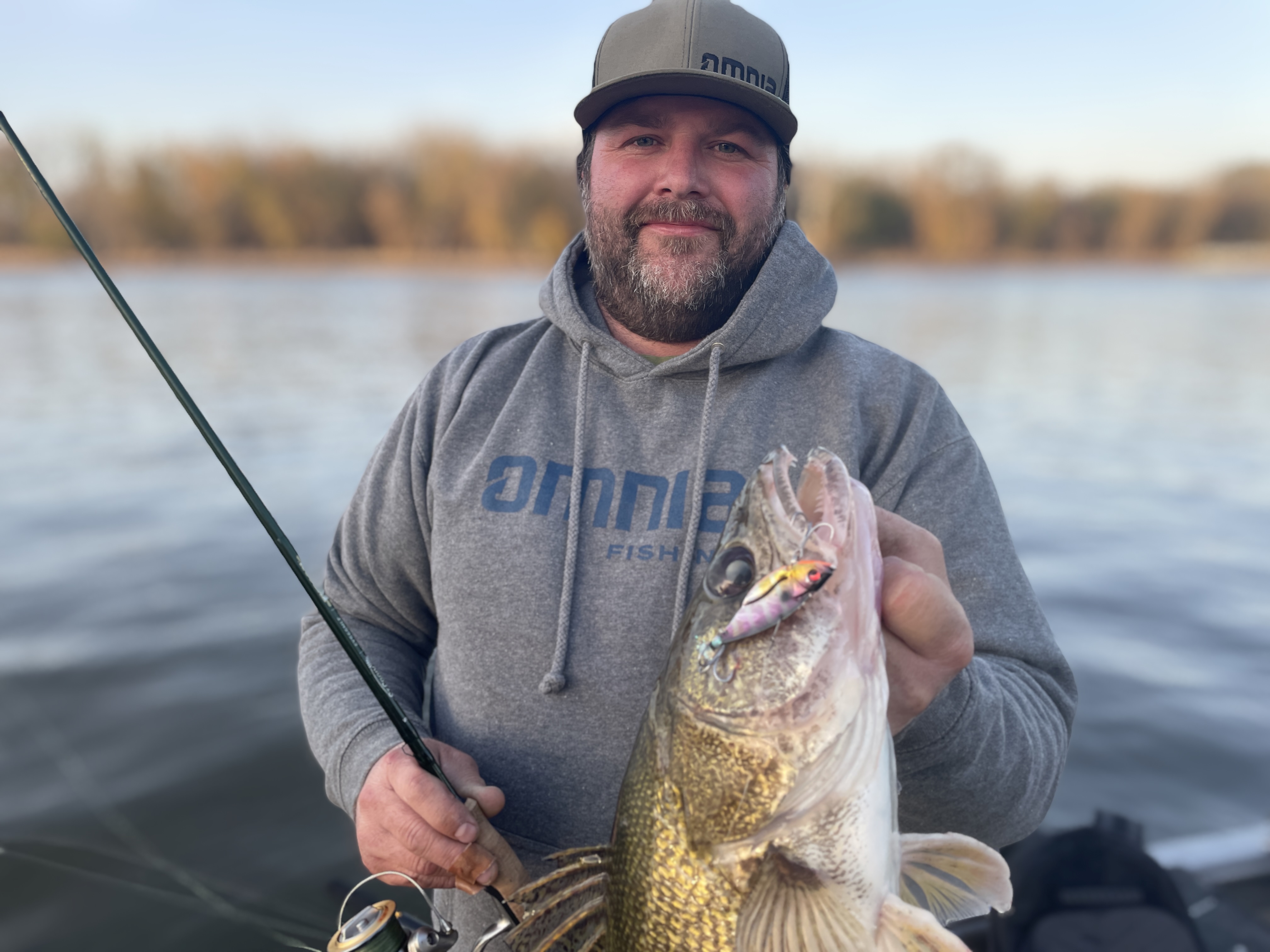 The program? While we played bumper boats at a dam and caught plenty of eaters (15" – 20") on current seams in 12-18 feet of water, we grew weary and searched out big-fish holding spots. This early in the fall most big walleyes are still in transition to their wintering spots like scour holes near dams and warm-water discharge so can still be found miles from dam areas.
We ended up locating some deep, rocky ledges and inside turns that dropped from 12 to 28 feet of water where it appeared shad were being pushed for easy feeding. With both short pitches and even vertical rips, that's where we caught our best fish. It should be noted that forward-facing sonar was not used; we went old school with mapping and 2D sonar—and maybe a little Side- and Down Imaging thrown in…
From sun-up to about 3 o'clock we caught tons of fish on the Silver Buddy Original Buddy Blade Bait in both Silver and Gold. Later in the day, the bite seemed to change and we caught bigger fish on both the 3/8-ounce Megabass Dyna Response Blade Bait in Jukucho Shad and 3/8-ounce Damiki Vault Bladebait in Holo Red Craw, both of which have the same size profile as the shad the walleyes were chasing. We know that because we snagged a few shad ripping our baits!
In terms of rod and reel set-up, we fished two main spinning combos. The first was a St. Croix Legend Tournament Walleye 6'8" "Snap Jig" medium-power, extra-fast spinning rod paired with a Daiwa Tatula 2500 LT and spooled with 10-pound Daiwa X8 Grand braid tied with a uni-to-uni knot to a 20-pound Seaguar fluoro leader; the second set-up was a 6' 8" medium-power, extra-fast action St. Croix Eyecon "Snap Jig" rod paired with a 2500-size Shimano Stradic, also spooled with 10-pound Daiwa X8 Grand braid tied to a 20-pound Seaguar fluoro leader.
In Conclusion
If you're not hip to blade baits—or are old hat with the metal wonders—we encourage you to get out this Fall, Winter, and Spring and chase bass and 'eyes with 'em.
Take to heart the advice from Cousvis and Wilson and we're convinced you'll flat-out catch fish. We did… and that's saying a lot!