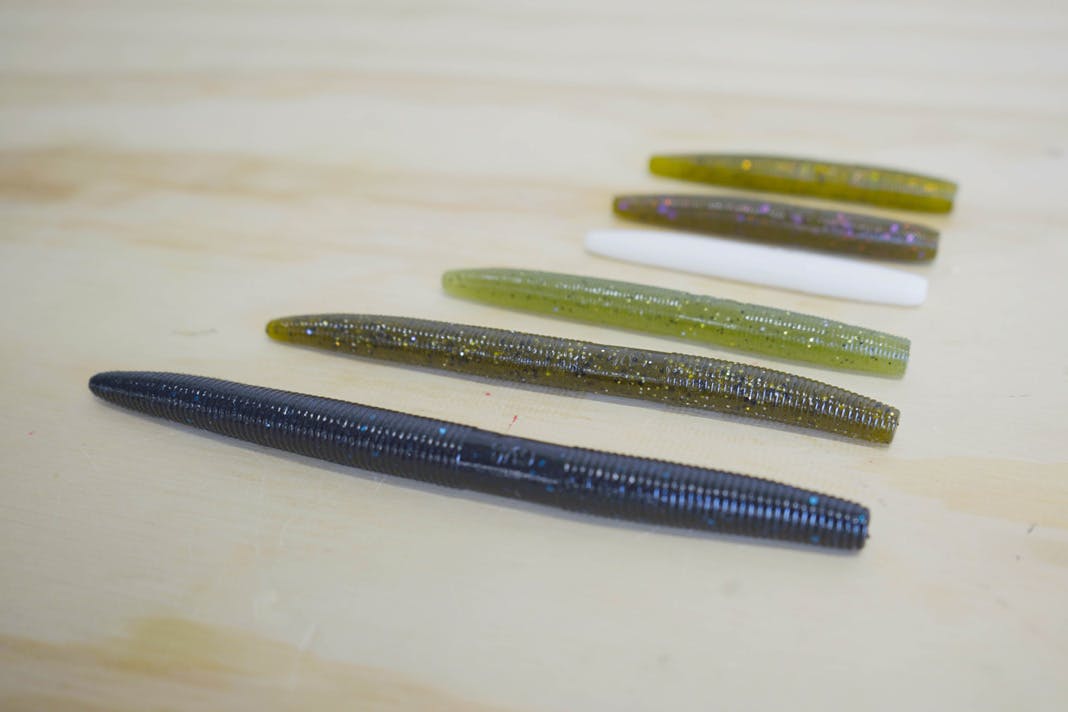 Yamamoto Senko Breakdown
The Yamamoto Senko is one of the most famous bass fishing lures ever created. This timeless bait was designed and created by the legend Gary Yamamoto himself in 1996. This legendary stick bait has been perfected, so much that it has not even changed since Gary Yamamoto first fine-tuned this lure on the waters of Lake Powell many years ago. Senkos have stood the test of time and are still leading the way as the best stick bait on the market. Yamamoto Senkos are so well known that when talking stick baits most people refer to the style of bait as a Senko.
Just looking at other companies stick baits and comparing them to a Senko visually some could almost be the same. No worries for Yamamoto Baits, the profile isn't the key to the bait's success. What separates a regular stick bait and a Yamamoto Senko starts with the plastic formula. Yamamoto plastics have been tuned for the perfect amount of salt, softness, and a very natural sink rate. Most of the competitors stick baits fall too fast, slow, or other issues. It is the perfect natural sink and wobble that the Senko has that makes the fish unable to resist a taste.
How to rig a Gary Yamamoto Senko
It is no secret that the Yamamoto Senko has serious fish catching powers. Regardless which way you choose to rig a Senko you will be catching fish. Some of my favorite ways to rig the Senko include Texas rigging, weightless Texas rig, jig worm, drop shot, wacky rig, Neko rig, and Carolina rig. The fish catching power and versatility of different ways to rig this bait is the reason that I keep one or more rigged up on my deck nearly every single time I'm out on the water fishing. Whether you are fishing shallow, deep, grass, rocks, docks or more these seven or more different ways of rigging your Senko should have you covered.
How to fish a Gary Yamamoto Senko
How you are going to fish a Senko is dependent on how you have chosen to rig your bait. Fish the bait to the technique you choose. Since this bait can be fished so many ways on either spinning or casting gear, there is no one perfect setup that will fit all techniques. In general the action of the bait comes from the bait falling. Cast your line out, let the bait sink to the bottom, pick it up off the bottom and repeat. I think the best way to truly see the Senkos true fishing catching power is with a wacky rig. Just cast it out and let it do its thing. When picking the bait up after letting it sink you can twitch the rod and this makes the worm shake then return to sinking. This technique paired with a Senko will put endless amounts of fish in the boat from 6 inches all the way to fish over five pounds. 
The Gary Yamamoto Senko is a classic, this is one bait that can be used across the country in any season with success. It's a bait that can be found in professional anglers' boats to a young kid's tackle box. If you are looking to reload or add new baits to your arsenal look no further, Yamamoto Senkos are ready to roll and put in the work.
Hook Selection
Texas Rig: 3/0 Gamakatsu EWG Hook
Wacky Rig: #1 VMC Neko Hook
Colors
The best color for Yamamoto Senkos in my opinion would have to be green pumpkin. This same color has been my go-to ever since I started bass fishing as a kid. Here at Omnia fishing we offer 6 different size variations of the classic Senko in a wide variety of Yamamoto colors to choose from.
Sizes