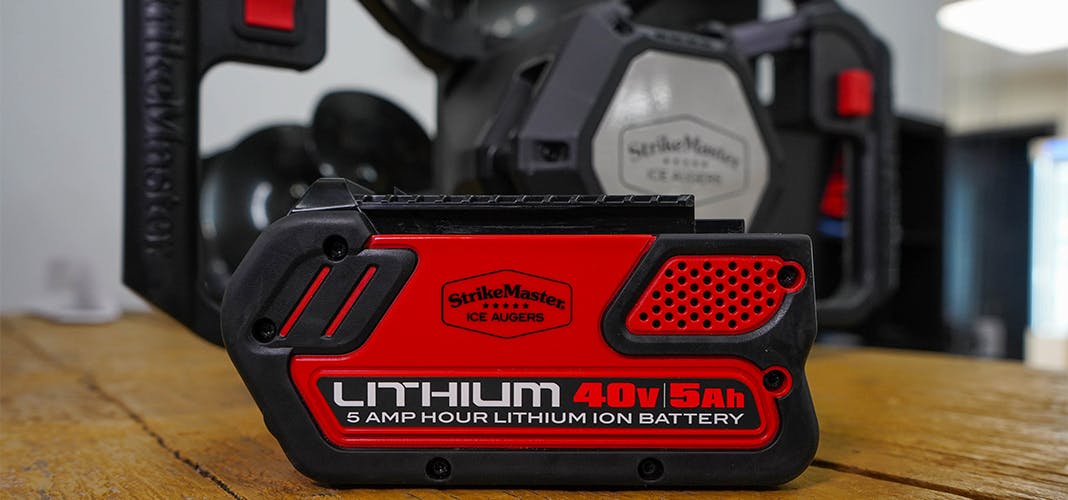 Electric Ice Auger Buyer's Guide
Why electric ice augers are the best tools for the majority of ice anglers
Gas powered ice fishing augers have been a staple in many people's arsenal for decades when it comes to spending a day out on the ice. With advancements in today's battery/electric motor technology, that's changing quickly. The lack of power and stamina were two main reasons electric didn't take off when the earliest models were released. 
In today's landscape, electric ice augers last longer and take the fuss out of drilling holes through the ice.
Why you should choose an electric ice fishing auger
Useability - Set your hand on the safety switch and pull the trigger. It's that simple to get the drill started
Weight - No more lugging around heavy gas/propane engines. Electric are perfect lightweight carry anywhere tools
Power - Batteries are efficient in giving you drilling power all day with some models able to drill 100 holes on a single charge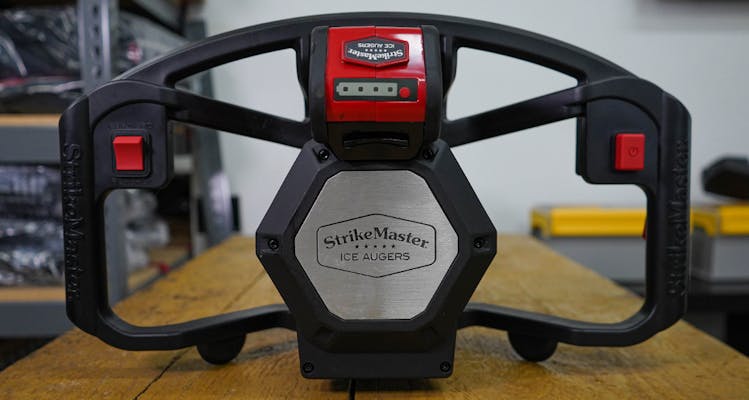 How to choose the right electric ice auger for you
There are several things to consider when deciding what electric ice auger is best for you.
What species are you going for?
Most electric ice auger manufacturers give you the option of choosing drill size. 6-8 inches is the sweet spot where you will find most of the models. Anything larger or smaller would be for specialty situations. 
If you mainly fish for panfish and smaller game fish like walleye, the 6 inch model will work perfectly for you. If you plan on also targeting larger fish like pike or muskie, you should reach for the 8 inch model.
How many holes do you plan on drilling?
Do you move around a lot looking for fish or like to set up camp and wait for the fish to find you? Depending on how many holes you plan on drilling, you want to consider the battery power. 
There are smaller sizes like the Strikemaster 24v Ice Auger that are great for day trips because of their compact size and weight but will run out of battery faster than the larger Strikemaster 40v Lite Ice Auger. If you plan on drilling a lot of holes or would prefer to wait until after a couple trips to recharge, the larger auger might be a better fit for you.
Where are you fishing?
Ice thickness has a huge impact on how long your electric ice auger runs for. Are you in the upper midwest where you can be drilling holes through a foot or more of ice? Or just make the ice belt and rarely drill anything thicker than 6 inches?
Generally, the thicker the ice the more power you want. Combine that with how many holes you plan on drilling and you can decide which size works best for you.
What kind of ice angler are you?
Are you a weekend warrior that goes for an afternoon or are you a diehard that goes on extended trips throughout the winter? The more you plan on being on the ice without access to power, the more you will want to opt for the bigger models. 
The great thing about electric is that you can bring backup batteries as well. Providing easy power up options while out on the ice
What's your Budget?
Having an ice fishing auger doesn't have to be a big expense. With a wide range of capabilities between models, there is an option for everyone. From hand drilling a few holes to drilling out hundreds, prices start around $65 and go up from there. 
A hand auger like the Strikemaster Mora Hand Auger is the perfect option for anyone looking to try the sport of ice fishing or know they are only going to need a few holes. If you are looking for more options when it comes to electric ice augers, check out the three models below.
Top three electric ice augers for any level of angler
Lite-Flite Lazer Drill Auger
Strikemaster Lite-Flite isn't technically an electric ice auger but it uses an electric component that most people already have around the house, which is an 18v or higher drill. The convenience of only needing to get the ice drill part is why many ice anglers are making the switch.
Light and compact, this is a go anywhere solution for drilling holes while out on the ice. It comes in both a 6" and 8" version depending on the types of fish you will be catching. It also comes standard with the auger drill attachment needed to connect the drill to the blade. The attachment works like any standard ½" drill bit and can be taken off and attached to any Strikemaster powerhead.
This is a great option for anyone that casually ice fishes or takes smaller trips around the house. This won't be a great option if you often find yourself going through thick ice.
Lithium 24v Auger
The Lithium 24v Auger packs a punch on performance while being the lightest and most compact in its category. It comes standard with an 8" blade that is perfect for many species of fish. It's rechargeable battery is good for 50 holes (16 inches of ice), plenty of power for a day on the ice. 
This ice auger comes in at a shockingly 14.3 pounds, making it easily transportable, especially if you are walking to your spots. If you do find yourself needing a longer run-time, extra batteries are available for purchase. 
This auger is a great option for those anglers looking for more power or have a run and gun type fishing style. This is the perfect day trip companion.
Lithium 40v Lite Auger
The Lithium 40v Auger can compete with any other auger on the market. There isn't a block of ice this thing can't go through. This 40v size has the power to sling ice with larger diameter blades and is rated to get you 100 holes on a single charge. 
If you fish with a sled or ride in a wheelhouse, you can rest assured that no gas will be spilling out on all your gear. Just like the 24v model, extra batteries are available if you plan on being out on the ice for extended periods of time. 
This auger is for anyone looking for the highest power output of an electric auger or for anyone that plans on staying out on the ice for several days. 
Drilling through extra thick ice? Make sure you get a Strikemaster Power Auger Extension.