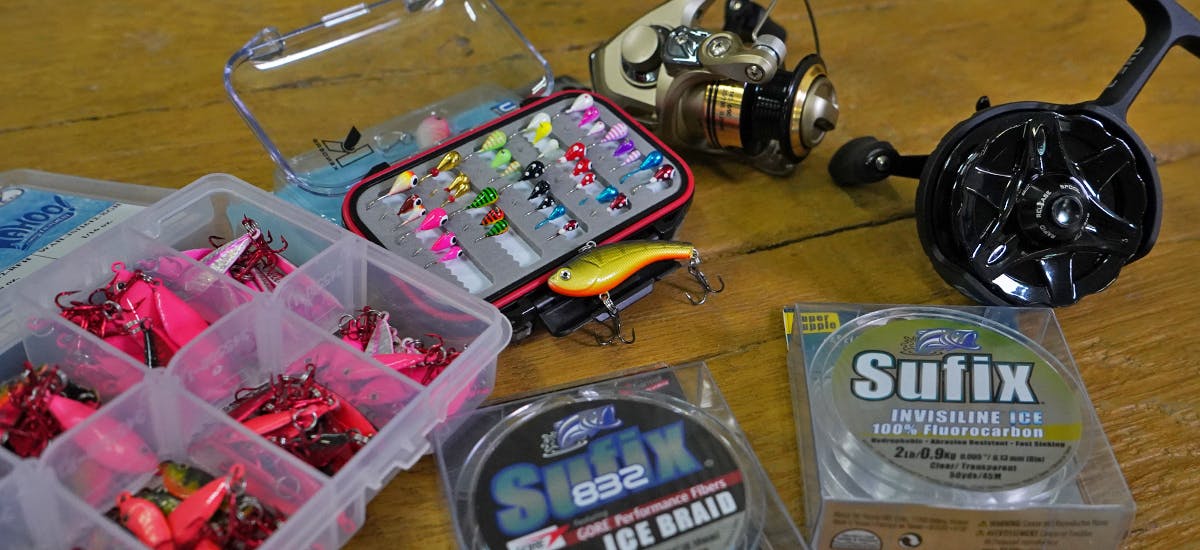 The Top Must-Have Ice Fishing Gear
Every winter across the northern United States and Canada anglers lace up their boots and head out onto frozen lakes and rivers to chase crappie, perch, walleye, trout, pike, and many other species of fish. At first glance, it may seem like there is a large up front investment in gear. The truth is, with a few key items anyone can get out and enjoy ice fishing during the winter months. 
Here are our must have items along with some optional gear that can make your time on the ice a whole lot more enjoyable!
Must-Have items:
1. Ice Auger: Something to get you through the ice
It's hard to catch fish if you can't access where they are… Many people have Ice Augers that drill through the ice in diameters of 4-10 inches. Depending on what species you are targeting, this range of diameters will allow you to pull many different sizes of fish through the ice. 
Different types of Ice Augers:
Spud Bar or Ice Pick - The cheapest option for getting through the ice is with a heavy pick that can be used to chip away at the ice to create your hole. This is not a great option for you if you plan on drilling many holes, moving around a lot, or if the ice is more than 6 inches thick. The time it takes to chip a hole can be exhausting. These tools are generally used to make sure ice is safe to walk on but can also be used to get through it in a pinch.
Hand Auger or Drill Attachment - A step up from using the pick would be a non motorized ice auger drill that can either be powered by hand or attached to a drill you already have at home. The hand augers are situated with handles on a swivel so you can rotate the blade as you drill through the ice.
The alternative that has gained popularity over the last few years is the drill ice auger. All you need is at least an 18v drill to attach to the ice auger shaft. These are a great option if you want to go out for the day or run and gun trying to find fish.
Motorized Ice Auger - These units come with a motor already attached and are the best option for longer trips, thicker ice, or more hole drilling capabilities. Gas powered ice augers have been around for a while but with the increase in battery technology, electric augers are taking over. Here are two of the more popular models that are separated by weight and power capabilities.
For a more in depth look at electric ice augers check out this article on how to select the right electric ice auger for you.
2. Rod/Reel/Line: Gear to haul in fish
Choosing the right Ice Fishing Rod
Length and Power are the two main attributes you need to consider when selecting an ice fishing rod.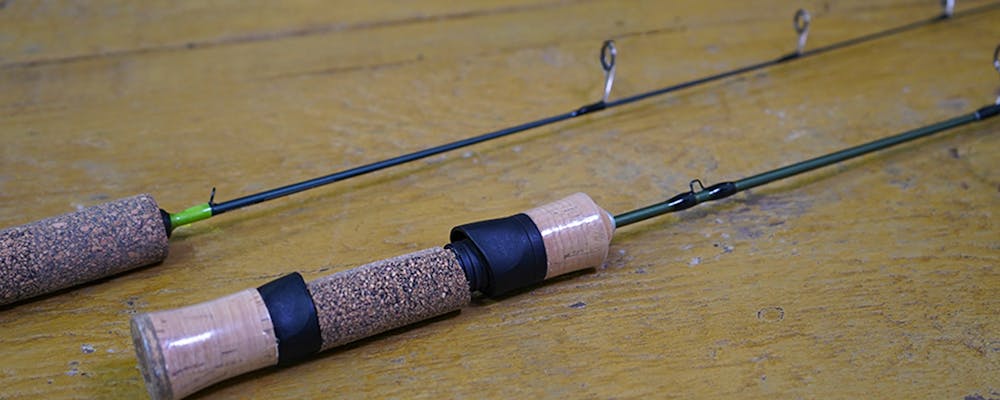 Length: Ice fishing rods can be found in many different lengths but generally stay within the 20-40 inch range with the sweet spot being around 23"-27". Comfort is a big component to length. Do you like to sit close to the hole? Are you in an ice shack with limited space? Are you running and gunning outside and like to stand or kneel? 
If you are going for crappie or perch, a shorter rod works best so you can keep an eye on the rod tip if you get a bite. If you are targeting larger fish like walleye or pike, a longer rod will help with leverage to fight them up to the hole.
Power: Ice fishing rod power determines the stiffness of the rod. They generally range from ultra-light to medium-heavy with light and medium being the two standard powers. If you are targeting smaller fish who have subtle bites and are using small ice fishing jigs, a rod on the lighter side will help you detect bites and allow you to work the bait more effectively. When targeting bigger fish and using larger tackle like ice fishing spoons, a higher power rod will perform better. 
Choosing the right Ice Fishing Reel
For the most part, micro spinning reels have been used in ice fishing for the longest time and are the most readily available. But there has been a movement toward inline reels that have a few added benefits.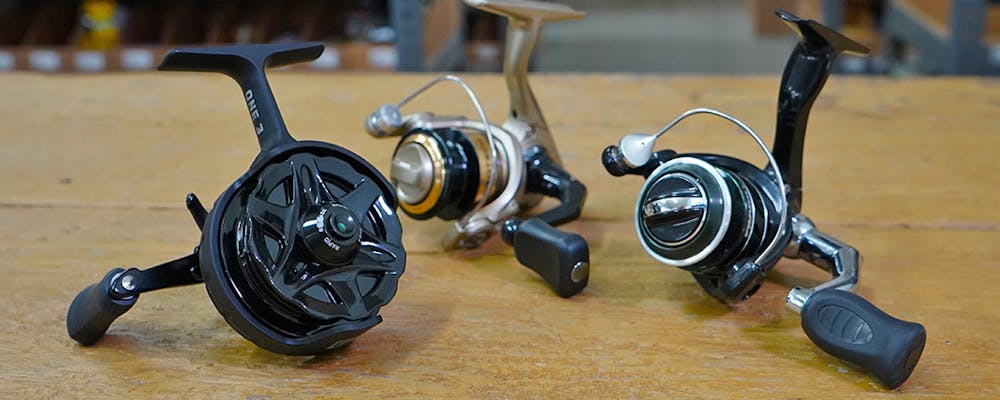 Spinning Reels: The most common size for ice fishing spinning reels are 1000 or 100. There isn't a need for larger size reels because the line diameter is small and you work the bait vertically. Having an oversized reel would also throw off the balance of the smaller rod. Many manufacturers make reels in this size and here are a lot of great options for ice fishing spinning reels. 
Inline Reels: Inline reels have a unique purpose for ice fishing because of their shape. They allow you to drop the line straight down from the larger spool instead of it being coiled up like a traditional spinning reel. The larger diameter spool helps with line twists and curls. This is especially important when you are using smaller ice jigs. A coil in the line could cause a spring effect and not allow you to work the bait effectively. 13 Fishing is a well known brand that makes inline spinning reels.  
There are often times when you can buy the rod and reel as a fishing combo. Here are some of our favorite ice fishing combos.
Other common gear to haul in fish during the ice season are tip-ups. They are a great way to increase your chances of catching a fish because you can passively have a line in the water while actively fishing another hole. They are built with a flag mechanism that raises when a fish grabs your bait. 
There are many different types but the most common are the traditional hand reel option like the Hardwater Tackle Tip-Up or if you prefer to use a rod to fight a fish the I Fish Pro Tip-Up is used regularly. Make sure to check your local regulations as most states limit the amount of lines you can have in the water per person. 
Choosing the right ice fishing line
There are three main types of fishing line and all are applicable during ice fishing. There are ice specific formulas that work better in the freezing temps because they are coated with water repelling material to help keep your line from freezing.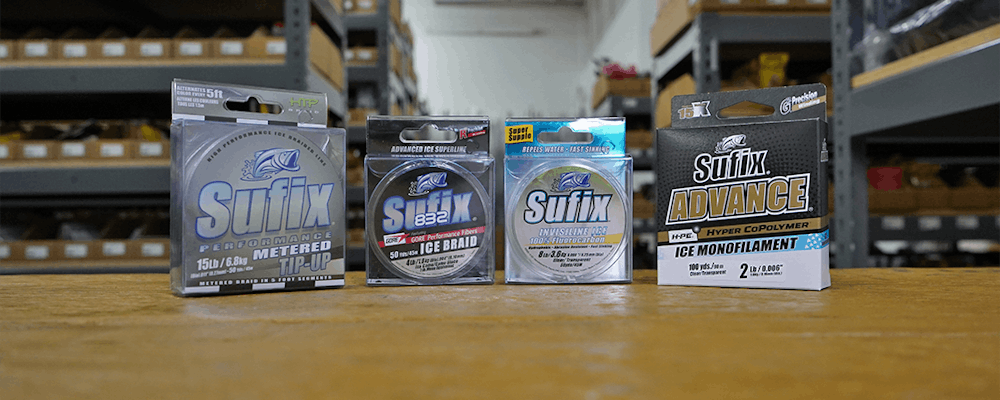 Monofilament: This is the most widely used material and has been around forever. It's softer and has more stretch, allowing it to form around the smaller reel spools easier. The downside is you do lose sensitivity and can make it difficult to detect subtle bites. 
Fluorocarbon: More rigid line which increases sensitivity and is more invisible in the water. Many anglers are moving to fluoro line because of the added stealthiness and increased sensitivity. The downside is that this harder line material can be more difficult to manage on the small reel size. 
Braid: Braid combines the best of both worlds. It is easily manageable on small reels and there is no stretch, giving it superb sensitivity. You do lose all the stealthiness capabilities so anglers will often pair it with a monofilament or fluorocarbon leader. 
Many different varieties of ice fishing line can be found on this page. 
There is a final ice fishing line category designed specifically for spooling tip-ups. It consists of a heavier braided line that you can then tie a leader to. The Sufix Tip-Up line is a favorite of ours because it has built in depth marks to help you set the bait at a precise level.
3. Tackle: Artificials and live bait to attract fish
There are many different types of baits on the market but they can mostly be broken down into two categories: Jigs and Spoons.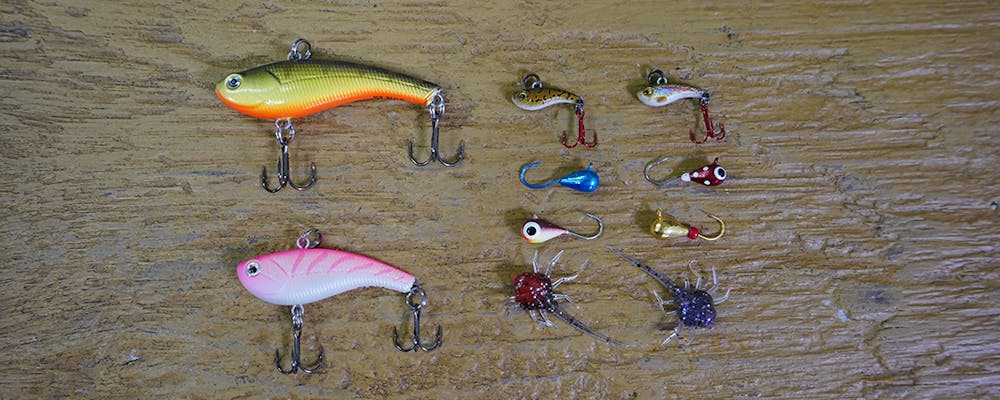 Ice Fishing Jigs: Ice fishing jigs come in many shapes and sizes. For panfish, a small tungsten weight with a hook is all that is used. Often tipped with small soft plastics or some type of live bait like mealworms. For larger species like walleye, jigs often refer to hard bodied minnow shaped baits with single or treble hooks attached. Oftentimes with live minnows attached to them. Check out crappie Ice jigs here and walleye ice jigs here.
Ice Fishing Spoons: These are often flat shaped surfaces that give off a fluttering action when worked vertically. Usually a single treble hook is fixed to the end of it with a split ring. These are a great bait if you want to make a comotion to call fish in and are often tipped with live bait. They are usually used for catching walleye but there are added benefits to using them for panfish. Some of those benefits are listed in this article on how to fish for crappie with ice spoons. You can find a large variety of ice fishing spoons here. 
Live bait is a very popular tactic and can be accomplished with any type of lure. A simple treble hook with a weight, a lead jighead, or specifically designed harnesses, there is no easier way to get started ice fishing than with a bucket of minnows or worms!
Optional Must-Haves
The three categories of products listed above are the things you MUST HAVE to start catching fish through the ice. The next two categories are VERY close seconds, making your experience every bit more enjoyable.
1. Ice Shelter
There is nothing that will cut your ice fishing trip short than being cold and an ice shelter is the perfect way to be protected from the wind and snow. There are several different types of shelters that cover a wide range of costs. 
The most cost effective shelters are pop up hubs. They can be transported the best since most fold up into a carrying bag. They also provide the best use of fishable space because they don't come with built in sleds. 
2. Safety
While it is not required to have safety gear with you while out ice fishing, it is something you SHOULD ALWAYS be thinking about. You are standing on top of a lake after all. There have been great technology advancements in safety components for ice fishing. No matter how thick the ice is, there is always a threat of unsafe ice and the chance of falling through. 
One of the most dangerous situations if you happen to fall through the ice is not being able to stay at the surface. With heavy boots and multiple layers of clothing, becoming waterlogged will add a tremendous amount of weight. Add that with the shock of falling into freezing temps and it becomes very difficult to tread water. With that being a real threat, many ice manufactures are now incorporating floating technology built directly into their garments. 
Take this in depth review of the Striker Predator Ice Fishing Jacket/Bibs and you can see why they are some of the most popular models in Ice.
Another super simple item to keep you at ease are ice picks that hang around your neck. If you were to fall through the ice it's difficult to get your grip to pull yourself up. Having picks handy will allow you to stab the ice as you try to pull yourself out. 
Although not a life saving device, ice cleats are a great way to protect yourself from slipping and falling on the hard ice. Designed to fit over the sole of your boot, the small metal spikes give you traction on even the slickest surfaces. 
A simple solution is to get all three in this handy Ice Safety Kit by Frabill.
With these several categories of ice fishing gear in mind, there is a great chance you will be successful when you hit the ice this winter!